Austria Bizet, Carmen: Soloists, Children of the Opera School, Chorus and Orchestra of Vienna State Opera / Andrés Orozco-Estrada (conductor). Performed at the Vienna State Opera and livestreamed (directed by Karina Fibich) on 21.2.2021. (JPr)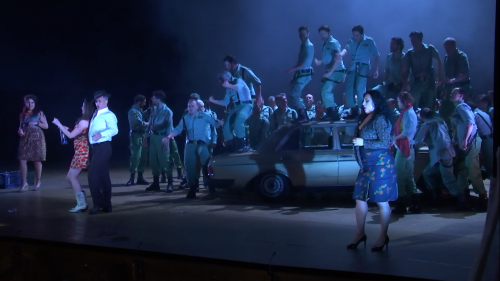 Production:
Director – Calixto Bieito
Staging rehearsed by Calixto Bieito and Joan Anton Rechi
Sets – Alfons Flores
Costumes – Mercè Paloma
Lighting – Alberto Rodriguez Vega
Cast:
Carmen – Anita Rachvelishvili
Don José – Piotr Beczala
Escamillo – Erwin Schrott
Micaëla – Vera-Lotte Boecker
Frasquita – Slávka Zámečníková
Mercédès – Szilvia Vörös
Zuniga – Peter Kellner
Moralès – Martin Hässler
Remendado – Carlos Osuna
Dancaïre – Michael Arivony
Lillas Pastia – Yta Moreno
The Girl – Maya Andrea Pandrea
Another production in lockdown from an enfant terrible of opera who this time is Spanish theatre director Calixto Bieito. His Carmen strips – literally at one point! – the familiar story down to its bare essentials and notably there is very little dialogue. It was first staged at the 1999 Peralada Festival in northern Catalonia and is much travelled across Europe and America. It was put on by English National Opera in 2012 (I saw it in 2015 when it was revived there for the first time) and now in 2021 it has touched down in Vienna.
In 2015 I saw this Carmen in the cinema and found it an immensely powerful interpretation which benefitted from the close-up camerawork that potently revealed the threat and reality of male sexual violence which dominates Bieito's version. The story has been relocated to a border outpost between Spain and Morocco: we find there sex-starved tattooed squaddies and gypsies who not only smuggle contraband but have sex for sale. Simmering with pent-up tension – and because of all the testosterone – everyone looks ready to hit someone or something! The old Mercedes-Benz saloon cars – a feature of the minimalist stage pictures – look battered enough to begin with but come in for some further bashing from an array of fists from time to time as characters want to take out their frustrations on anything that is nearby, whether inanimate – or occasionally animate. The only suggestion of male vulnerability we see is during a brief balletic entr'acte leading into Act III as a soldier strips naked and imitates the moves of a matador, practicing before facing a bull.
Nobody is the Spanish stereotype we are used to in Carmen and so everything is truer to life. Micaëla may still appear to be a good Catholic girl because she prays to a crucifix, but she certainly is not as virginal as she is usually portrayed. This Micaëla is happy to wrap a leg around Don José in Act I as she tries to encourage him to return to her and later will be seen gloating as she wins him back, however briefly that might be for. Carmen is no perfumed seductress but a slightly unhinged good-time girl who knows the power she has over men (and possibly women?), whilst realising the life she leads can never have a happy ending. José isn't a callow – somewhat naïve – lad easily entranced by Carmen's sexual allure who only explodes in jealous, murderous rage at the end of the opera: here Bieito shows how José's obsession, instability and aggression builds as she torments him more and more. Only Escamillo the toreador is … well … a toreador and a swaggering braggart; though even he drinks excessively (Bombay Sapphire gin by the looks of it?) – as most of the characters do – to blot out their lives, or in his case, the dangers a bullfighter must continually face.
Bieito introduces a small girl (Maya Andrea Pandrea) to the story and gives her a significant presence throughout his Carmen. She appears to be Mercédès's daughter or – as I wondered before – does she represent Carmen's lost innocence? For despite still playing with her Barbie doll in its flamenco dress the girl is (reluctantly) dolled up herself in the third act in stockings and stilettos. Apart from the uniformed soldiers everyone else is colourfully dressed and looks as though they are ready for some Benidorm nightlife. The large choruses (children and adult) are well-handled and enthusiastic and together with the principal singers it is all performed with enough nuance to make the well-known story unfold with considerably enhanced dramatic intent.
Astonishingly the only sign of any coronavirus restrictions I saw were a couple of masks – though none for the singers – and, of course, the absence of any audience in the Vienna State Opera which makes the ending to these lockdown livestreams so very eerie with an all-pervading silence before the entire company has to applaud themselves.
Bieito's staging – designed by his regular collaborators Alfons Flores and Mercè Paloma – is visually striking even though the stage is rather hazily dark and with only a few elements to distinguish the four acts. In the first act there is a flagpole and a telephone box; one car, a folding chair and – for some reason – a fake Christmas tree in Act II; five cars hauntingly overshadowed by the iconic Osborne sherry black bull silhouette in the background for Act III; with this bull having been 'deconstructed' at the start of the final act, the fatal denouement happens in a large circle drawn by Lillas Pastia (Yta Moreno). In this 'interpretation' he is both pimp (with his white fedora and rings and bling) as well as the ringmaster overseeing proceedings, beginning with his cackling 'Love is like death!' at the end of the overture.
There is little concession to recent #MeToo sensibilities – which Bieito's Carmen predates by several years – and I can expect eyebrows might be raised at how Karina Fibich's camera voyeuristically lingers on Carmen intimately rubbing a red rose up her body. At the end there is no redemption for the gypsy after she explains how since she was 'born free, she will die free!' and Don José slits her throat and she is dragged away much like, I understand, slaughtered bulls are ignominiously removed from an arena.
This was an outstanding cast of singing-actors with nothing self-conscious about any of the performances and it was impossible to believe they were performing to an empty opera house and only for the cameras. Anita Rachvelishvili – admittedly a little uncomfortable with the physical demands – brings Carmen alive and there are few niceties to her tough, provocative, domineering, sexually fickle, emotionally remote, and ultimately self-destructive 'ball-breaker'. And what a voice she has! Rachvelishvili's mezzo has a smokiness and earthy seductiveness ideal for Bieito's interpretation of the role, especially with her sensual low notes. Just glory in the expressive nuance she brings to her significant words 'l'amour' and 'la mort' and the frisson these create.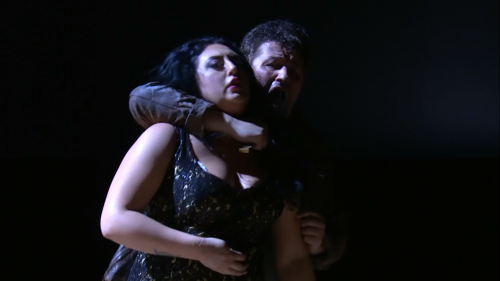 Bieito's reinvention of Don José has him as someone seething with repressed anger and with a jealous streak which means he must eventually murder the person he is infatuated with. Just witness his reaction to Micaëla bringing money from his mother and her letter asking him to return home as evidence to show how emotionally conflicted this José is. Piotr Beczala is possibly the preeminent lyric tenor of his generation and as good as his performances usual are this was a revelation. It found him 100% committed – vocally and dramatically- to José's arc from fairly straitlaced soldier – though with issues – to crazed psychotic killer. After some compelling lyricism from him during the first two acts, he is increasingly impassioned during Act III, and searing in the duet 'C'est toi! C'est Moi!' which seals his and Carmen's fate.
Micaëla is less simpering than usual and – just like Carmen – the singer in this production must not be compared with any legendary names from previous years. This Micaëla is no innocent and is feisty and assertive, though still plagued with enough doubts for her prayerful 'Je dis que rien ne m'épouvante' in the third act. Soprano Vera-Lotte Boecker made a considerable impression singing the role with pure, ample tone.
I appreciate how I was hearing everything through loudspeakers but, for me, I cannot remember a better Escamillo than Erwin Schrott. His toreador was sung as handsomely and glibly as you might expect from a character so debonair, charismatic, and full of braggadocio.
Andrés Orozco-Estrada may have been born in Colombia but studied in Vienna, so this probably explains his geniality on the podium where he seemed very much 'at home'. This extended to his account of Bizet's score to which he definitely brought some Spanish sun. He set a dizzying tempo for the overture which had some members of the Vienna State Opera orchestra swaying on their seats. Their playing sounded fine overall, with many virtuosic solos, including from the woodwinds and especially the horn for Micaëla's aria. Orozco-Estrada's conducting was sensitive to the many subtleties of the music, though the raw energy we experienced was solely because of some world-class singing.
Jim Pritchard
For more about Vienna State Opera click here.