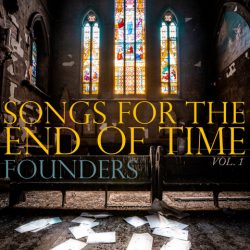 Even in the midst of a pandemic, a Zoom call with Brandon Ridenour and Ben Russell is an upbeat experience. Their plans for performances, tours and just about everything else hit a brick wall in March, as they did for just about everyone on the planet. For Russell, it has been a peripatetic few months: circumstances required him to leave Brooklyn early in the pandemic and, since then, he and his wife have stayed in a cabin in Maine and with family in California and Mississippi. Apart from a few brief trips out of New York, Ridenour has stuck it out in Brooklyn.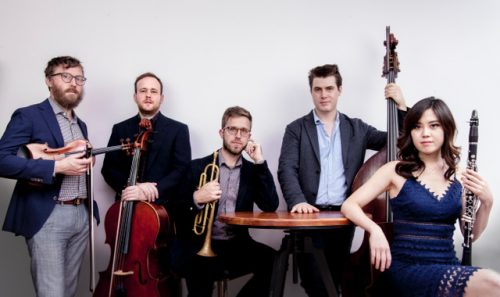 They are two of the five members of Founders, the award-winning, Brooklyn-based ensemble, a songwriting collective that is reimagining the boundaries of musical styles. In addition to Russell (violin/vocals) and Ridenour (trumpet/piano), the other members of the group are Hamilton Berry (cello/vocals), Yoonah Kim (clarinet) and Greg Chudzik (bass). All are conservatory-trained musicians.
Individually, they have worked with songwriters such as James Taylor, Sufjan Stevens, Sting, and Björk, as well as with classical ensembles such as Canadian Brass, A Far Cry and the Mahler Chamber Orchestra. They have performed on the stages of Carnegie Hall, the Kennedy Center, Walt Disney Hall and Lincoln Center, as well as on television broadcasts such as The Late Show and Saturday Night Live.
January saw the release of Founders' latest recording, Songs for the End of Time, Vol. 1, which features Russell and Ridenour's arrangement of Olivier Messiaen's Quartet for the End of Time. Their adaptation of this seminal work received its world premiere at the 2019 Tribeca New Music Festival. With this thoughtful, imaginative and at times stunningly beautiful rethinking of Messiaen's Quartet, Founders is introducing it to audiences that might never have encountered it before.
Messiaen was 31 when Germany invaded France in 1939 at the beginning of World War II. He was drafted into the French Army, but due to his poor eyesight was sent to a medical unit. Captured at Verdun, he was transported to Stalag VIII-A, a prisoner-of-war camp in Görlitz, a town in the German State of Saxony. A violinist, cellist and clarinetist were among his fellow prisoners. Messiaen wrote a trio for them, which he later incorporated into Quatuor pour la fin du temps, the original French title of the work.
It was first performed in January 1941, with Messiaen playing an old upright piano, before an audience of prisoners and camp guards in freezing conditions. He was released from Görlitz in May 1941, and Quartet for the End of Time became one of the most important and influential works of the twentieth century.
Messiaen, a devout Catholic, took his inspiration for Quartet from the Book of Revelation, the final book of the Christian Bible. Written when Christians were facing persecution by the Roman Empire in the latter half of the first century, Revelation opens with a series of visions foretelling the coming of the Four Horseman of the Apocalypse. Each represents a disaster that culminates in armies of angels destroying all the forces of evil, the destruction of all on earth and the creation of a new world.
(These interviews were condensed and edited for clarity.)
Rick Perdian: How did you get into composing?
Brandon Ridenour: A certain curiosity about composing comes with being a musician: I wanted to write notes down and see what happened. My dad, pianist Rich Ridenour, was my first teacher. He's also a composer/arranger, and I just learned from him. There was nothing unusual or out of the ordinary for me in taking the leap into to a next-gen chamber ensemble with other like-minded composer/musicians who do it all.
I didn't have any formal training as a composer, apart from one composition course for non-majors at Juilliard. I also had one lesson in the back of a bus with John Adams after a concert by a chamber orchestra, of which I was a member, performed one of his works. He was upset about something, perhaps the way that we played his work, and was brutally honest with me. It was the best (and only) composition lesson that I have had, and I learned a great deal from that moment.
Ben Russell: I got into composition much later in life. My career after college focused on performing with orchestras and ensembles. Around 10 years ago, I started experimenting with singing and playing the violin and became fascinated with how the voice and violin interact in the air. I began to imitate other singer/songwriters, and that had a huge influence on my arranging and composing.
Rick: What prompted you to reimagine Quartet for the End of Time?
Brandon: The inspiration to arrange this very important work was present from the beginning of Founders' existence. We recorded 'Motion' on our first album, You & Who, which is a mashup of Radiohead's Motion Picture Soundtrack and the last movement of Quartet. Shortly after You & Who's release, I made an arrangement of Messiaen's 'Intermède', and it was the spark that ignited the group's interest in Quartet.
Rick: Your arrangement is for different instruments and includes voice. What drove those decisions?
Ben: Messiaen composed his Quartet for the only instruments that were available to him – clarinet, violin, cello and piano. Two of its movements were based on earlier works, one of which was scored for six Ondes Martenot and the other for organ. Following Messiaen's lead, we re-arranged it for the instruments that were available to us as Founders.
Brandon: It's really exciting to refashion great music in our own musical language. Our orchestration is just different from the original. Part of the art of arranging is coming up with choices with which you are happy and that you can live with. We sought to enhance the original through the text and singing, which at the same time makes its themes more obvious and accessible to an audience.
Ben: Vocals are a major part of Founders. We write songs and do a lot of singing. The texts we used in our arrangement come from the passage of the Book of Revelation that Messiaen had printed in the score, and the 'Dies irae', a Latin hymn that has been used by many composers. It had the proper gravitas and fit thematically as it also deals with the Last Judgment.
Brandon: Ben had played the original version, as had our clarinetist Yoonah Kim, which also influenced our arrangement. We abandoned the piano in our version, so the strings provide the sustained sounds that were in those earlier works, which Messiaen certainly had running through his mind as he was composing Quartet.
One of the great losses in the original arrangement, however, is that Messiaen did not have a trumpet player. In both the original and our arrangement, the sixth movement is entitled 'Seven Trumpets and the Dance of Fury'. As I am a trumpeter, that was an easy fix.
Our arrangement also adds an element of jazz to Quartet. Jazz was in its heyday in the Forties, obviously not in concentration camps, but in the United States in particular.
Rick: What did your world look like at the beginning of March?
Ben: Just a few weeks before lockdown, we won our first competition as Founders – the SAVVY Arts Venture Challenge at the University of South Carolina. We won first prize performing excerpts from Songs for the End of Time. We also won the Audience Choice Award!
Brandon: We received a $10,000 award and were scheduled to do a residency at the university the last week of February which, along with the concert, was postponed. We were also preparing to go on tour and visit other colleges and universities to talk about the process of digesting a great work of art and reimagining it. We could feel the momentum and, for the first time, really had something to brag about, but none of it happened.
Rick: How have you fared during the pandemic?
Ben: The pandemic has obviously not impacted everyone equally. Though my wife and I lost our apartment, we were lucky to always have a safe place to stay. But we are eager to return to Brooklyn.
On a positive note, Brandon and I were able to do more postproduction for this album than we otherwise could have. But for the pandemic, neither of us would have had time. So, in some ways, the past few months have been a blessing in disguise as there was more time to compose and record. Founders has also created short videos with the five of us playing together, although from different places: separated, but together. And many of the songs slated for Songs for the End of Time, Vol. II are on their way to being finished.
Brandon: I had no idea of what was to come. Lockdown hit hard, and it wasn't easy, but I still had the desire to create. Time is precious, especially when it is suddenly taken away from you.
The last time that I saw Ben was in July, when he came back to Brooklyn for a brief time. Despite being separated, we have actually grown closer and our communication has been enhanced: we are constantly talking to each other and planning for the future.
Rick: What role do visual elements play in your performances and recordings?
Ben: Founders has often used visual elements with our music, but even more so with this album. My wife and I designed the album cover with art in mind: a mix of photography, drawing and watercolor painting. And I think our use of visual elements was one reason we won the SAVVY Competition, which increased our resolve to integrate more visual artwork in our performances.
Brandon: The visuals and things like having incense at the premiere of Quartet help us to reach a larger audience. They also add a sense of the sacred, which is very important in much of Messiaen's music. We love this music, and it's saddening to see how it struggles to reach a broader audience. Adding these bits and pieces helps create a more immersive experience that not only draws in new people but adds truth and meaning to the experience.
Rick: What new things are you exploring?
Ben: I feel lucky to be friends with some amazing composers – I love listening to what my colleagues are writing! One work that has had an impact on me recently is Ellen Reid's opera p r i s m, which won the Pulitzer Prize for Music in 2019. Last March, I was rehearsing this piece at the Kennedy Center in Washington when everything was shut down. We never got to perform it. But the piece had a great impact on me during the first few months of the pandemic. I love how Reid draws on so many different styles and kinds of music.
Brandon: I have been re-watching Ken Burns's Jazz documentary. I watched it when I was a kid, but appreciate it more now – there was so much that I didn't understand then. I'm hooked on jazz greats like Duke Ellington, Louis Armstrong and Miles Davis. There's a reason why they were so popular: they wrote great music that was filled with meaning.
I've also been thinking about what composers should be on our next album.
Ben: Founders has always been about collaboration. During the pandemic, Brandon and I have been able to communicate and dream even more about what we can do next. It's really our camaraderie that has enabled Founders to continue making music right now.
To listen to Songs for the End of Time Vol. 1, click here.