San Francisco Opera's Ring Festival 
There is nothing in music quite like a Ring Festival. As with a cricket test match or a baseball World Series, the four-day sequence of Wagner operas stands as a pinnacle of the form, draws the attention of aficionados from near and far, and often plays out with ancillary events that broaden the scope beyond the main affair.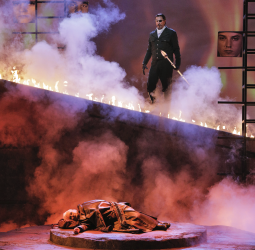 San Francisco Opera announced plans on 16 February to stream videos of its excellent 2018 Der Ring des Nibelungen on four weekends in March, along with a new set of lectures, interviews and panel discussions on Zoom. Similar to events that were presented with the series when it was mounted in 2018, these live sidebars focus on individuals from the cast and creative team.
The full operas streamed free from the San Francisco Opera website (click here), follow the same schedule as other archived performances seen recently – first shown at 10am. Pacific Standard Time and available on demand for 36 hours afterwards. Those in far-flung time zones can watch without having to stay up beyond their bedtimes or rise early. Das Rheingold drops 5-6 March, with Die Walküre to follow 12-13 March, Siegfried 19-20 March, and Götterdämmerung 26-27 March. (Existing subscribers and donors can access these on demand after the first weekends.)
The 2018 Ring was a triumph (review click here), especially for the orchestra. Conductor Donald Runnicles drew performances of jaw-dropping excellence. The cast wasn't shabby either, headed by Greer Grimsley's rock-solid Wotan; a stellar Sieglinde-Siegmund pair in Karita Mattila and Brandon Jovanovich; a lyrically expressive Iréne Theorin as Brünnhilde; and star turns in other roles by Jamie Barton, Ronnita Miller, Štefan Margita, Falk Struckmann and Brian Mulligan. Director Francesca Zambello's staging, reprised from 2011, emphasizes the women's roles, runs with an underlying save-the-earth theme, and finds welcome specificity in the characters' interactions.
The new Zoom events include appearances by opera luminaries Jane Eaglen, Nina Stemme, Grace Bumbry, Barton, Mattila and Jovanovich; playwright Tony Kushner; critics Alex Ross and Joshua Kosman; and director Zambello. These require a $99 fee for a Festival Pass or $15 for a single event.
Announced along with the Ring cycle are three other streamed video series, which will be available on the SFO website:
In Song, starting 11 March, with short portraits of San Francisco Opera artists who talk and sing about their roots, including Egyptian-born, New Zealand soprano Amina Edris; American mezzo-sopranos Jamie Barton and J'Nai Bridges; and Samoan-born, New Zealand tenor Pene Pati
Atrium Sessions, short-form performances by local singers
North Stage Door, a podcast taking listeners behind the scenes
Harvey Steiman