United Kingdom Tony and the Young Artists – Alexandra Lowe (soprano), Stephanie Wake-Edwards (mezzo-soprano), Filipe Manu (tenor) and Sir Antonio Pappano (piano): Livestream from the Crush Room, Royal Opera House, Covent Garden, 19.2.2021. (JPr)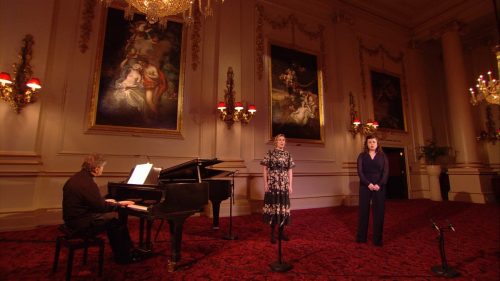 Programme:
Gluck – 'Addio, o miei sospiri' (Orfeo ed Euridice), performed by Stephanie Wake-Edwards
Mozart – 'Fra gli amplessi' (Così fan tutte), performed by Alexandra Lowe and Filipe Manu
Bizet – 'Chanson d'avril', performed by Alexandra Lowe
Ernest Chausson – 'Le colibri', performed by Alexandra Lowe
Reynaldo Hahn – 'Si mes vers avaient des ailes', performed by Alexandra Lowe
Paolo Tosti – 'Aprile', 'A vucchella' and 'Ideale', performed by Filipe Manu
Offenbach – Barcarolle (Les contes d'Hoffmann), performed by Alexandra Lowe and Stephanie Wake-Edwards
Verdi – 'Dal labbro il canto' (Falstaff), performed by Filipe Manu
Cabaret songs – Kurt Weill's 'Speak Low', Madeleine Dring's 'Song of a Nightclub Proprietress', William Bolcom's 'At the last lousy moments of love', performed by Stephanie Wake-Edwards.
Bernstein – 'Tonight' (West Side Story) performed by Alexandra Lowe and Filipe Manu
Their music director, Sir Antonio Pappano, introduced the Royal Opera's new lockdown offering as 'an intimate recital from Bizet to Bernstein'. He looked around the opera house's Crush Room describing it as 'sumptuous' and 'just right for what we are about to offer'. He said with, I suspect, unintentional irony how 'people in the past used to gather here in the interval.' When anyone will be back there is debatable. A possible opening date for theatres has been announced for 17 May in England but there are so many caveats attached to the recently announced long road to freedom that nobody should be too optimistic.
I don't know the details of how current coronavirus restrictions affect what the opera and ballet at the Royal Opera House can currently rehearse in lockdown. I will add – without unnecessary further comment – how within the last week I have watched livestreams of new productions of Der Freischütz (Berlin), Aida (Paris) and Carmen (Vienna) from their (otherwise) closed opera houses. From London we get 'Tony and the Young Artists' featuring Alexandra Lowe (soprano), Stephanie Wake-Edwards (mezzo-soprano), and Filipe Manu (tenor) who Pappano called 'big talents all three'. At the end of the short programme, he said 'I want to thank Jette and Alan Parker of the Oak Foundation for supporting the Young Artists programme here. It's a fantastic mission to nurture young singers to give them the tools necessary to conquer every stage in the world.'
It was an oddly eclectic selection of arias, songs, and duets which began with 'Addio, o miei sospiri' (from Gluck's Orfeo ed Euridice) sung by the rather intense – or possibly just tense – mezzo-soprano Stephanie Wake-Edwards who would prove – by end of the next 50 minutes – to be the breakout star of this event. Orfeo's departure for the underworld has a number of demanding florid runs which were pristinely and precisely executed by Wake-Edwards. There was impassioned playing from Pappano while little seemed to disturb the singer's sangfroid.
Fiordiligi and Ferrando's 'Fra gli amplessi' from Mozart's Così fan tutte finds Fiordiligi betraying Guglielmo after being romanced by Ferrando. Soprano Alexandra Lowe's technique was immediately impressive with an ability – not given to all – to colour or illuminate words and phrases with considerable meaning. Sadly, Felipe Manu's tenor did not sound Mozartian and was rather tight (nerves?) though he was more persuasive when he sang quietly.
Alexandra Lowe then sang three French songs starting with Bizet's 'Chanson d'Avril' ('April song') and she really told the story of the coming spring with the fluttering butterflies and bees, though this was not reflected in Bizet's writing for the piano. Ernest Chausson's 'Le colibri' is typically fragrant and Lowe was so engaging – and Pappano's accompaniment so airy – that I could imagine the hummingbird on the wing. Reynaldo Hahn's 'Si mes vers avaient des ailes' ('If my verses had wings') is so sophisticated and sensuous that it is almost unimaginable that Hahn composed it when only 13. What teenage years he must have had?
Filipe Manu sang three songs ('Aprile', 'A vucchella' and 'Ideale') by Paolo Tosti the darling of Victorian England society and singing master to the royal family. 'Aprile' involves the coming of the 'season of love' with more butterflies, there's much of the same for 'A vucchella' which begins 'You are like a small flower, You have a small mouth' and 'Ideale' is full of longing for the singer's 'dear ideal'. Manu claims to have been inspired to sing by watching Mario Lanza in the 1951 film The Great Caruso (a fictionalised biography of the legendary singer). All quite nice, but I wish I had heard more Caruso – or even Lanza – in Manu's voice as these sounded too intimate and rather introvertly sung; though this actually worked well for his meditative 'Ideale', the best of the three. This last song also had an exquisite postlude and clearly Pappano has this music in his soul though this was of no real help to his singer. Later Manu's reflective rendition of Fenton's aria from Falstaff ('Dal labbro il canto') also lacked a little in true Verdian colour and feeling.
Lowe and Wake-Edwards duetted for the Barcarolle from Offenbach's The Tales of Hoffmann and to the sounds of lapping waters from Pappano, theirs was a sensuous and lilting account with Lowe at her rapturous best. As she also was – singing with Manu again – for the concluding duet of this Young Artists programme, the anthemic 'Tonight' from Bernstein's West Side Story. There were the heart palpitations of young lovers in Pappano's accompaniment though Lowe and Manu were rather emotionally, as well as socially distanced.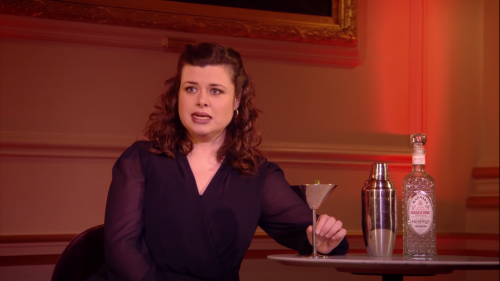 But it was Wake-Edwards who really stole the show on her bar stool, with Martini glass complete with olive, and a bottle of Maraschino. She conjured up late-night cabaret as she sang Kurt Weill's 'Speak Low', William Bolcom's 'At the last lousy moments of love', and finally Madeleine Dring's 'Song of a Nightclub Proprietress'. 'Speak Low' was sultry rather than bittersweet which was more a feature of her other two songs. Whisper who dares, Wake-Edwards is a contralto though no one is allowed to be that these days. She looks to be a consummate singing-actor and would be a natural in musical theatre.
Dring's song (brilliantly performed by Wake-Edwards) is apparently unique in this genre by being written – to lyrics by Sir John Betjeman! – by a woman and concludes as follows:
But I'm dying now and done for
What on earth was all the fun for?
I am ill and old and terrified and tight
Exactly how I sometimes feel under house arrest in lockdown, when will it ever end?
Jim Pritchard
For more about what it available from the Royal Opera House click here.