United Kingdom English National Ballet's Swan Lake: Dancers of English National Ballet, English National Ballet Philharmonic / Gavin Sutherland (conductor). Filmed at the Liverpool Empire on 21.11.2018 and available to rent through Ballet on Demand (click here) from 1.2.2021. (JO'D)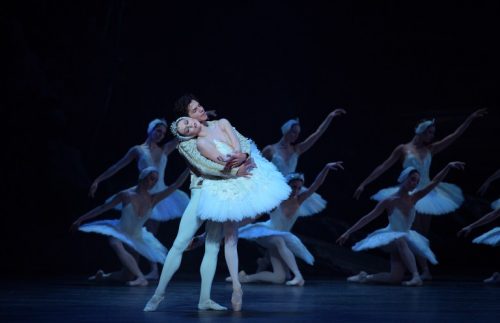 Production:
Music – Pyotr Ilych Tchaikovsky
Choreography – Derek Deane (after Marius Petipa and Lev Ivanov)
Additional choreography – Frederick Ashton
Design – Peter Farmer
Lighting – Howard Harrison
Cast included:
Prince Siegfried – Isaac Hernández
The Queen – Jane Haworth
Odette/Odile – Jurgita Dronina
Rothbart – James Streeter
I liked Derek Deane's production of Swan Lake when English National Ballet brought it to the London Coliseum in 2015 and 2019. I liked it in this film of a performance in Liverpool in 2018. Jurgita Dronina is delicately troubled as Odette, delicately seductive as Odile. It is in her arms that you see it. Isaac Hernández (Prince Siegfried), who I knew excelled in tours en l'air (in Le Corsaire), looks at her with longing and partners her attentively. Around them in the lakeside acts, the women of the English National Ballet corps de ballet frame and echo everything that Odile is feeling as if they were feeling it themselves.
The large-scale dances in the palace, Polonaise, Czardas, Mazurka, are crisply performed (and perfectly accompanied as ever by Gavin Sutherland and the English National Ballet Philharmonic). They have been known to drag. The Act I Pas de Trois has an airy charm. Daniel McCormack is particularly strong and musical. It is only in his introspective pas seul at the end of this act that Isaac Hernández looks at all uncomfortable. This might be because the choreography is by Rudolf Nureyev and difficult to perform. It might be that this dancer's broad-shouldered physique does not suit it.
Also, in the palace (in Act III) are a dance for six princesses, Katja Khaniukova among them; a vivacious pas de quatre or Spanish Dance, choreographed by Frederick Ashton, as its footwork shows; and a complex Neapolitan Dance that was originally a 'gift of love', according to Julie Kavanagh's biography of Ashton, Secret Muses, to the dancer Alexander Grant. I may be mistaken, but I seem to remember this being even more complex in 2015 than it is now. Didn't the two dancers, then, beat their tambourines behind each other backs? Is it a false memory, or did somebody re-choreograph Frederick Ashton?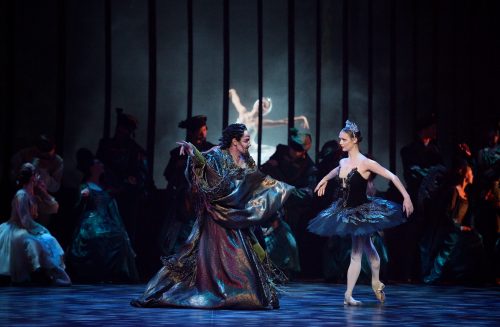 'I mean, like, Siegfried,' a woman in the row behind me at the Coliseum in 2015 said to her friends in the second interval, 'What an idiot!' But in this performance, at least, Siegfried seems not to be completely to blame for being duped by Rothbart and Odile. On seeing him doubt her for a moment as she dances her dance of seduction, Odile confers with Rothbart then mimics, with her arms, Odette's mournful gestures of Act I. In his brief moments of happiness after promising to marry Odile, the vulnerable Siegfried (we know he is from the Act I solo) seems carried away at finding his love requited more than anything else.
The ballet moves on to its tragic conclusion. Jurgita Dronina shows with great poignancy Odette's forgiveness of Siegfried, and her decision to drown herself in the lake. The audience of this performance in Liverpool is never seen. It is only present in the film through its intermittent applause. As the curtain comes down on the dead Odile and the dead Siegfried moving across the sky, watched from below by the Swans, applause and cheers erupt.
John O'Dwyer