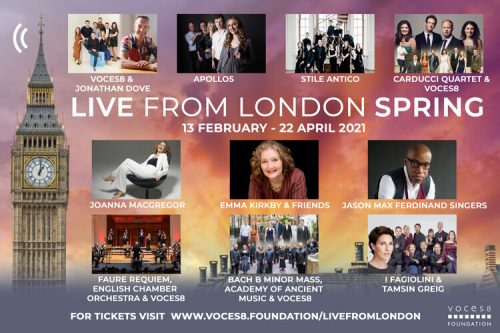 United Kingdom LIVE from London Spring – Soul of a Woman: Joanna MacGregor (piano). Streamed from the VOCES8 Centre, London, 7.3.2021. (CC)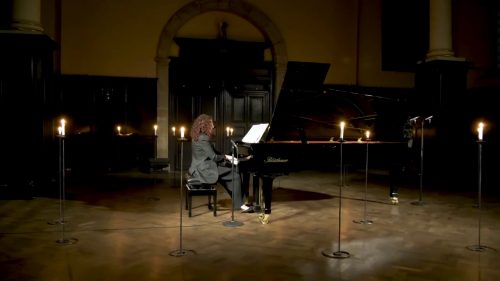 Margaret Bonds – Suite of Spirituals: Troubled Water
Mary Lou Williams – 'Miss D.D.' (Black Christ of the Andes); Zodiac Suite: 'Aries', 'Scorpio'; Ghost of Love (all arr. MacGregor)
Joanna MacGregor – Sometimes I Feel Like a Motherless Child: Lowside Blues; Deep River; Aint't No Grave Gonna Hold My Body Down
Florence Price – Piano Sonata in E minor: Andante
Eleanor Alberga – It's Time
Nina Simone – Blackbird; Little Girl Blue; Good Bait
Celebrating International Women's Day, Joanna MacGregor, Head of Piano at the Royal Academy of Music, gave a powerful, wide-ranging recital of piano music by composers from the household name of Nina Simone to perhaps the lesser-known Mary Lou Williams and Margaret Bonds. MacGregor played on a nicely warm-toned Blüthner with a lovely clear treble.
Bonds was born in Chicago in 1913; she was the first black soloist with the Chicago Symphony Orchestra. She was also a composer, known for her friendship and collaboration with the poet Langston Hughes. Her famous piece Troubled Water is a pianistic embodiment of gospel music, with the soundworlds of Gershwin and Ravel very much part of the mix: a Ravellian softness meeting some decidedly Gershwin chords.
Mary Lou Williams is one of the 'unsung heroes of jazz music', as MacGregor put it in her spoken introduction. 'Miss DD' is part of a 1962 Catholic Mass (she converted in her 1950s). Performed in the 1960s in St Patrick's Cathedral in New York, its shadowy ostinato left-hand with a freer right-hand contrasted nicely with 'Aries' from Williams' Zodiac Suite of 1944/45 (a sequence of portraits of friends). 'Aries' begins with the swoop of a downward glissando; here Gershwin meets gestures more aligned with Rachmaninov; 'Scorpio' is deliciously nervous, its staccato left-hand figure beautifully calibrated by MacGregor.
The sequence of Spirituals (including a piece actually by MacGregor, Lowside Blues) really benefitted from the mellow bass of the Blüthner, particularly the bluesy Sometimes I Feel Like a Motherless Child. In the central section of this piece, MacGregor created a pool of sound, yet one can still hear every note, against which that characteristically bright Blüthner treble contrasts beautifully. The original composition Lowside Blues boasted a crisp, sharp bass. Deep River was almost virtuosic in its oscillating chords, while Ain't No Grave was characterised by its strong rhythm.
Florence Beatrice Price (1887-1953) is a major American composer of the twentieth century. A Naxos disc of her symphonies is well work exploring (Nos. 1 and 4 with the Fort Smith Symphony and John Jeter), while her Piano Concerto is on the Albany label performed by Karen Walwyn and the New Black Music Repertoire Ensemble under Leslie B. Dunner.  The YouTube videos by pianist Michelle Cann are a treasure trove of discovery as far as Price is concerned. The Piano Sonata dates from around 1932.The slow movement of her Piano Sonata is Romantic and meditative, based on gospel music, but Price also references Schumann and Chopin in the style of her writing. It boasts a lovely melody, which 'sings' beautifully here, full of melancholy. An extended movement, it feels organic and masterly, and MacGregor times the end to perfection. Price, incidentally, taught Margaret Bonds, who premiered Price's Piano Concerto.
MacGregor's transcription of Ghost of Love from Mary Lou Williams's album Zoning finds Williams in this later work enjoying more progressive harmonies; it is a song Williams co-wrote in the 1930s and returned to forty years later in this set of variations. Here, Ives meets Thelonious Monk meets the ghost of Schoenberg, and indeed MacGregor's performance had all the sensitivity of well-played Schoenberg. It was followed immediately by Eleanor Alberga's It's Time (based on a Pushkin poem, replete with musical puns, its end an 'African paradise', as MacGregor put it). This Alberga established a darker musical field, terrifically atmospheric; Alberga writes beautifully for the piano, as pianist Di Xiao reminded us with her performance of Alberga's Jamaican Medley on the disc Femmes de Légende; and this extended, darker side is most appealing, and MacGregor gave a terrific, all-embracing performance of high virtuosity.
An experience of Nina Simone at Ronnie Scott's Soho jazz club inspired MacGregor at the tender age of 18, and it is with Simone that the recital ends. Born in North Carolina, Simone's music speaks straight to the heart; it is easy to forget that she was classically trained. Blackbird was written in the 1960s civil rights era, full of very African rhythms and very, very dark indeed. Difficult to imagine greater contrast with Little Girl Blue, a melding of Good King Wenceslas and a Bach Invention on that theme. The last piece, Good Bait, is cast in E flat minor; it starts like Bach and ends like Rachmaninov with plenty of rhythmic play in between. MacGregor's simply fabulous performance rounded off a most memorable programme, a radiant celebration of International Women's Day 2021.
Colin Clarke
For more about LIVE from London Spring click here.