United States Various composers, Apollo's Fire's Elegance – The Harper's Voice: Anna O'Connell (harp, soprano), Amanda Powell (soprano), Apollo's Fire / Jeannette Sorrell (conductor/harpsichord). First Baptist Church, Shaker Heights, Ohio, on 27.2.2021 and reviewed as a concert stream. (MSJ)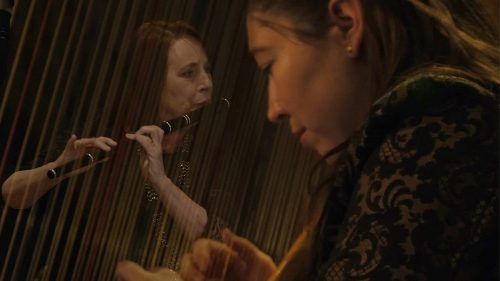 Music by: Turlough O'Carolan, Solomon Eccles, John Eccles, Henry Purcell, William Lawes, George Frideric Handel, John Dowland, John Playford, Alfonso Ferrabosco and traditional songs
This concert was an opportunity to hear more of the work of Irish harper Turlough O'Carolan (1670-1738), one of the last traditional bards of the Celtic culture, but also one who was aware of the developments of Baroque art music in his day. Both traditional folk elements and a sense of Baroque style can be heard in O'Carolan's compositions, here featuring guest artist Anna O'Connell. O'Connell, who was making her debut with the ensemble, ably conveyed the elegance of O'Carolan's work, both as harpist and soprano. Her highlight was a vividly soulful solo performance of 'O'Carolan's Farewell'.
New to me was the music of Solomon Eccles and his son John. John offered a more standard voice of the English Baroque, but Solomon's eccentricity – conveyed by stories that Sorrell shared between numbers – came through in his jagged, nervous music. Another discovery was the harp consort music written by William Lawes, more familiar for his bowed string consorts.
A continuing joy of Apollo's Fire performances is the coherence of the group, who watch and listen to each other closely to achieve a fine-tuned flexibility that brings their performances to life. Particularly effective was the pair of Irish folk songs arranged by the group's lead flautist, Kathie Stewart, that opened the second half of the concert. It started with Stewart playing alone, then gradually other instruments entered and segued into the second tune, which became a full romp.
Another instance came in music director Jeannette Sorrell's arrangement of 'The Skye Boat Song', where the instrumental breaks from soprano Amanda Powell's soaring verses were marked with solos by cellist René Schiffer and violinist Emi Tanabe that closely matched Powell's phrasing and vibrato. Key moments for lutenist/tenor Brian Kay, violinist Carrie Krause, hammered dulcimer player Tina Bergmann and harpist/flautist Luke Conklin made the sum total even richer.
The concert was an enjoyable tour through Celtic art and folk music of the seventeenth century, and its influence on more mainstream British composers of the era. It makes one wonder if, at some point, someone such as O'Connell will take on the daring task of delving even deeper into the lost world of the Celtic bards, for O'Carolan stood at the end of a tradition that had lasted over a thousand years at the very least. A number of years back, Benjamin Bagby made a bold and fascinating conjectural reconstruction of what a scop's performance of Beowulf in Old English might have sounded like, using surviving phrases of characteristic traditional music to set the text. Such a treatment awaits the fragments of Myrddin Wyllt, Taliesin Pen Beirdd and Aneirin Gwaddrydd, northern British bards of the sixth century, and it would make for a powerful, haunting project.
Mark Sebastian Jordan
For more information click here.