Czech Republic Verdi, Rigoletto: Soloists, The State Opera Chorus and Orchestra / Vincenzo Milletarì (conductor), Národní divadlo, Prague. Recorded on 30.1 and 2.2.2021 at the State Opera and available throughout March 2021. (RP)
Production:
Director – Barbora Horáková Joly
Sets – Sophia Schneider, Barbora Horáková Joly
Costumes – Annemarie Bulla
Lighting – Jan Dörner
Video – Sergio Verde
Choreography – Jan Adam
Dramaturgy – Jitka Slavíková
Chorus master – Adolf Melichar
Cast:
Rigoletto – Daniel Luis de Vicente / Nikoloz Lagvilava
Duke of Mantua – Long Long / Kyungho Kim
Gilda – Olga Jelínková / Marie Fajtová
Maddalena – Jana Sýkorová / Kateřina Jalovcová
Sparafucile – Zdeněk Plech / Ivo Harachovec
Monterone – Miquelangelo Cavalcanti / Roman Vocel
Giovanna – Sylva Čmugrová / Stanislava Jirků
Marulla – Lukáš Bařák / Csaba Kotlár
Borsa – Amir Khan / Jan M. Hájek
Count Ceprano – Andrey Styrkul / Vit Palacký
Countess Ceprano – Kristina Kubová / Eliška Mourečková
The pandemic has played havoc with the schedule of the Národní divadlo: all opera performances are cancelled from 5 October 2020 to 16 May 2021. It forged ahead, however, with rehearsals for its new production of Verdi's Rigoletto, originally scheduled to open this month in the recently renovated State Opera. When live performances with audiences will resume in the Czech Republic is an open question, but the Národní divadlo is streaming two performances of the new Rigoletto with different casts, free for opera lovers the world over to enjoy.
Rigoletto has been performed at the State Opera ever since the theater opened. In 1904, Enrico Caruso appeared on its stage as the Duke of Mantua for two performances. Barbora Horáková Joly's new production replaces a 1988 one by Karel Jernek, a leading twentieth-century Czech theater and opera director, that received 483 performances. It was last presented in 2017 at the Karlin Music Theater, another of Prague's historic venues for opera, operetta and musical theater.
Horáková Joly trained as a singer but switched to directing opera, and she has found remarkable success since embarking on this career less than a decade ago. In 2017, she won the Ring Award in Graz for her staging of Donizetti's Don Pasquale; the following year, she was named Newcomer of the Year at the International Opera Awards in London.
The Prague-born director's Rigoletto is dark and brutal. A glitzy, modern bar substitutes for a sixteenth-century ducal palace. Critics of Verdi's day, to say nothing of the censors, deemed Rigoletto immoral. More than a few operagoers might think the same of Horáková Joly's concept, but she sticks to the libretto for the most part. More to the point, this Rigoletto is anything but boring: Horáková Joly packs a lot into it.
Rigoletto, a lackey to the Duke, is conceived as a facially disfigured man with a mysterious past. Seeking revenge after his daughter's abduction and rape, Rigoletto puts on the white make-up of a clown, his mouth a slash of red. Tragedy is etched across his face. In the final scene, with his daughter dead and the Duke strutting about singing 'La donna è mobile', Rigoletto self-immolates in an automobile as the entire stage turns blood red.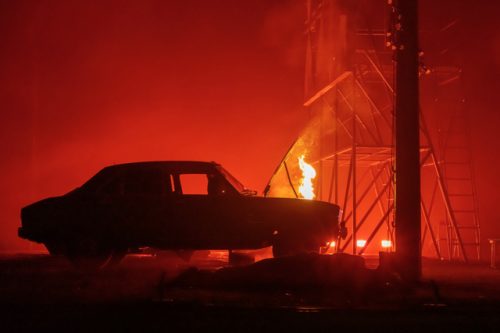 Gilda, Rigoletto's daughter, has been shielded from all of this and is horrified to witness the murder of Monterone, the old nobleman who comes to denounce the Duke and his men. After being raped by the Duke, she appears in a glistening, white, bloodstained slip, symbolic of both her innocence and the brutality of her first sexual experience. Her problem is that she fell in love with the guy.
The Duke, a glittering peacock of a man, is a class act: he passes out in a dumpster after his tumble with Maddalena. His henchmen are cut from the same cloth, crude macho types for whom violence is the norm and women are sex toys. A rubber doll gets a good working over to drive the latter point home. For opera singers, these guys have pretty good moves, especially their pelvic thrusts.
The name of the club where the Duke holds court is Bar Occo, presumably a reference to the 1975 French romantic thriller directed by André Téchiné and starring Gérard Depardieu. Above Sparafucile's hangout, L'amore ci farà a pezzi is spelled out in neon lights. It's the title of a recording by the Italian rapper Axos, which is in turn a tribute to the original English version of the song, 'Love will tear us apart', by Joy Division, a British punk band. Tina Turner's 'What's love got to do with it' would have been just as apt.
The set is constructed with metal scaffolding on a revolving stage. Bar Occo is all tawdry glitz. Rigoletto's home is a parked van with Gilda's bedroom, an oasis of domesticity, ingeniously pitched on its roof. Sparafucile's club, on the other hand, is mainly bare scaffolding; its bluntness creates a sinister and even more depraved atmosphere than all of the fuss of the earlier scenes.
The two casts are fairly evenly matched, although the one from the first performance gets the nod, chiefly for Olga Jelínková's Gilda. Vocally and dramatically, Jelínková gave a compelling, finely etched performance. Her musicianship was immaculate, and she is one of those rare singers who fuse coloratura with feeling to create emotions in sound.
Personal preferences as to voice types are going to determine favorites – appearance doesn't really come into play except for the two Maddalenas. Kateřina Jalovcová is young and alluring, but Jana Sýkorová is raunchier and riper, both physically and vocally, a perfect combination for a hooker with a soft spot for the Duke.
Baritone Daniel Luis de Vicente has a superb, richly textured voice. That carpet of sound and his keen dramatic instincts made for a commanding, compelling Rigoletto. Nikoloz Lagvilava's leaner, more brilliant bass went hand in glove with his conceptualization of the title character. The two tenors who sang the role of the Duke fell along the same lines. Long Long has a fuller voice than does Kyungho Kim, but the latter was far more calculating and cruel. They both sang with gleaming, pliant sound and got the Duke's self-absorption down pat.
If the business on stage may prove a bit much for those who favor tradition, they can rest assured that there were no such disappointments on the musical side of the equation. Vincenzo Milletarì, a protege of Riccardo Muti and Pier Giorgio Morandi, instilled drama and excitement in every note of Verdi's score. He can build a scene, or an entire act, to a thrilling climax, which allowed me to forget for a moment or two that I wasn't sitting in an opera house.
Rick Perdian
To watch Rigoletto from Prague's State Opera, click here.