Germany Richard Strauss, Der Rosenkavalier: Soloists, Chorus and Orchestra of Bavarian State Opera / Vladimir Jurowski (conductor). Livestreamed (directed by Henning Kasten) on Arte.tv (click here) from the National Theatre, Munich, 21.3.2021. (JPr)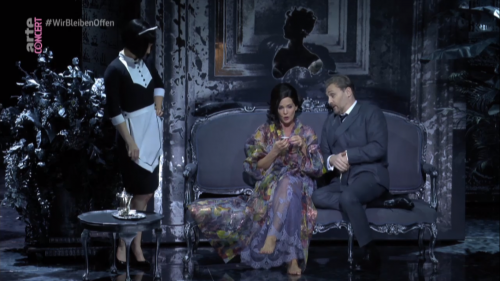 Production:
Production – Barrie Kosky
Set design – Rufus Didwiszus
Costume design – Victoria Behr
Lighting – Alessandro Carletti
Chorus director – Stellario Fagone
Dramaturgy – Nikolaus Stenitzer
Cast included:
The Marschallin – Marlis Petersen
Baron Ochs auf Lerchenau – Christof Fischesser
Octavian – Samantha Hankey
Herr von Faninal – Johannes Martin Kränzle
Sophie – Katharina Konradi
Marianne Leitmetzerin – Daniela Köhler
Valzacchi – Wolfgang Ablinger-Sperrhacke
Annina – Ursula Hesse von den Steinen
A police inspector – Martin Snell
An Italian singer – Galeano Salas
Late in the first act of Richard Strauss's Der Rosenkavalier the Marschallin reflects sadly on the passing of time, her lost youth and how fickle men can be. Seeing her young lover Count Octavian Rofrano again it has dawned on the Marschallin how he will eventually leave her ('Die Zeit, die ist ein sonderbar Ding' / 'Time is a curious thing'). We hear a clock chiming thirteen times as the Marschallin dismisses Octavian, though when he has left, she realises that she has forgotten to kiss him goodbye, but it is too late and he has gone. During this pandemic it has made me accept I am on now on borrowed time too!
Der Rosenkavalier is a loose adaptation of Les amours du chevalier de Faublas by Louvet de Couvrai and a Molière comedy Monsieur de Pourceaugnac. The libretto is by Hugo von Hofmannsthal and it was first performed in 1911. Most will be aware how the opera concerns the romantic attachments of four principal characters; the Marschallin (Marie Thérèse, a noblewoman who though only 32 is already worried her best years are behind her), Octavian (only just 17), Baron Ochs auf Lerchenau (the cousin of the Marschallin) and Sophie von Faninal who is 15 but promised in marriage to Ochs. The opera begins with the Marschallin and Octavian having spent the night together and who are now disturbed by Baron Ochs's arrival. He wants the Marschallin to help him court Sophie and so gain access to her father's wealth. With the Marschallin's back turned, Ochs makes a pass at her chambermaid 'Mariandel' (Octavian in disguise). Octavian escapes without being discovered and in his absence is appointed the 'Rosenkavalier' who will take a silver rose from the Baron and present it to Sophie. However, in the second act Octavian meets Sophie, he falls in love with her and tries to help her get out of the impending marriage. After some farcical contrivances in Act III, Sophie and Octavian are united, Ochs is embarrassed and the Marschallin, who knew that Octavian would abandon her for a younger woman, realises that time is now and she is left alone.
Der Rosenkavalier is originally set in Vienna of the 1740s on the cusp of the French Revolution. It was first performed with the First World War only a few years away, when for Vienna life was still very much fin de siècle. There were soon to be radical changes to this cultural and social order throughout Europe – with its coalescence of opulence and apparent decadence – in the early decades of the twentieth century and the end was nigh for all those involved. There is a Rosenkavalier to be created from this premise (perhaps there is good current one?) but Barrie Kosky's new Munich production – replacing a much-loved Otto Schenk museum piece version which lasted almost 50 years – isn't it. Everything I have read (and seen) tells me Rosenkavalier is a comic opera, and although there is no shortage of imagination during Kosky's typical madcap mayhem I barely smiled, let alone laugh. Having characters rush around the stage is not always enough, there has to a reason for them to do it. For instance, when in Act II Ochs's servants should chase the maids in the palace of Sophie's rich father, Herr von Faninal, and create an uproar, what Kosky gives us is a bacchanale with satyrs. In fact, the 'palace' looks like a gallery of allegorical paintings in Vienna's Kunsthistorisches Museum and for some reason the scheming gossips, Valzacchi and Annina have horns on their heads.
Firstly, it is important to note that this Rosenkavalier is performed in Eberhard Kloke's reduction for a smaller-than-usual orchestra with prominence given at times to piano and harmonium. (Whether this is due to social distancing I am not certain.) The chorus seemed to be piped in from another location on occasions. I am not an expert on Richard Strauss, but I understand this Rosenkavalier is uncut and so was more interminable than it needed to be; because one thing you cannot say about Strauss is that he never wasted notes!
In typical fashion Kosky – thanks to his set designer Rufus Didwiszus and Victoria Behr's costumes – gives each act a different look. A feature of Act I is a grandfather clock and its face – before it goes spinning around the front of the stage – shows time going backwards. The Marschallin emerges from the clock in her underwear and a sheer negligee with the hands of the hidden Octavian all over her. Soon potted plants are whirling across the stage and we are introduced to a near-naked ubiquitous figure; a venerable part-Cupid (as he is listed), part-Father Time, and, at the end, part-Mahatma Gandhi. Amongst the palms he seems to sprinkle the lovers with fairy dust (confetti?). A modern looking Baron Ochs in a grey suit has his audience with the Marschallin and is hyperactive, fidgety, and constantly fiddling with his glasses as he lusts after Mariandel. The interplay between the three of them makes this one of the better – and most comic – scenes. The Italian singer (Galeano Salas) acts like a castrato superstar from the Farinelli movie during a baroque fantasy pastiche. Throughout in the background – for no apparent reason – elements of a rococo Habsburg palace slide back and forth across the stage in the often dimly-lit background. At the end after Octavian has been sent away, the clock face returns and the Marschallin sits and swings on the pendulum.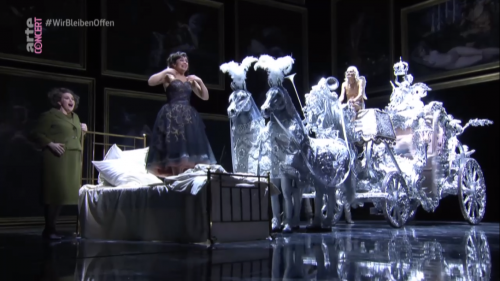 Act II opens with an alarm clock awakening Sophie who has been sleeping in a bed in the art gallery. The Rosenkavalier arrives in a 'horse'-drawn carriage, clearly a silvery version of the 'Imperial Carriage' to be found in the museum for these at Schönbrunn Palace. It is driven in of course by Cupid. Sophie is far from demure and in fact is quite feisty, someone who knows her own mind, and ultimately passionate. (I suspect it is this act that will put off many who might otherwise have wanted eventually to see this production in the theatre when circumstances allow!) A predatory Ochs chases after Sophie as the officious Faninal seems overkeen to marry her off and Kosky drains it all of any potential comedy and ennui sets in. Before and after Ochs theatrically pricks his finger on Octavian's sword it is all a bit of mess and by the time he lies on the bed and plots his revenge against him I have taken a dislike to this Ochs who is almost Alberich-like now.
For Act III it is time to revisit a modern directorial trope that of the stage within a stage and we are backstage in a theatre facing out into an (initially) empty auditorium. There is much too much toing and froing of musicians, waiters, children and multiple Ochses. With Cupid as the prompter (don't ask) it all descends into deconstructed chaos. The police inspector arrives and once the curtains part – which have been screening off the auditorium – Ochs sees the Marschallin sitting there (amongst the others involved and some mannequins) and he now realises the full extent of his humiliation: it has all been a farce and a Viennese masquerade. Ochs is now in the spotlight and departs after being pelted with the bills he must now settle.
I could almost forgive all that had gone before because of the glorious final scene between the Marschallin, Octavian and Sophie; the plaintive trio and ecstatic love duet ravished the ears and – to be truthful – the success of these final moments was more due to the singers than Kosky. Cupid's final appearance is yogi-like atop the grandfather clock and before he removes the big hand and sinks below the stage, Octavian and Sophie with her silver rose (spoiler alert) fly up, up and away.
Now the first thing you need for a memorable Der Rosenkavalier is a good Baron Ochs and sadly Kosky's staging falls at the first hurdle with the miscasting of Christof Fischesser. He is clearly a fine cavernous bass with full command of his bottom notes but Fischesser resorted to a sort of Sprechtstimme too often and, for me, his singing was just a jumble of words with little meaning or feeling. Fischesser's Ochs lacked any charisma and was far too cartoonish, though as this performance is a one-off so far, it is possible that he will relax into Kosky's Konzept given more opportunities.
Marlis Petersen's soprano voice has a bit of an edge to it which means that her first Marchallin is perhaps not the most opulent you will hear, but she created a real human being, genuinely in love with Octavian and visibly fearful of losing him with all the jealousy that entails. Petersen shows the Marschallin's frustration boiling to the surface in Act III, though she is noble – regal almost – and very moving in her quiet, gracious resignation.
Samantha Hankey is a handsome, androgynous Octavian, perhaps looking rather too good as Mariandel. Hers is not – on this hearing – the most seductive mezzo but there was a wonderful sense of chemistry between Hankey and Petersen's Marschallin throughout the opera, as well as with Katharina Konradi's Sophie. During the pivotal duets or the last act trio Hankey's voice blended exquisitely with them both. Konradi was unusually rich-toned as the strong-willed Sophie and proved to be another fine singing-actor. The high lying parts of her role held no fears for her youthful, yet cultured, soprano sound. The rest of the cast was a little variable possibly because both Strauss – and Kosky – sidelines them in all the shenanigans. Johannes Martin Kränzle is a wonderfully nuanced Beckmesser but goes over the top here as Faninal, truthfully he is not the only one. Wolfgang Ablinger-Sperrhacke and Ursula Hesse von den Steinen appeared to have great fun as Valzacchi and Annina. Sadly, for my ears anyway, Galeano Salas expended a little too much effort as the Italian singer and I would have preferred a sweeter-sounding voice.
Vladimir Jurowski (the incoming General Music Director) had the benefit of Kloke's reduction which with significantly(?) less strings gains in transparency of textures and there is no danger of any singer being overpowered, as some of this cast might have been with a full orchestra (at least for anybody who might get to hear them in the opera house). Perhaps it is the fault of Kloke but the beauties of Strauss's score, which I will admit are there, seldom came through my loudspeakers. I also wish Jurowski had got a move on even more than he did and glossed over some familiar Straussian longueurs. Any future performances should find any minor tempo misalignments between orchestra and stage rectified as this could be put down to – I suspect – limited rehearsal time.
It is amazing how in lockdown Munich – like several other European opera houses – can stage complete operas whilst Covent Garden's Royal Opera and English National Opera have been virtually(!) silent by comparison.
Jim Pritchard