Germany Riccardo Zandonai, Francesca da Rimini: Soloists, Extras, Chorus and Orchestra of Deutsche Oper Berlin / Carlo Rizzi (conductor). Livestream directed by Gotz Filenius from Deutsche Oper Berlin, 14.3.2021. (JPr)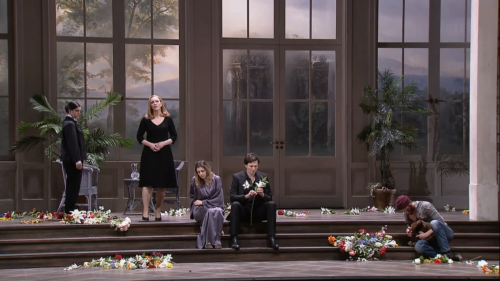 Production:
Stage Director – Christof Loy
Set design – Johannes Leiacker
Costume design – Klaus Bruns
Light design – Olaf Winter
Dramaturge – Dorothea Hartmann
Choir Conductor – Jeremy Bines
Cast included:
Francesca – Sara Jakubiak
Samaritana – Alexandra Hutton
Ostasio – Samuel Dale Johnson
Giovanni lo Sciancato, named Gianciotto – Ivan Inverardi
Paolo il Bello – Jonathan Tetelman
Malatestino dall'Occhio – Charles Workman
Biancofiore – Meechot Marrero
Garsenda – Mané Galoyan
Altichiara – Arianna Manganello
Adonella – Karis Tucker
Smaragdi – Amira Elmadfa
Ser Toldo Berardengo – Andrew Dickinson
After Verdi and Puccini – and still smarting under the revolution in opera brought about by Wagner – Italian opera was looking for a new hero and Riccardo Zandonai seemed to be the man. He was a pupil of Mascagni and a protégé of Arrigo Boito and came under the influence of the publisher Tito Ricordi. In fact, it was Ricordi who adapted Gabriele D'Annunzio's 1901 verse play Francesca da Rimini to provide the libretto for what, for some, is Zandonai's 1914 'masterpiece'; yet thought less well of by others. I have seen and heard this opera only once before and, for me, it is no masterpiece and calls into question what the rest of Zandonai's works must be like. It was D'Annunzio who apparently influenced Mussolini and the Italian Fascist movement and clearly there must be some personal (racial?) ideology in a blood-soaked tale that became this opera libretto full of deceit, betrayal, torture and brutality. It calls the jester (who is an itinerant musician in this staging) a Jew and goes out of its way to insult people with a disability by having Giovanni – also known as Gianciotto – the son of Malatesta da Verucchio as elderly, lame and deformed (now he is just old and violent).
It seems that around the time of the First World War, Italian composers were vying to write a Tristanesque work, though to link Francesca da Rimini in any way to Wagner's opera is an insult to Wagner. Based on historical thirteenth-century figures, as civil war rages in northern Italy we meet Francesca a strong-willed woman of good birth who – for her family's financial security – is tricked into marrying someone she doesn't care for, while the man she grows to love chases after her with little concern for the risk to them both. So far … so like Tristan und Isolde! In Ricordi's adaptation, instead of Wagner's dignified and forgiving King Marke we have the tyrannical Gianciotto, the older brother of Francesca's true love, the more handsome – read into that 'perfect' – Paolo. Gianciotto is a battle-hardened warrior and when his other brother, Malatestino – whose sadism increases exponentially when he loses an eye in battle – catches Paolo and Gianciotto's wife 'in the act', the opera reaches its inevitable, and long overdue, tragic denouement. Like Wagner's opera – a true masterpiece – an all-consuming passion overtakes two people with disastrous consequences. However, the original has the philosophical veracity, the three-dimensional characters, and better music that this Zandonai operatic pastiche lacks.
The plot would not matter if any of the music we heard was particularly memorable apart from reminding us of many other – better – operas. When Lord Andrew Lloyd Webber 'celebrates' tunes that have worked well before, he at least gives us one good one in each of his shows. Zandonai reworks – with diminishing returns – Verdi, Wagner, Puccini, Richard Strauss and others including Debussy (Pelléas et Mélisande), Mascagni (Cavalleria rusticana) and Leoncavallo (Pagliacci). Despite its length Tristan – which we are constantly reminded of – has barely a wasted note, but Francesca da Rimini's simple plot is dragged out for all its worth by a librettist incapable of moving the opera on with any real dramatic conviction.
Christof Loy's new production updates the medieval setting to more modern times and Johannes Leiacker's single set shows us the interior of an impressive villa with a conservatory often partitioned off at the rear with rattan furniture and – seen through the windows – the impressive backdrop of a typical Claude Lorrain painting. Apparently, it took two painters 280 hours to reproduce it! (This was learnt from the entertaining backstage tour during the interval hosted by the personable Australian soprano Alexandra Hutton who had sung Samaritana in Act I.) Everyone was dressed rather soberly in black (costumes by Klaus Bruns), no one was wearing a mask and the closest we got to one was an occasional balaclava. My impression was that there was a fierce gang war going on between two Italian mafia families rather than the original Guelphs and Ghibellines.
The object of three brothers' desire, Francesca is self-absorbed and headstrong and Act I begins with her four servants/companions making fun of a – mostly silent – scruffy violin player (in red beanie, leather jacket, T-shirt and jeans). There is an undercurrent of violence right from these early scenes as this musician will be beaten up. Francesca's sister, Samaritana, is a pill-popping sickly figure in a steel-blue nightgown. Paolo approaches to some oddly stirring music and Francesca's servants react like the flowermaidens in Parsifal. It must be admitted that the lovers' first meeting is accompanied by a ravishing cello solo and an accompanying chorus (sung offstage due to coronavirus precautions). Francesca presents Paolo with a rose and they kiss: totally smitten she is duped into signing a marriage contract as the handsome man sitting opposite her is replaced by the older Gianciotto: as Act II begins Francesca is now living in Rimini as his wife.
As the Malatestas are attacked by the rival family Francesca encounters Paolo once more. They confront their feelings for each other (think Tristan Act II), and Paolo begs forgiveness before rushing off to the battle armed with a crossbow as Francesca prays for him. She finds Paolo barely alive though her touch revives him, whilst Gianciotto is enraged to encounter her in the aftermath of the fighting. The power-suited Francesca calms him and after she shares a glass of wine with Paolo, she orchestrates a rapprochement between him, Gianciotto and Malatestino (who has been hit in the eye with a stone). The conflict resumes and the Malatestas are victorious, and Francesca is shown gloating amongst the injured.
For Act III it's March in Rimini. Francesca is telling her ladies (now in floral dresses) the story of Guinevere and Lancelot. They entertain her and there are mentions – and the musical imitation – of swallows which reminds us of Puccini's La rondine before Francesca's increasingly Brangäne-like maid Smaragdi tells her of Paolo's return. The second act is an odd one and this now continues the trend as Francesca matches an elegant evening gown (black again!) with her garland of violets for his return. Paolo comes back to her in his three-piece suit before (another) Tristan-inspired love duet with lines like 'day is my enemy, night my friend' before they delve back into what became of Guinevere and Lancelot. As the chorus sing about Spring, Francesca rips Paolo's shirt off whilst he – on this occasion – had trouble removing her dress.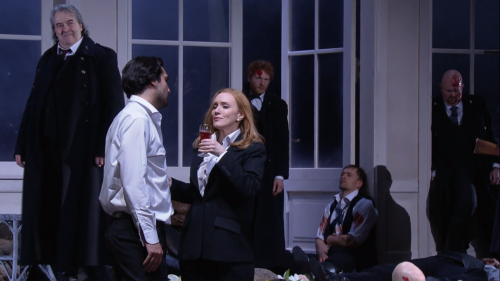 As Act IV begins, Malatestino cannot keep his hands off Francesca who claims he disgusts her, but their relationship is, at best, dysfunctional. Throughout their confrontation we hear the screaming of a prisoner being tortured and Malatestino acts like Orest in Elektra and cuts his head off with an axe and it is brought – as in Salome (another Strauss opera!) – back to the dining table now on the stage. Francesca tells Gianciotto about Malatestino and he challenges him. Malatestino says he has seen Paolo entering Francesca's room at night and Gianciotto demands proof of his wife's infidelity. This is a duet which mimics a similar one for Iago and Otello in Verdi's famous Shakespearean opera as the two vengeful brothers agree to surprise the lovers.
For the final scene Francesca (in blush pink negligee) is being comforted by her ladies (in white) and I thought she was going to sing the 'Willow Song'. Paolo enters for a passionate duet as he tells her 'I'll take you where oblivion awaits'. Gianciotto is heard approaching and there in no way Paolo can escape and (spoiler alert) Gianciotto stabs them both and they die in each other's arms as the opera ends with bass drum strokes and a loud tutti chord.
Amongst all the role debuts for the cast, those for Sara Jakubiak (Francesca) and Jonathan Tetelman (Paolo) are voice-shredders. Both singers were stretched to the extremes of their vocal ranges by Zandonai's wickedly high tessitura. Jakubiak has a background in Korngold, Strauss and Wagner and did not sound as if she had the ideal voice for Italian verismo. Jakubiak's musicianship is not in question, but her singing was often overwrought and under stress. Tall, elegant and looking like a Valkyrie, Jakubiak had her seductive moments as the ultimately tragic Francesca, but it was never the ear that was seduced until the last act when she sang softly and plaintively as she awaited Paolo.
In a few moments with Hutton backstage, Tetelman revealed how Paolo was a new Fach for him as it teeters 'between lyric tenor and dramatic tenor, so it is a bit of a challenge.' It is probably unjust to criticise Tetelman too much on the basis of a single performance viewed online but I hope he grows into the role if he gets to sing it again soon. His voice was rather bleached of colour and richness and he was rather shouty. Nevertheless, Tetelman was at his most impassioned during the love duet in the final scene as he sings to Francesca that he will take her 'where oblivion awaits'.
The hulking Ivan Inverardi embraced the role of Paolo's brutish brother Gianciotto with evil relish from the moment he first lumbered into the action. I wonder if Zandonai intended the character to elicit more sympathy and have rather more nobility – think Rigoletto – than Loy allows him. Inverardi's gruff tones impressed in Act III when Gianciotto realises he has been cuckolded. Charles Workman gave a 'scene-chewing' bravura performance as the totally deranged Malatestino. For the scene in the last act when he promises Gianciotto proof he needs, Inverardi and Workman vocally duelled to thrilling effect.
The work from the remote chorus had an atmospheric haunting quality, and supporting roles were mostly cast with strength. Alexandra Hutton sounded slightly shrill but was a suitably fragile Samaritana; Samuel Dale Johnson dark and well-projected baritone impressed as her and Francesca's brother Ostasio; Amira Elmadfa's deep mezzo colours made the role of the loyal Smaragdi seem bigger than it actually is; and Andrew Dickinson was wheedling and conniving as the lawyer Ser Toldo Berardengo. Finally, the quartet of Francesca's servants, Meechot Marrero, Mané Galoyan, Arianna Manganello and Karis Tucker had vibrant voices and personalities.
Francesca da Rimini is restaged just a few times every generation before returning to well-deserved obscurity. Musically it sounded as if it had clearly been prepared with consummate care by the blameless conductor, Carlo Rizzi. He encouraged refined playing from his musicians, and he paced Zandonai's intensely melodramatic hotch-potch urgently, making allowances for all its emotional gear changes whilst giving his singers ample support.
Jim Pritchard
For more about Deutsche Oper Berlin click here.