Germany Mozart, Schoenberg: Soloists of the Berlin Staatskapelle / Daniel Barenboim (conductor). Streamed from the Berlin Staatsoper on the Staatsoper's YouTube channel, 14.3.2021. (SRT)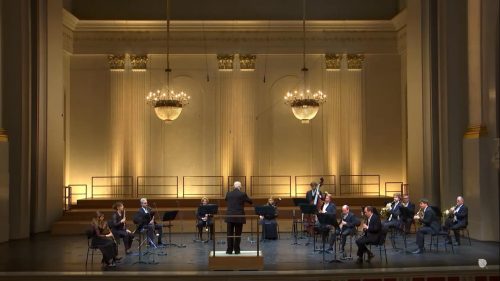 Mozart – Serenade in B flat K361 'Gran Partita'
Schoenberg – Chamber Symphony No.1
The last time I was in a theatre it was the Berlin Staatsoper. It was Zubin Mehta conducting an all-star cast in Verdi's Falstaff in February 2020, and it feels like it was somebody else's life. I remember it was the same day that the death of Dr Li Wenliang in Wuhan had been reported in my newspaper, and coronavirus felt like a distant threat thousands of miles away.
What a year it has been since then! All those thoughts came back to me as I watched this concert filmed in an empty Staatsoper, with Daniel Barenboim directing a socially distanced orchestra that consisted of no more than 15 players. So while this concert is beautifully played, I found it bittersweet; a reflection on how much we can lose so quickly.
However, to the positives: it is great. Barenboim has stamped his mark on the Berlin Staatskapelle in big blockbusting music by the likes of Wagner, Bruckner and Mahler, so it is a surprising treat to hear them distilled down to chamber-sized repertoire like this. The thirteen musicians playing Mozart's 'Gran Partita' sounded as though they were loving every minute of it, and I guess one of the perks of social distancing for the orchestra must be that, for some of them, it gives them the chance to do something very different.
You will travel a long way before you hear Mozart's wonderful serenade sounding as silky and aristocratic as this. For one thing, the particular style of their blend is to-die-for: the treacly combination of clarinets and bassoons provides a bed for the oboe floating overhead like a bel canto soloist, the four horns underpinning the sound with rich, dark tone that brings an unmistakable seams of luxury. The double bass player does much more than chug gently alongside; he adds something genuinely important to the texture, particularly in the Theme & Variations movement; and the sense of the ensemble moving as one is palpable.
Barenboim directs without a score, and shapes all the tempi completely naturally, though it's an open question as to whether this music needs a conductor at all. This band could easily have done a brilliant job by ignoring him altogether and, who knows, perhaps they were doing exactly that.
You are more likely to need a conductor to navigate the choppy waters of Schoenberg's first Chamber Symphony, and here the maestro's guiding hand was more evident. However, he shaped the piece's knotty lyricism with real style, and the players responded in kind. The strings made a huge difference, illuminating the texture while adding to the overall transparency, and the cellist, in particular, repeatedly has the delight of making music written all over his face.
The picture was crystal clear on my screen, and the soundscape was perfect, too. More than ever, it makes me yearn to be back there again, but it's also a positive reminder that life is going on, and even the Staatskapelle are finding ways to circumvent the nastiness of lockdown. That is good news for everybody, not least because there are some other jewels hidden away in their YouTube channel, and I suspect more are on the way. It is definitely worth exploring.
Simon Thompson
Available to stream on the YouTube channel of the Staatsoper Unter den Linden click here.