United Kingdom Ravel, L'heure espagnole: Soloists, Chris Hopkins (music director/piano), Ognune Lively (brass), Tom Marshall (percussion). Filmed 23 – 27.2.2021 in venues in Kensington Church Street, London, and streamed by Grange Park Opera, West Horsley, 20.3.2021. (JPr)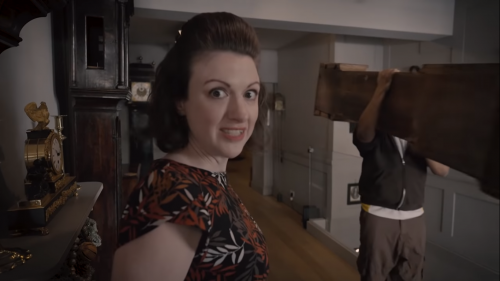 Production:
Director – Stephen Medcalf
Sound – Tom Marshall
Video Production – Daniel Zafer
French Coach – Beatrice Lupton
Cast:
Torquemada – Jeffrey Lloyd-Roberts
Concepción – Catherine Backhouse
Gonzalve – Elgan Llŷr Thomas
Ramiro – Ross Ramgobin
Don Iñigo Gomez – Ashley Riches
Ravel's French sex farce L'heure espagnole (The Spanish Hour) is a one-act comic opera, based on the play of the same name by Franc-Nohain which was first performed at the Théâtre de l'Odéon in 1904. The composer thought of his work as a 'conversation in music […] with the tradition of the Opera Bouffe'. The plot involves Concepción, wife of Torquemada, clockmaker of Toledo in the eighteenth century, taking the advantage of his regular Thursday absences to service the municipal clocks to allow her to entertain her Latin lover, the poet Gonzalve. On this particular Thursday her plans are first thwarted, and then transformed, by the presence of Ramiro, a dim but muscular muleteer (here a UPS delivery driver) who is there to have a watch repaired, followed by another of Concepción's admirers, the banker Don Iñigo Gomez.
Ravel wrote the work mainly in 1907, hoping it would be performed at the Opéra-Comique at the end of 1908; however, Albert Carré, the theatre's director, rejected it as being too risqué for his audience. Ravel persevered for several years and it was only after an important intervention of Mme Jeanne Cruppi, singer and wife of a government minister, that the opera finally premièred on 19 May 1911. The work carries the dedication – 'A Mme Jeanne Cruppi, hommage de respectueuse amitié'. Ravel insisted that the music must be funny in a comic opera, cue demented mechanical ticking, unconvincing cuckoos and other unusual orchestral sounds including a contrabass sarrusophone. All adequately recreated by Tom Marshall's percussion, Chris Hopkins's piano and Ognune Lively's brass which was responsible for the moment of 'musical flatulence' we heard at one point. (For interest, the audio the singers were miming to was recorded earlier in the month at Wigmore Hall.)
The term 'farce' always makes me think of slamming doors and dropping trousers. Here as those conspiring in these – attempted though thwarted – adulterous antics are on the verge of colliding there is some of the former, including imprisonment in large grandfather clocks, but fortunately none of the latter. The clocks have gone down and back up from Concepción's bedroom throughout the work; though eventually all the goings-on are interrupted by the return of Torquemada before there is a happy ending of sorts. It is all resolved by the deceived Torquemada accepting Ramiro will probably ring Concepcion's chimes anytime he is out and with Gonzalve and Don Iñigo buying their respective clocks!
Grange Park Opera's Interim Season during lockdown continues with another filmed instalment following (amongst much else) Sir David Pountney and Alex Woolf's A Feast in the Time of Plague (review click here) and the equally thought-provoking, ultimately tragic, Owen Wingrave by Benjamin Britten (review click here). Thankfully L'heure espagnole (sung in French with English subtitles) is nothing to take so seriously and director Stephen Medcalf (also responsible for Owen Wingrave) has imaginatively relocated it from Toledo to the eclectic mix of small businesses that can be found in London's upmarket Kensington Church Street. Howard Walwyn Fine Antique Clocks shop was the ideal setting, together with Sally Clarke's Bakery and Restaurant next door.
So, the closest we get to Toledo are the references to a small print of El Greco's view of the city on a wall amongst clocks. Torquemada is the bear-like figure of Jeffrey Lloyd-Roberts with a raffish appearance topped by a beret and looking, to me, rather like Alfred Molina. We are very much in the nudge-nudge, wink-wink world of the Carry On films and seaside saucy postcards. This is something Catherine Backhouse's wide-eyed Concepción appears to relish. She delivers some mild double-entendres (e.g., 'the mechanism is very fragile, especially the pendulum'); her putdowns (such as about her husband's 'puny muscles' with their 'zero power'); as well as the evidence of her increasing frustration at the inadequacy of the men in her life, direct into the camera. Backhouse is totally convincing as a sexually voracious vamp clearly 'on heat' and the amazement on her face as Ramiro doesn't break sweat moving the heavy clocks endlessly around needs to be seen to be believed. At the end of the opera they are shown returning to her bedroom.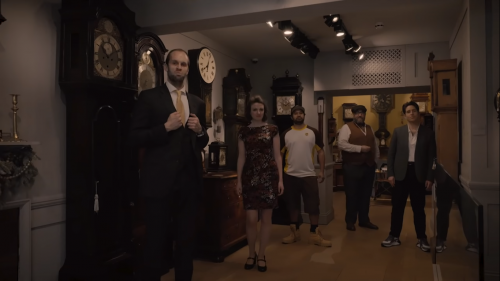 Gonzalve looks the part of a romantic poet with his scarf and fedora but seems more infatuated with all the clocks than with Concepción as he is inspired by them to write a sonnet, poem and a serenade. Don Iñigo Gomez enters in his three-piece suit and with a predatory air, but this dissipates as he tries to show Concepción he is a 'bit of a wag' and cuckoos from inside the tall-case clock he will eventually get his head stuck in. For the quintet finale the singers reflect on the antics of the characters we have seen, 'A financier, a poet, a ridiculous husband, a flirty wife', and how 'This is the moral of Boccaccio; amongst lovers chose the effective one.'
L'heure espagnole does not have any show-stopping arias and as a result much of the singing is recitative (at worst) or mélodies (at best). Grange Park Opera had the ideal voice types as far as I could hear with mezzo-soprano Catherine Backhouse leading the way singing beautifully and exuding a sexiness which convinced me that she could inflame the desires of so many men whilst twisting them around her little finger to achieve her aim. The other characters are perhaps slightly more one-dimensional stereotypes led by Ross Ramgobin's warm baritone as the happy smiling Ramiro who is guileless about women's wiles. The principal source of Concepción's exasperation was Elgan Llŷr Thomas's Gonzalve. He has a striking tenor voice with remarkably easy and agile high notes. I look forward to hearing more from Llŷr Thomas and as Gonzalve he was amusingly self-absorbed in his poetic creations. Ashley Riches used his rich baritone to good effect as the self-important and lascivious Don Iñigo. Finally, Jeffrey Lloyd-Roberts doesn't get much to do as Torquemada but seemed to relish the role as much as he did the delicious looking (huge) cream cake he got from the local patisserie (how many retakes did he need I wonder?). Always a fine singing-actor Lloyd-Roberts's cuckolded Torquemada was not merely a figure of fun; he thoroughly deserved some sympathy, and it was good to see him profiting from all the shenanigans at the end.
Jim Pritchard
For more about Grange Park Opera click here.