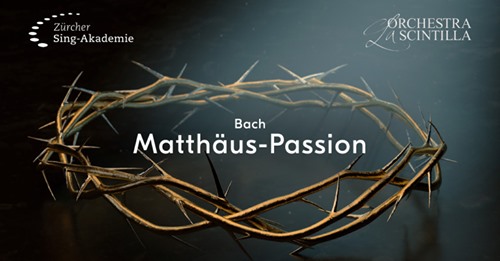 Switzerland Bach: Jan Petryka (Evangelist), Milan Siljanov (Jesus), Hannah Morrison (soprano), Anke Vondung (alto), Konstantin Wolff (bass), Zürcher Sing-Akademie, Orchestra La Scintilla / Florian Helgath (conductor). Kirche Oberstrass, Zurich 27.3.2021. (JR)

Bach – St. Matthew Passion, BWV 244
The Seen and Heard website is experiencing a natural flurry of reviews for the St. Matthew Passion, as this is the beginning of Holy Week. I can, I trust, therefore dispense with a description of the work, except to note that Bach wrote it to be performed in church, as part of an Easter church service. It was therefore entirely appropriate that I was able to attend this final rehearsal in one of Zurich's larger suburban churches; the performance will be given – sadly, without an audience – in the KKL (Kultur- und Kongresszentrum) in Lucerne on Good Friday, where it will be filmed for streaming on Idagio (see below).
The choir and orchestra were all tested for COVID-19 as they arrived; the first words of the conductor as he arrived on the podium was 'All negative' to sounds of relief all round. He then went on to say that, with so many Passions cancelled due to the pandemic, the choir was fortunate to have been permitted to rehearse and perform the work and should sing with added emotion to compensate for all the missing concerts.
The Zürcher Sing-Akademie is a professional group of some 32 singers, often employed by the Tonhalle Orchestra Zurich in works requiring a vocal contribution. The Swiss Federal Health Regulations allowed them to rehearse, in contrast to the prohibition still currently imposed on lay choirs – they are all waiting to be released and allowed to plan their next concerts.
Let me start with the soloists: Hannah Morrison, Dutch by birth but Scottish-Icelandic by descent, works closely with Sir John Eliot Gardiner; she is a regular in this repertoire and her pure, crystalline tones suit the work perfectly. Anke Vondung, a German mezzo, did not seem to me to have the ripeness or depth of voice for her arias, though she sang warmly in the fine aria 'Buss und Reu' and most tenderly in 'Erbarme Dich'.
The male soloists all impressed. Polish-Austrian lyric tenor Jan Petryka sang a very competent Evangelist: perhaps more feeling with the text will come with maturity. Most striking, as Jesus, was the rich bass of Milan Siljanov, Zurich born, now at the opera in Munich; his was a voice of authority. Also impressive was the resonant, rhythmic baritone of Konstantin Wolff. All in all, a very fine line-up of soloists. Members of the choir were employed for the smaller parts, such as the Pontifex and Judas; none of them disappointed.
The choir, whose members are very carefully selected, have the highest standards and were faultless. Chorales were deeply felt, especially the very tender 'Wenn ich einmal soll scheiden', sung just after Jesus dies on the cross. Turba sections and interjections were crisp, full of attack and with spot-on timing. 'Sind Blitze, sind Donner in Wolken verschwunden' is always a test of diction, speed and timing, which the choir passed with flying colours. The opening and closing choruses ('Kommt, ihr Töchter, helft mir klagen' and 'Wir setzten uns mit Tränen nieder') were particularly finely sung, with clear delineation of the parts in all registers.
Conductor and chorus master Florian Helgath kept a firm, clear beat throughout, guiding the chorus where necessary (which was not often), ensuring the long work never dragged.
Orchestra La Scintilla are at home in Zurich's opera house, where they service the early works. They are wholly in command of their baroque instruments, and there were fine contributions from the oboe d'amore and oboe di caccia, the traverse flute (in 'Aus Liebe will mein Heiland sterben') and the viola da gamba. Double basses and celli provided a strong ground bass line. Monika Baer (orchestra 1) and Bartlomiej Niziol (orchestra 2) were the excellent violin soloists.
This was a St. Matthew Passion to savour, especially for all of us who have been starved of music for far too long. Do watch the streaming, if you can, on Idagio (click here). The concert itself starts on Good Friday at 3pm (CET) but is available until 31 December 2021.
John Rhodes