Gothenburg Opera's new Siegfried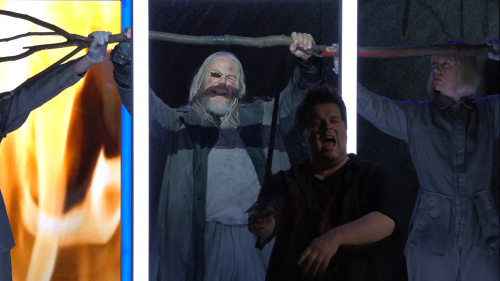 FOR OUR RECENT SIEGFRIED REVIEW CLICK HERE
The Gothenburg Opera has announced that the eagerly anticipated third instalment in their current Ring cycle will be shown exclusively online starting on Friday 26 March (click here).
Director Stephen Langridge's Siegfried (with sets and costumes by Alison Chitty) was planned to premiere in late autumn 2020 but was postponed when all theatrical institutions in Sweden closed to the public due to the coronavirus pandemic. During the winter the house and cast have filmed the opera onstage but without an audience.
The film will be released for free on the Gothenburg Opera's streaming website www.gofilm.se starting with Act I on Friday 26 March. Act II is released on 27 March and Act III on 28 March, all three acts will remain available to stream until the end of Wednesday 31 March.
Stephen Langridge comments: 'We had hoped for a digital premiere before Christmas 2020 but were forced to change our plans at short notice before we had time to finish all the planned recording sessions. The result … is a version of Siegfried which unusually has two excellent singers in the role of the Wanderer. I hope that our audience will enjoy this third part of our journey and I look forward to meeting the audience again in a post-corona world and onstage.'
Stephen Langridge, conductor Evan Rogister and some of the soloists have recorded a pre-premiere talk (in English) which is available until 31 March.
New soloists for this cycle include American tenor Daniel Brenna as Siegfried, Dan Karlström as Mime, Sofie Asplund as the Woodbird and Ingela Brimberg as Brünnhilde. Fredrik Zetterström is the Wanderer in Acts I and II while Anders Lorentzon returns in that role in Act III. Also returning from earlier in the cycle are Olafur Sigurdarson (Alberich), Mats Almgren (Fafner), and Hege Høisæter (Erda).
Seen and Heard International has reviewed Das Rheingold and Die Walküre and will be publishing a review of Siegfried.
Full details in English about the production including links to each act are available on the Gothenburg Opera website. No payment or registration is required to view the stream.
Niklas Smith