United Kingdom Schubert: Mitsuko Uchida (piano), recorded 5.1.2021 at Wigmore Hall, London, exclusively for Cal Performances at Home. First streamed on 18.3.2021, and available on demand through 16.6.2021. (HS)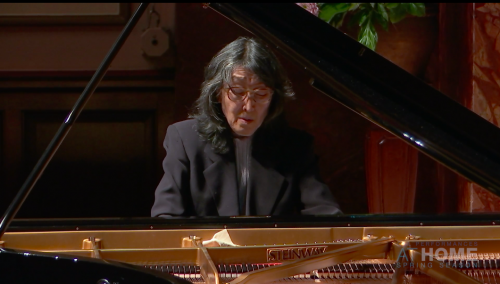 Schubert – Impromptu No. 2 in A-flat major D.935; Impromptu No.1 in C minor D.899, Sonata No.18 in G major D.894
Mitsuko Uchida, one of this generation's most revered pianists, has graced the San Francisco Bay Area with her playing but once in each of the past two decades. So, when Cal Performances announced that its 2020-2021 season would include Uchida playing two Mozart piano concertos with the Mahler Chamber Orchestra, I quickly circled 28 March on my calendar.
Alas, it was not to be. No live performances are yet permitted locally due to the pandemic. But Uchida, a longtime resident of London, got herself to nearby Wigmore Hall, and committed to video an all-Schubert recital exclusively for the University of California's virtual concert series.
Uchida has recorded all 21 Schubert sonatas, and played complete cycles around the world. For the featured work in this program, she chose one with which she has been indelibly linked, the Sonata in G major D.894, the last sonata the composer wrote before the big three, his best known.
It is an expansive work – this performance times in at 38 minutes – but not a showy one. The quiet opening chords glow with an auburn light, transporting us to a serene place before rattling us with forays into more ambitious harmonies. Rather than put too much emphasis on these gestures, Uchida finds ways to fit them into the placid beauty of much of this work.
Using very little pedal, she gets welcome clarity from Schubert's signature shifts from major to minor and back again. These feel inevitable rather than sudden, as the music seems to grow naturally. The contrasts between fast and slow are similarly seamless: the fast parts feel like mirror images of the slow sections. These dreamier pages always maintain a pulse, even in the second movement Andante, where stormier sections seem to recede before they can get too revved up.
The third movement minuet dances skippingly, landing almost like a Ländler rather than a refined minuet, but it ends with a caress in the final measures. The finale opening is carefree, a feeling that Uchida keeps returning to despite the excitable music interrupting. It all ends in the serenity with which it started.
To open the proceedings, Uchida lavished her patented gentle touch on two impromptus. In the A-flat major (No.2 in the composer's second set), we hear liquid triplets at the start, and as they recur, they pulse more strongly and more persistently. But even when things get stormier there is still a sense of control. And in the C minor (No.1 in Schubert's first set), the march theme takes on a subtly different personality as it returns, sometimes as itself and other times as a variation, here serious, there a bit sardonic. When it all ends in a surprising C major, all feels right with the world.
Darius Weinberg, credited as 'live video switcher', uses several cameras. The video begins with a long shot of Wigmore Hall's intimate confines, Uchida already at the piano on the small stage. Most often, it's either the camera that is focused on the pianist's hands, or the one that uses the piano and its angled lid to frame her all-business face.
The video was done in one take, with no editing to shorten pauses between pieces or movements, which reinforces the sense of capturing a live performance.
Harvey Steiman
For more information about Mitsuko Uchida performing for Cal Performances click here.