United Kingdom BBC Radio 3 Lunchtime Concert – Isata Kanneh-Mason (piano): Livestreamed from the Wigmore Hall, London, 8.3.2021. (JPr)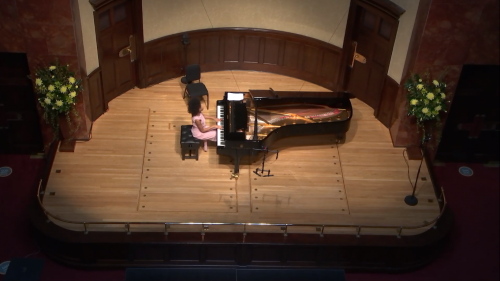 Clara Schumann – Notturno from Soirées musicales, Op.6; Scherzo No.2 in C minor Op.14; Piano Sonata in G minor
Natalie Klouda – Nightscapes 2020
Sofia Gubaidulina – Chaconne
BBC Radio 3 presenter Georgia Mann welcomed listeners to this lunchtime recital in an otherwise empty Wigmore Hall by reminding them it was International Women's Day, and that 24-year-old Isata Kanneh-Mason was to showcase 'the work of a game-changing and virtuoso pianist Clara Schumann, as well as brand new music by Natalie Klouda inspired by the strangeness of sleep during lockdown and a work by the brilliant Tatar-Russian composer Sofia Gubaidulina.' Mann continued by adding how Isata 'has wowed everyone from Sir Elton John to the judges of this year's Leonard Bernstein Award which she won. Isata has said "I have always been interested in Clara Schumann as the fact that her music was rarely played. One thing that attracts me is the fact that she has eight children and I come from a family of seven". Isata is the eldest of the outlandishly talented Kanneh-Mason siblings.'
Clara Schumann's mediative Notturno highlighted something that became a feature of this 50-minute recital which was the ability of those watching online to be amazed by Kanneh-Mason's fast fingering; rapid right-hand runs supported by a pianistic pulse from her left hand. Kanneh-Mason's Scherzo No.2 with its stormy arpeggios rampaging up and down the keys is restless and impetuous with only a brief reflective interlude and a dramatic ending.
There followed the world premiere of Natalie Klouda's Nightscapes 2020 which lasted only about six minutes, so any introduction will be longer than the work itself. Mann told us how 'Natalie describes this piece as "an ode to the night-ins that 2020 brought to my world". There are two movements the first is called Dream Morphing and Natalie says, "it draws on my feelings of distance from loved ones in both time and worry during 2020" […] near the end of this movement there's a "wakening" moment: a seven-note cluster representing Isata and her six siblings.' (Konya is one of them and is also a pianist and she turned the pages for Isata who was otherwise playing from memory.) We learnt how Natalie says the second movement Processing Atonia is 'a very different beast. From 2020 my usually very erratic professional schedule suddenly stopped. With a simpler schedule, I began to notice my own sleep patterns (or lack thereof) and it rekindled my interest in the link between sleep and creativity.'
The quiet, tinkly opening of Dream Morphing belied the undercurrent of confusion and angst in the music which explored what the extremes of a keyboard was capable of. Processing Atonia was relentless and the stuff of musical nightmares demanding great technical accomplishment from Kanneh-Mason for whom Nightscapes 2020 was written.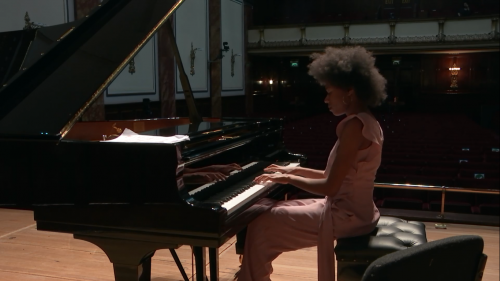 Apparently known for her film scores, improvising and experimenting, Sofia Gubaidulina's Chaconne was one of her earliest works and was composed in the 1960s whilst she was a postgrad student at the Moscow Conservatory. It has a spectral, otherworldly quality and required more fast hands and all the expressive power at Kanneh-Mason's bravura command. (For me it sounded like jazz on speed!) Once more the music only allowed a few fleeting moments for listeners to breath before a succession of chords ushered in the almost-inevitable powerful conclusion.
Clara Schumann's Piano Sonata in G minor was the most substantial work in this lunchtime programme and although composed in the 1840s remained unpublished until the 1990s. Kanneh-Mason says how Clara 'has a strong compositional voice that sounds like no one else. You can tell from it what a romantic person she was but also how strong she was: these are two defining strands to her character.' The opening Allegro had – for me – some of the most lyrical and accessible music we had heard from Kanneh-Mason. There was intensity and passion as we looked in awe, once again, at the pianist's (trademark?) quicksilver fingers. The Adagio was (of course) slow and ruminative whilst the Scherzo was skitteringly playful. For the Rondo finale Kanneh-Mason's playing was – as for most of her programme – intense with her hands mostly a blur in music that was like a love song without words.
Jim Pritchard
For more about what is available from the Wigmore Hall click here.