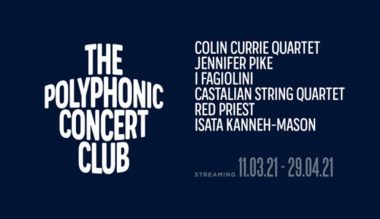 United Kingdom Mozart, Szymanowski, Paganini/Szymanowski, Massenet: Jennifer Pike (violin), Petr Limonov (piano). Streamed by The Polyphonic Music Club (click here), St George's, Bristol, 11.3.2021. (CC)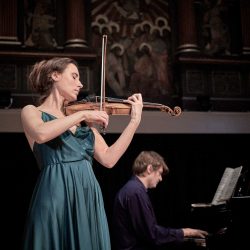 Mozart – Violin Sonata in G, K 301 / K 293a (1778)
Szymanowski – Lullaby – La Berceuse d'Aitacho Enia, Op.52 (1925) Violin Sonata in D minor, Op.9. (1904); Caprices de Paganini, Op.40 (1918): No.1 (Caprice No.20)
Massenet – Thaïs (1892): Méditation
Streamed from The Polyphonic Music Club, this was a nicely balanced programme of some of the most beautiful music written for violin. The concert in fact launched The Polyphonic Concert Club is a new online concert series, a new initiative by Polyphonic Films Ltd that constitutes a collective effort between venues and musicians to feed audience hunger for live performance. This is the first of an initial six concerts. Venues include St George's Bristol (this concert, and a recital on 15 April by Isata Kanneh-Mason), Stoller Hall, Manchester (the Colin Currie Quartet on 18 March and the Castalian String Quartet on 1 April) and the National Centre for Early Music, York (I Fagiolini on 25 March and Red Priest on 8 April). All programmes are available on Thursdays.
The actual methods of filming have been carefully considered and are consistently successful; the director clearly has a close knowledge of the scores, while close-ups allow us a window into the performance we might not enjoy at a live recital. There is still that uneasy feeling of entering and exiting under a veil of silence; I wonder what future generations will make of this phenomenon …
The Mozart was superbly judged; Petr Limonov's transparency, light sound and beautifully sparing use of the sustaining pedal formed the perfect partnership to Jennifer Pike's beautifully eloquent violin. There are only two movements, both fast: an Allegro con spirito and a final Allegro that here sang and danced of the joys of Spring. Mozart's writing creates a duo of equals and 'duets' between the violin and the pianist's right hand were of particular delight in the finale.
It is a fair furlong or two from 1778 Mozart to 1925 Szymanowski; a bit like being transported to a perfumed etheric world straight from the decorum of the eighteenth century. The Lullaby (La Berceuse d'Aitacho Enia by Szymanowski seems to hover somewhere outside of our world; Pike's sound, silkily legato up top, smoky lower, underpinned by Szymanowski's heady harmonies on the piano.
Written nearly two decades prior to the Lullaby, the Violin Sonata is an expansive creation over which hovers an imprint of Scriabin; perhaps there are parallels one could make with Franck's harmonic sphere, also. The first movement is unhurried – marked Allegro moderato, Patetico – and Pike and Limonov allow the music the perfect space to breathe. The central Andantino tranquilo e dolce is a dream, and was in this performance, the tranquil and sweet indicators fully realised. It is perhaps the most appealing movement, with its lovely alternations between pizzicato and arco (bowed) on the violin, its aching melodies for both violin and piano (some superbly even ascents here from Pike). By far the most muscular and gestural movement, the finale (an Allegro molto, quasi presto) still oozes clouds of perfume whilst maintaining a new-found level of excitement that later verges on frenzy, at least in this sterling performance.
The monumental ending of the Violin Sonata requires something to set off the blow; and so it is lovely to see and hear the Paganini/Szymanowski Caprice, nicely timed in view of Francesca Dego's Chandos release on which she plays Paganini's own instrument, known as 'Il Cannone'. Pike's incisiveness is something else here, though, that lovely sense of live performance coupled with the encountering of huge technical challenges creating a magnificent alternation between virtuosity and plateaux of calm. Pike's highest register sings so sweetly.
The famous Méditation from Massenet's Thaïs played absolutely to Pike's strengths, a programmed encore of exquisite expression, the long lines delivered by Pike's 'endless bow'. A superb way to launch this captivating, beautifully produced series.
Colin Clarke