United Kingdom Bach: Jonathan Ferrucci (piano).Livestreamed from St Mary's Perivale, 28.3.2021. (JB)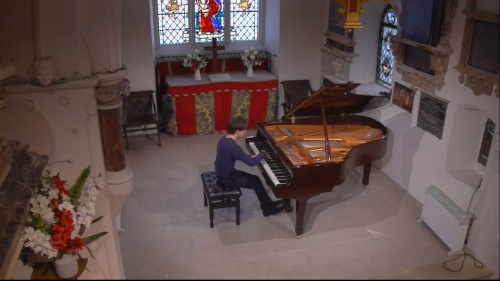 Bach – Goldberg Variations, BWV 988 
I am with Roland Barthes when it comes to harpsichords: I would rather be somewhere else. Pianos of a sort existed in Bach's time, though there is no evidence that he composed with one in mind. Bach specifically says that the Goldberg Variations are for harpsichord with two manuals. Pianists, then as now, must have played these variations on the piano. But there is no evidence of Bach either approving or disapproving this choice. Add to all that, the modern Fazioli, Steinway and Yamaha and the choice is endless. You might add Blüthner, Bechstein, Broadwood and other top piano makers to this list. Jonathan Ferrucci would almost certainly go for a Fazioli if he could. But he is having to make do with a Yamaha with which he is already familiar.
I have now listened to the Ferrucci Goldberg three times, virally. That prompted me to go back to hear the 2011 harpsichord CD recording of Orhan Memed – the great American/Macedonian harpsichordist, musicologist and pianist – which he kindly gave me a few years ago in Rome where he now lives. There will probably never ever be such an authoritative recording; the sound is steely, and he sounds as though he is threatening the music. Much like the best horror movies. Compelling listening even for no-go harpsichordists like me. No repeats, so he knocks some twenty minutes off the Ferrucci performance.
Those repeats are essential for Jonathan Ferrucci; they open up the whole possibility of nuance, expression and mystery. Here is a pianist who is not about to ram the Goldberg down your throat. Apologies to Orhan, who already knows my prejudice.
Jonathan's performance is an invitation to the variations; from that invitation he proceeds by stealth with a humble 'how-about-this?' approach. This is a striving to deliver which is never overly strained. Yet neither he nor his audience can relax for a second. All his yoga practice must be admirable training for discovering and maintaining that perfect balance.
1741 is the most reliable of the printed scores (unusual in Bach's day) and is prefaced in German with the words keyboard exercises consisting of an aria with diverse variations for harpsichord with two manuals. Composed for connoisseurs, for the refreshment of their spirit by Johann Sebastian Bach.
Refreshment of their spirit indeed!  Mr Ferrucci is determined that neither he nor his audience shall miss out on even a second of that. Bach disliked variation form which could so easily become boring because of its restricted harmonic possibilities. Just ask any BMus candidate if you want confirmation of that trap. These are the only variations which Bach wrote.
The St Mary's technical team delivered their usual excellence. For any other pianist one would have to add and their cruelty. Bach incorporated cross-hand playing into the variations, made popular by his exact contemporary, Domenico Scarlatti in his innovative keyboard sonatas. Yes, Jonathan, on second viewing, I died for you when you fluffed one of those right hand over left leaps. No worry. You turn out to be practised at rising from the dead. Your yoga prowess again?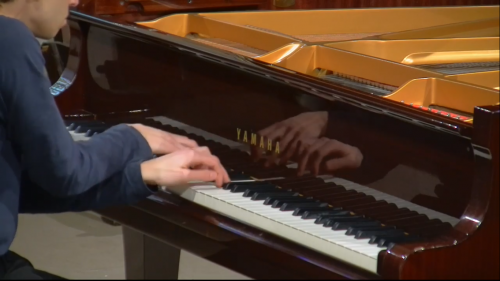 As for the keyboard exercises your presentation of the aria introduced an unexpected Chopinesque cantabile with forearm support into the proceedings. A bit cheeky if you ask me. And absolutely beautiful. Can that be where Chopin got the idea for his own studies?
Like other Bach keyboard compositions, the Goldberg makes use of the Baroque courtly dances. The aria itself is a Sarabande – a stately Spanish dance in 3 time. Dignified and blissfully moving forward from the giddy heights of aristocracy, it so commands attention. And that is the attention it gets under the Ferrucci fingers.
The aria itself is richly ornamented with mordents (play the note, the note below and the note) as well as inverted mordents (the note, the note above, the note) which in Bach's day were left to the discretion of the player. Ralph Kirkpatrick in his recording of the Goldberg Variations on the piano cuts all the mordents. That can sound a bit chilly, like he left his coat at home. Jonathan Ferrucci plays them all I believe (I can't find my score!).
The 1741 score also indicates which manuals to use of your two-manual harpsichord. All the variations except 5, 7 and 29 use two; the three variations named could be played on one or two manuals at the discretion of the performer. It was almost uncanny how Jonathan Ferrucci manged to 'change manuals' on a Yamaha grand piano. I still have not worked out how he managed this. But then, I enjoy my music with some unsolved mystery.
A strictly related matter. The Guardian recently interviewed Charlotte Rampling, the French/English actor. (link?) Though now in her seventies and still in demand as a model, Ms Rampling – whom you may remember from her many movies – says she wasn't acting when she was playing tough, which she does in most of her films. Yet there is something unmistakeably likeable about her portrayals. The likeable bully? Not exactly. She says she is at her best when she is going ping. Some people would call this a Eureka moment: the great moment of self-awareness which is often hidden. Rampling has made an art of pinging. So has Jonathan Ferrucci it seems to me. So have I. So might you. Try it sometime. Pass on this mental health improvement guide.
There is only one thing which puzzles me about Jonathan Ferrucci: why isn't every concert organisation in the world queueing up to book him for a recital? He ticks all the boxes: he is colossally gifted musically, supremely intelligent, and yes, he has a great sense of humour as you realise, he is aware of his own ridiculousness as well as the follies of the music business.
Watch Jonathan Ferrucci Goldberg Variations on St Mary's Perivale website (click here) and it can also be found on YouTube.
Jack Buckley