United States SoundBox, 'Lineage': Julia Bullock (curator, singer), San Francisco Symphony Chorus, San Francisco Girls Chorus, members of San Francisco Symphony / Daniel Stewart (conductor). Recorded at Davies Symphony Hall in San Francisco and Bavaria Musik Studio in Munich. Presented by SFSymphony+ and first streamed 11.3.2021. (HS)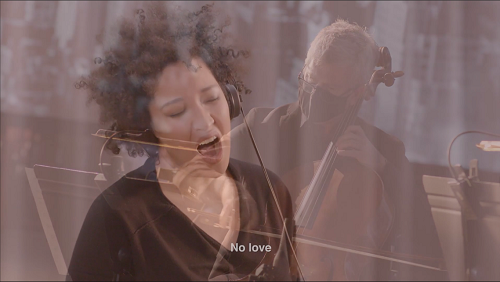 In purely musical terms Julia Bullock's 46-minute program, 'Lineage', makes perfect sense, despite putting together works by diverse composers such as the twelfth-century Hildegard von Bingen, eighteenth-century J. S. Bach, twentieth-century Francis Poulenc and jazz-infused artists Nina Simone and Esmeralda Spalding.
For her turn curating a program for San Francisco Symphony's Soundbox series, Bullock's musical mind searches for connections across the centuries and embraces big questions. She writes in the program introduction: 'As I continue to follow along the path and legacy of artists that came before me, lineage has become increasingly important – it's a part of knowing from where I originated and letting that inform where I envision myself going'.
Bullock lets the music speak for itself, saving all commentary for the program notes. The video begins in silence as she strides up to a set of microphones to sing, a cappella, Nina Simone's 'Revolution'. The song, co-written in 1969 with Weldon Irvine, reminds us that conditions leading up to 2020's protests about race equality have been simmering for longer than many realize.
Without a break comes a black-and-white film from 1958. Simone, at the piano on the Ed Sullivan Show, sings the jazz standard 'Love Me or Leave Me', interpolating a piano improvisation in the style of a J. S. Bach invention, played with precision against a jazz rhythm. That segues into Sarah Cahill, a pianist on the faculty of San Francisco Conservatory, executing Bach's actual Invention No.13 in A minor, and beautifully.
Fade out/fade in on a colorfully patterned background and the sound of the San Francisco Girls Chorus singing a haunting version of von Bingen's 'O frondens Virga'. Members of the San Francisco Symphony Chorus pick up the final sustained D above middle C, which serves as a pedal tone against which Bullock sings Simone's haunting, plaintive 'Images', from a poem by William Waring Cuney, about a woman with brown skin who knows not how beautiful she is.
It is a breathtaking sequence, a glowing tribute to two enormously powerful women musicians. Bullock channels Simone's ability to articulate both pain and hope with clear-eyed eloquence, her voice ranging from a gleaming top to resonance below the staff. She harnesses these attributes to deliver the words with jewel-like authority.
A version of this opening foray was to be part of a live, in-person Soundbox event, the symphony's casual late-night series in which musicians get to curate their own programs, mixing their work with that of others. When the pandemic intervened, the series migrated to streaming video. Video director Stephen Condiotti uses the segues, backgrounds, camera angles and pacing of video effectively to make a gripping presentation. Bullock and members of the orchestra provide the music, she recording from a studio in Munich (the city where she's been living) and the others at a studio in Davies Symphony Hall in San Francisco.
Connections like those between Simone and von Bingen – in her notes Bullock thinks of them as musical conversations – create groupings that meld seamlessly when heard. The next one shifts the spotlight to the orchestra for two works by twentieth-century Black American composers. Coleridge-Taylor Perkinson's 'Plain Blue/s' for solo violin dissolves into George Walker's 'Lyric for Strings'; assistant concertmaster Wyatt Underhill plays them with appropriate vigor and rhythmic vitality, and Daniel Stewart, music director of the youth orchestra, conducts the octet with a strong pulse.
Bullock is one of eight artists serving this year as 'collaborative partners' with music director Esa-Pekka Salonen. Another is jazz bassist and vocalist Esmeralda Spalding, who is the fulcrum of the next pairing. Aruán Ortiz's 'Mompouana', written for Spalding's quartet, gives Bullock a chance to swing effectively with pianist John Wilson, principal bass Scott Pingel and drummer Jacob Nissly. Spalding's song 'Little Fly', based on a poem by William Blake, makes a seamless match with Bullock and a violin-viola-cello-bass quartet.
The next musical 'conversation' could have been awkward, centered as it is on two movements from French composer Francis Poulenc's Rapsodie nègre. His first work performed in public, it can be seen as a perfect example of cultural appropriation, imitating what the composer thought was African music. But Bullock performs the final two movements as music, not parody, with a sextet featuring flutist Robin McKee and clarinetist Carey Bell.
She brackets the Poulenc with two pungent chamber works by the contemporary composer Elizabeth Ogonek – a freewheeling set of variations for strings, piano and percussion, and a setting of Rilke's 'In this uncontainable light', in which Bullock somehow makes terror seem beautiful.
The video concludes on a more hopeful note with contemporary composer Ricky Ian Gordon's plush and enveloping 'Litany'. Set to the words of the Harlem Renaissance poet Langston Hughes, the arrangement for strings, piano and voices rises to a gleaming climax as Bullock soars into her high range. It completes a long journey from Simone's pain to a paean to compassionate love.
Although the video editing can sometimes feel unnecessarily busy, the quick cuts do mesh with the rhythms of the music. Rather than always cut to whoever is carrying the melody at a given moment, it sometimes sneaks us a glimpse of a musician picking up her instrument or watching the conductor for an entrance – the sort of things we might notice at a live concert. It's a nice touch for all of us missing live performance.
Harvey Steiman
For more information click here.