United Kingdom English National Ballet's Manon: Dancers of English National Ballet, English National Ballet Philharmonic / Gavin Sutherland (conductor). Performance from 17.10.2018 at Manchester Opera House and streamed as Ballet on Demand from 1.3.2021 (JO'D)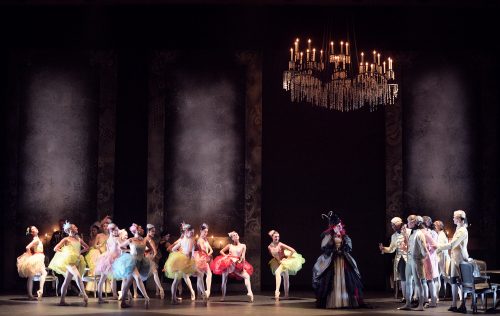 Production:
Choreography – Kenneth MacMillan
Music – Jules Massenet
Design and Costumes – Mia Stensgaard
Lighting design – Mikki Kunttu
Dancers included:
Manon – Alina Cojocaru
Des Grieux – Joseph Caley
Lescaut – Jeffrey Cirio
Monsieur GM – James Streeter
Lescaut's Mistress – Katja Khaniukova
Gaoler – Fabian Reimair
English National Ballet's Manon, a production first mounted by Royal Danish Ballet, uses a palette of brighter colours and less detailed scenography than the version by The Royal Ballet (for whom Kenneth MacMillan created the work in 1974). But its telling of the dark story is equally intense. Alina Cojocaru alone, in this performance from 2018, makes it that. From her arrival in mid-eighteenth-century Paris to her deportation and death in the Louisiana swamps, the dancer shows each stage of Manon's development: the discovery of love and of her own sexual power over men, the attraction to money that will bring about her downfall.
In the world of 'have and have not' that the ballet presents, money is the overriding force. The student Des Grieux (Joseph Caley) falls in love with Manon without it. The young Manon returns his love in a bedroom pas de deux. Then her brother (Jeffrey Cirio), in the hope of lining her pockets and his own, presents his sister to the rich Monsieur GM (James Streeter). Wrapped in a fur-collared cape of silver, Manon is tempted away.
It is in the psychological intensity of the pas de deux, and pas de trois, that Manon succeeds. In her biography of Kenneth MacMillan, Different Drummer, Jann Parry explains that it was the choreographer's custom to work outwards from the pas de deux. What the corps de ballet has to do, in an Act II party scene, for example, is walk about with hands on hips, make love, bicker, and drink quantities of wine from empty glasses. The dancers of English National Ballet do this well. But as in the tavern scene in Mayerling, and all of Elite Syncopations, the background walking about seems interminable. Even if the effect, of dreariness and weariness, is one that the choreographer wants to convey.
In the foreground, though, there is Alina Cojocaru being lifted through the air from man to man in a choreographic representation of manipulation and abuse. Something pointedly different from Aurora's dance with the four princes in the Rose Adagio of The Sleeping Beauty: Kenneth MacMillan as the choreographer of ugliness, and abuse, and pain.
While the story is dark, Massenet's music (not the music to his opera, Manon) is full of a lyrical lightness – highlighted by the English National Ballet Philharmonic under Gavin Sutherland – but that helps make it palatable. Alina Cojocaru – who has recently left ENB – responds to this music with a musicality of her own. Joseph Caley performs exuberant arabesques of love in the earlier scenes but seems to lose energy for the lifts in the Louisiana swamp. Jeffrey Cirio, like Cesar Corrales at The Royal Opera House in 2019, shows a brother's momentary unease at selling his sister for money. Unlike Cesar Corrales, he does not go too far when dancing a pas de deux as if drunk, with his mistress (Katja Khaniukova).
The music is lyrical in Act III when, dressed in rags and with cropped hair, Manon descends the gangplank at the Louisiana wharf. Here she will become the victim of the Goaler (Fabian Reimair), the most abusive man of all. Because of Alina Cojocaru, or the music, or both, it was an Act III entrance that this time brought tears to my eyes.
John O'Dwyer
For more about English National Ballet click here.