United States In Focus / Episode Six – Shchedrin, Carmen-Suite: Strings and percussion of the Cleveland Orchestra / Franz Welser-Möst (conductor). Reviewed as a performance livestreamed from the Severance Hall, Cleveland, 11.3.2021. (MSJ)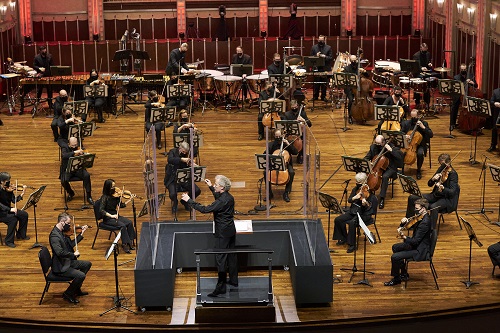 Shchedrin – Carmen-Suite (complete ballet music for percussion and string orchestra)
With this concert stream, the Cleveland Orchestra begins a gradual move towards returning all of its sections to performances, albeit with pandemic protocols still in place. The strings of the orchestra are joined by its expanded percussion section for this performance of Rodion Shchedrin's cheeky arrangement of music from Georges Bizet's Carmen. The players are socially distanced across the stage of Severance Hall and without an audience, but this video introduces a new setup for music director Franz Welser-Möst. Where he previously wore a mask, he is now able to conduct without one because he has been surrounded with plexiglass walls. It is an excellent way to keep him safely separate while allowing his face to be seen as he interacts with the musicians.
I first heard Shchedrin's quirky take on Carmen when I was a young nincompoop, and I didn't like that Shchedrin had the gall to rewrite Bizet's beloved music. Older, wiser and more mischievous, I have learned to treasure its quirky charm. In places, Shchedrin keeps Bizet's melodies and harmonies pretty much intact, but he redistributes them for the unusual combination of strings and just about every percussion instrument that can be rounded up.
But parts of the work are more substantially altered. Shchedrin does the classical music equivalent of an erasure poem: you take an existing work and then start blacking out words to create a new poem from fragments of the original. The composer does this at times for witty effect, but the erasures make some original twists as the work goes on. Even though the music retains its Spanish flavor, Shchedrin demonstrates how astonishingly fast he can turn it very Russian-sounding just by shifting harmonies from the high and bright range down to the depths of the low strings, or by moving the intermezzo theme from the solo flute to the full viola section.
Additionally, Shchedrin displayed a fine ear for timbre and orchestral color. Having an ensemble of the Cleveland Orchestra's refined status play this music is a treat, and the filmed aspect helps one observe more detail about what is going on with the array of percussion instruments. Video director Michael Vendeland doesn't treat it as a concerto for percussion, though, and keeps sweeping shots of the entire ensemble.
The Cleveland strings are at quite a different level from the Soviet ensembles that first recorded this music in the 1960s. Their elegance suits the balletic deployment of Bizet's motifs, and while Welser-Möst makes no attempt to exaggerate Shchedrin's sense of humor, he doesn't flinch from it either. One senses conductor and ensemble greatly enjoying themselves in music that manages to sound simultaneously familiar and strange.
The backstory behind this ballet is that Shchedrin made the arrangement for his wife, the ballerina Maya Plisetskaya. She had developed the idea and made the rounds attempting to interest composers in it. Aram Khachaturian asked her why he should do the score when she had a perfectly fine composer at home who could do it? And so, the couple finally embarked on the project together.
This program offers the wonderful bonus of video interviews with Shchedrin himself – still alive and kicking at the age of 88 – and he speaks frankly about how this score and other ballets he wrote were love letters to his wife, who passed away in 2015. Even when the music sparkles with mischief, the affection is there, and this performance does it full justice in both senses, even building up true tragic intensity toward the end. Bonus videos offer further material with Shchedrin and a profile of Plisetskaya, to whom he was married for 57 years.
Upcoming In Focus concerts will see the first limited returns of wind players to the orchestra's programs, a welcome moment that forecasts a day when the strangeness of this past year will relent and allow the human connection of live, in-person performances.
Mark Sebastian Jordan
Subscriptions to the Cleveland Orchestra's Adella streaming app are available at Adella.Live or on their website (click here).