United Kingdom Dream (from the RSC's Audience of the Future Consortium): Livestreamed from Portsmouth Guildhall, 18.3.2021. (JPr)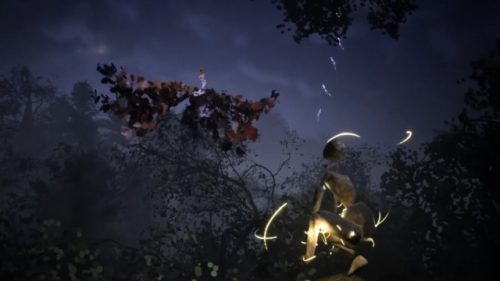 Artists:
Director – Robin McNicholas
Script Creation – Pippa Hill
Narrative – Robin McNicholas and Pippa Hill
Music Director and Composer – Esa-Pekka Salonen
Composer, Interactivity Designer and Creative Advisor (Music) – Jesper Nordin
Movement Director – Sarah Perry
Cast:
Maggie Bain – Cobweb
Durassie Kiangangu – Moth
Jamie-Lee Morgan – Peaseblossom
Loren O'Dair – Mustardseed
EM Williams – Puck
Nick Cave – Voice of the Forest
During lockdown I have glimpsed the future and I like it. During these seemingly endless days I know several colleagues who have mostly ignored the all the eclectic online content streamed worldwide; though in my opinion it is something they will have to get used to in the future. I know many think that when life returns to 'normal' again (whatever that is?) then people will flock to arenas, theatres, and opera houses like they did in the past. However, surely this will make people think (more than) twice about the often exorbitant cost of their night out. During these sad days under house arrest they have watched things in the comfort of their own homes free or for tens of pounds (or whatever currency), rather than hundreds and without all the additional effort involved!
I understand that before lockdown, the Royal Shakespeare Company had already planned a production of Shakespeare's A Midsummer Night's Dream which could be experienced both live and online by embracing new digital technology. For several days until 20 March Dream has been performed completely live once a day in a small studio space at the Portsmouth Guildhall. It is presented – as a work of research and development – by the Audience of the Future Consortium which is coordinated by the RSC. Funded as part of the Audience of the Future programme by UK Research and Innovation through the Industrial Strategy Challenge Fund in order to develop the audiences of the future. As long as the thousands watching Dream appreciate it for what it is – a work in progress – it should not unduly alienate the more conservative theatregoers and at least encourage a new and wider audience to try live performance in better times.
It is full of good intentions but becomes more of a 'making of' event than an actual playlet itself, particularly since – despite the visual magic, character names and 'cut and paste' snatches of dialogue – there is nothing particularly recognisable here that is Shakespeare. To be honest the RSC should have trusted his fairy world more! EM Williams (Puck) greets us cheerily in a corridor covered in motion capture sensors and we will see those playing the other fairies – who we encounter during the next 30 minutes – are also similarly suited up. The forest is created on a giant video screen and all the performers' movement – running, jumping, crawling, tumbling, and flying – become the antics of the fairies in the virtual world (of director Robin McNicholas) we are ushered into with pre-recorded words from Nick Cave as the Voice of the Forest. Everything is interactive and Puck creates additional sound effects in Anastasia Devane's soundscape by roaming around and apparently – thanks to the Gestrument music app – movement can also influence the spare, yet atmospheric, soundtrack composed by Esa-Pekka Salonen and Jesper Nordin and performed by the Philharmonia Orcehstra.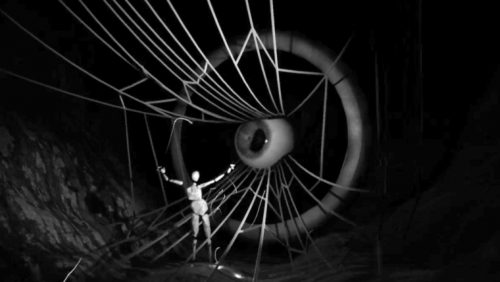 It was strange that more wasn't done with Puck who looked like a disjointed artist's wooden mannikin whilst Moth, Peaseblossom, Cobweb and Mustardseed were rendered more imaginatively. Particularly captivating was the flight of Moth – all leaves – up to the tree canopy against a huge full moon; Cobweb seems like an all-seeing eye; whilst Mustardseed (twiggy in the literal sense!) ushers in the raging tempest that devastates the forest, not that I remember that from A Midsummer Night's Dream. The livestreams (with their concluding Q&A) can be free, but it has been possible to pay extra for an Audience Plus ticket so that those looking in can interact too. It has been possible to drag fireflies into the virtual forest to help illuminate Puck moving through the trees. After the storm passes, we have also been able to help the fairies plant the seeds to bring everything back to verdant life, though to be honest our interaction with what we are watching has been negligible.
So it is Shakespeare though not as we recognise him, but taken on trust that it is just an experiment it was intriguing, and I am happy for any talented performers who get the opportunity to do what they love in these benighted times. What I look forward to is seeing A Midsummer Night's Dream from the RSC with a more judicious mix of 'proper' actors as the human element amongst digital avatars as the magical creatures.
Jim Pritchard
To 20 March and tickets available here, rsc.org.uk and dream.online.