United Kingdom Beethoven, Britten, Walker: Nicky Spence (tenor), Royal Scottish National Orchestra / Thomas Søndergård (conductor). Streamed from the RSNO Centre Glasgow on 26.2.2021. (GT)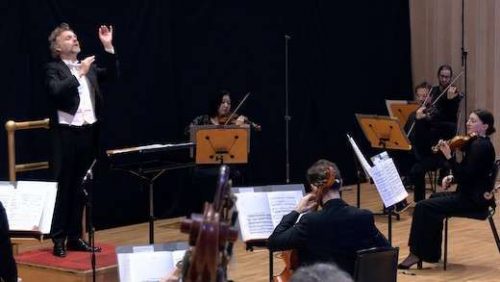 Walker – Lyric for Strings
Britten – Les Illuminations, Op.18
Beethoven – Symphony No.5 in C minor, Op.67
The Washington-born composer George Walker (1922-2018) enjoyed an exceptionally full career, however, he only achieved wide recognition in the last period of a long life. The first composer of colour to be awarded the Pulitzer Prize for Music (1996) was described by The Guardian as 'the great American composer you've never heard of'. Sir Simon Rattle was engaged by his outstanding creativity and programmed his works which he said, 'doesn't fit into what one pictures American music could be … it's wonderfully written, with great finesse, but it's really tough modern music.' Walker enjoyed an international concert career as a pianist after graduation from Philadelphia's Curtis Institute and Lyric for Strings was composed when he 24 and still studying there: it is influenced by Samuel Barber's Adagio for Strings written a few years before. It is tonal, as is much of his music, and sometimes modal in structure, and reminds one of Ralph Vaughan Williams in the musical structure's translucent cadences. Lyric for Strings was premiered by students at the Curtis Institute before an official premiere at the Washington National Gallery of Art.
The music started quietly with evocations of nature as if awakening in a sunny forest glade and hinting of expectation and beauty. There is much melancholia in the splendidly written music. Slowly the arching structure rises to an ecstatic climax before descending into silence. There is a kinship with several other composers such as Barber, Elgar, and especially Britten, in using a string ensemble to portray equally great beauty and personal tragedy. This was a very fine piece and hopefully it will not be the last time we hear this composer's music here.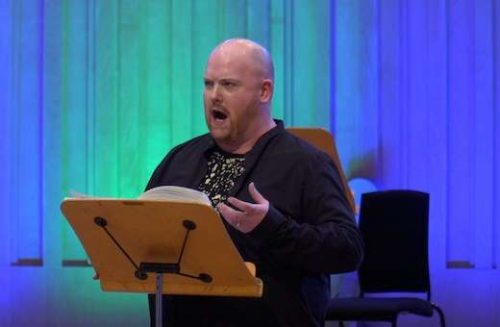 Initially, Britten's Les Illuminations was thrilling, immediately suggesting complexity and firmness, as flowing imagery comes in Fanfare, and the tenor soloist Nicky Spence sings 'J'ai seul la clef de cette parade sauvage', against the dark tones of the lower strings. In Villes there was a touching solo from the violin of Maya Iwabuchi, before 'Quels bons bras, quelle belle heure' descended into silence, again emerging in driving tension, with the plucking strings driven at an exciting dramatic tempo by conductor Thomas Søndergård. The collaboration between singer and orchestra was outstanding throughout. In Phrase, there was a beautiful cello solo by Aleksei Kiseliov, with the tautness maintained on strings, ending again with a touching violin solo from Iwabuchi. Then arresting theatre in Royauté, with outstanding singing from the Scottish tenor in 'Mes amis, je veux qu'elle soit reine!' 'Je veux être reine!' where there was a dance-like idea on strings; in Marine, the tempo increased with great affinity with the tenor from the conductor; in Interlude, there arose an enchantingly attractive idea on strings, high in lofty feelings, with another violin solo, before Spence sang almost heavenly and Kiseliov's cello ended on a sad note. In Being Beauteous, 'Devant une neige un Être de Beauté de haute taille' had tender phrasing emphasised by a fine viola solo from Tom Dunn. In Parade, 'Ô le plus violent Paradis de la grimace enragée!' preempted violent drama with dissonance on strings, and fascinating harmonies swapped across the orchestra. In Depart, Spence's quiet and dulcet tones in 'Assez vu. La vision s'est rencontrée a tous les airs', offered contrasting human feelings before dying away into silence.
In the concluding Fifth Symphony by Beethoven, the Royal Scottish National Orchestra brought this ten-concert series to a close in a suitably triumphant manner. It has proved a testing period for the orchestra in overcoming the pandemic and presenting a superb season closely following a previously published (in better days) schedule of concerts. The technical standards achieved both in the visual and audio presentation have been high and the highlighting of composers of colour and women in music – who have been neglected for too long – has been very commendable. From what we have heard from the RSNO, we can look forward to more fine concerts mixing the popular standard repertoire with new, as well as overlooked, music.
Søndergård – RSNO's music director – in his first concert since making his recent debut with the Berlin Philharmonic, decided to forgo use of the baton and directed a very emotionally charged performance. He was more demonstrative than normal, and the tempo adopted was more forceful and dramatic, with notably fine clean playing from the French horns, and brilliant flute playing from Katherine Bryan. In the second movement, the low strings were lively, with flute and oboe magnificent before the natural trombones entered gloriously. There was marvellous phrasing, especially from the clarinet of Timothy Orpen, and the bassoon of David Hubbard. Throughout, the conductor clearly pursued a brisk tempo as in the composer's score. The dark idea on the low strings opened the third movement, followed with a reprise from the brass section from the first movement. There were nice pizzicatos from the violins and with the timpani announcing the finale, there was an enormous storm of sound, both jubilant and energetic. There was some great playing, with the spirited piccolo helping to evoke the songs of the French Revolution and the trombones leading the forceful drive towards the climactic finale, which was magnificently triumphant.
Gregor Tassie
For more about the RSNO click here.