United Kingdom In stil moderno: music by Castello, Strozzi and Monteverdi: Helen Charlston (mezzo), Academy of Ancient Music, with Bojan Čičić (violin) and Stephen Devine (harpsichord). Streamed via AAM Live (click here) from West Road Concert Hall, Cambridge, 14.4.2021. (CC)
Dario Castello – Sonate concertante in stil moderno, Libro Secondo (pub.1629)
Barbara Strozzi – L'Eraclito Amoroso; Lagrime mie
Monteverdi – Sì dolce è'l tormento (1624); Et è pur dunque vero (1632)
Little is known about Dario Castello (c.1602-1631). Described as 'musician of St Mark's in Venice', his Sonate concertante for 'organ or clavicembalo and diverse instruments in 1, 2, 3 and 4 voices' offer us a composer of stature. It is possible Castello died in the Bubonic Plague pandemic of 1629-31. We do know he was in charge of the 'company of instruments' at St. Mark's and probably knew Monteverdi. His sonatas are short; the Academy of Ancient Music chose to sprinkle them throughout the programme, enclosing the Strozzi and the Monteverdi between pairs of Castello sonatas.
Performed by Bojan Čičić, Stephen Devine and, on theorbo, Eligio Luis Quinteiro, Castello's Sonata prima is fluent and beautifully constructed, with the violin clearly the primary voice throughout. Performing in the Baroque manner with the violin 'below the collar bone' (to quote Geminiani's The Art of Playing the Violin). The Sonata quarta adds a violin (Persephone Gibbs); fascinating to hear the (equal) voices interacting on both sad and decidedly jolly levels. The way this Sonata quarta changes Affekt on a sixpence is spellbinding.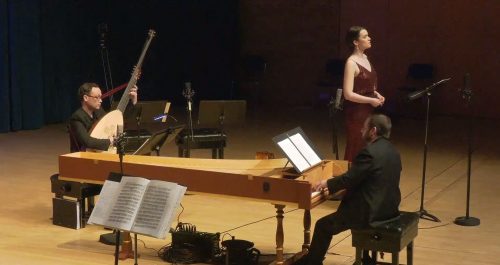 Helen Charlston herself introduced the Castello (in retrospect) and then the Barbara Strozzi. Her works were exclusively for the voice, 'dramatic and sensuous' explorations. The first piece, L'Eraclito Amoroso, is a vivid meditation on grief. Charlston's voice is perfect for this, as capable of depth in the lachrymose setting of lines such as 'Grief is my delight' and 'I have pleasure only in weeping,' as it is with the ray of hope that comes with the insight that 'sobs heal' and 'sighs console'. The harmonies are quite remarkable, as are some of the vocal intervals required. Voice, harpsichord, theorbo: how powerful that combination is here. The ensuing Lagrime mie asks why, in this instance, tears do not fall; welcoming death, even that is denied to the protagonist. Clashes between voice and continuo (harpsichord/theorbo) offer, in context, the most remarkable dissonances.
The two expressive Strozzi pieces were beautifully balanced by two Monteverdi 'scherzi' (jests) and separated by two further Castello Sonate concertante. The first, the Sonata duodecima for two violins, violetta (Joseph Crouch) and continuo, was a playfully dancing piece coloured by the most ingratiatingly unexpected turns of harmony. Fascinating to hear the expressive lines of the violetta; no less impressive was the quasi-improvised section for two violins in dialogue. Adding a viola to the mix, the Sonata quindicesima is remarkable in its restrained nobility and expression of its opening section; the AAM's considered phrasing was a major contributory factor in this performance's success. Indeed, the mood of that opening hung over the faster sections.
(Incidentally, Crouch was playing the same instrument in this concert as he played in the group's 2016 recording of Castello's first book [see below], an instrument built in 1997 by Philippe Refig after Gasparo de Saló, London which could be classed as a 'basso violetta da brazzo'.)
Monteverdi's stile concitato ('agitated style') informs his two items here. The drooping phrases of Sì dolce è'l tormento found just the right interpreter in Charlston; the rather more active – and more extended – Et è pur dunque vero was a veritable tone-poem of sadness ('So great is my woe that I would call my anguish the equal of Hell').
The final pair of Castello sonatas danced with joy: the Sonata sedicesima's rhythms impeccably sprung, dialogues between high and low instruments beautifully managed (and with real wit); both exuded pure joy.
Cleanly but not clinically filmed against a brick wall with upward-facing purple spotlights, this was a fascinating exploration of repertoire. The AAM's recording (on their own label) of Book I of Castello's Sonate concertante was released to critical acclaim in 2016; one hopes for a follow-up containing this second volume. There is also a Hyperion Helios disc that couples seven of Castello's sonatas with works by Giovanni Picchi (c.1572-1643), reviewed on MusicWeb International by Gary Higginson here.
Colin Clarke