United Kingdom Elgar, Haydn, Berlioz, Boulanger, Prokofiev: Dame Sarah Connolly (mezzo-soprano), Royal Northern Sinfonia / Dinis Sousa (conductor). Streamed live from Sage, Gateshead, 16.4.2021. (JQ)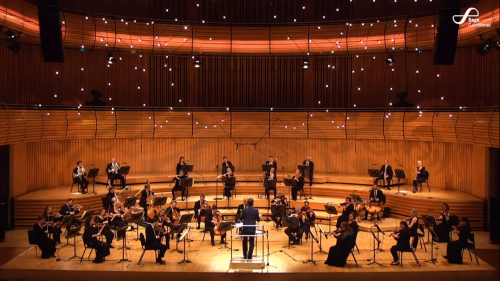 'Dawn and Dusk'
Elgar – Elegy, Op.58
Haydn – Symphony No.6 in D 'Le Matin'
Berlioz – Les Nuits d'été
Lili Boulanger (arr. Iain Farrington) – D'un matin de printemps
Prokofiev – 'Classical' Symphony
This concert, streamed live, was the first in a series of concerts promoted by Sage, Gateshead under the title 'New Beginnings'. This series is the first set of live performances at the venue during 2021 and with it Sage Gateshead hopes to begin to chart a course of recovery from the pandemic. Though these concerts, which will embrace a number of musical genres, will be streamed, it is hoped that it will not be long now before live audiences can be welcomed back to the North East's premier concert hall.
'New Beginnings' was doubly apt because this was the first concert given by the Royal Northern Sinfonia since they announced the appointment of the young Portuguese conductor Dinis Sousa as their Principal Conductor (he formally assumes the post in September). I had noted his appointment with interest when I saw it announced because in November 2018, I chanced to attend a concert he conducted in Funchal, Madeira. Though the concert was given in a venue with less-than-ideal acoustics I was impressed by Sousa's conducting (review).
There was a late addition to the programme: Elgar's Elegy, Op.58 was played to mark the recent death of the Duke of Edinburgh. This was a perceptive choice; Elgar wrote it as a little memorial piece in 1909 and the restrained melancholy struck the right tone. The strings of the RNS played it well.
It wouldn't be right for me to comment in detail on the performance of the Haydn symphony which followed. Unfortunately, I experienced serious connectivity issues which blighted the first two movements until I despaired of the situation righting itself and logged on afresh. I was able, though, to hear a nicely inflected account of the Menuet and to enjoy typical Haydn wit in the Trio. The Finale was effervescent and leader Maria Włoszczowska played her virtuoso solos with relish. I heard sufficient of the symphony to feel that this was a stylish performance.
Dame Sarah Connolly joined the orchestra to sing Berlioz's cycle, Les Nuits d'été. It's well known that Dame Sarah had some serious health problems a year or two ago; it was very good to see and hear her on such excellent form. She drew us right in to the eager mood of the first song, 'Villanelle'; here, I also admired the nicely pointed orchestral accompaniment. The next three songs form the emotional core of Les Nuits d'été. 'Le spectre de la rose' was marvellously done. Dame Sarah's tone was a delight, and she enunciated the words in an ideal fashion. Her performance was very communicative throughout, but especially in the final stanza of the poem. She projected the deep melancholy of 'Sur les lagunes' very effectively and the dark timbres of the orchestration came over very well, too. The final line of each stanza ('Ah! sans amour, s'en aller sur la mer!) came across with heart-rending but very well controlled intensity. In 'Absence' the vocal line was invested with great expression while Dinis Sousa encouraged the RNS to support their soloist with pleasing sensitivity. I also appreciated the way he conducted 'Au cimetière'; through great attention to detail he brought out the originality of Berlioz's scoring, yet this was done without deflecting attention from the singer. Finally, Dame Sarah and the orchestra combined to give an extrovert reading of 'L'île inconnu'. This was a very fine account of Berlioz's great songs. Dame Sarah Connolly was ideally equipped to do them full justice and she benefitted from Dinis Sousa's attentive conducting.
Lili Boulanger composed her short tone poem D'un matin de printemps in 1917, towards the end of her tragically short life (1893-1918). I say 'tragically short' because the works that she left us show how prodigiously talented she was; had she lived longer she could have been a highly significant figure in twentieth-century French music. I learned from the programme note that she composed 'several versions' of  D'un matin de printemps for chamber instruments but I have only heard it, live and on disc, in its orchestral version. We experienced it in what I presume is a fairly recent arrangement for chamber orchestra by Iain Farrington. Strangely, nothing was said about the arrangement in the programme, but from what I could see and hear the scoring appears to be for pairs of each woodwind instrument, two horns, two trumpets, harp and strings. There is also a part for one percussionist, though the percussion contributions are very modest. It's a joyous little piece and it received a fresh, alert performance. Farrington's arrangement seemed to have in no way blunted the music's French accent and his arrangement seemed to me to be entirely successful.
To conclude, we heard Prokofiev's 'Classical' Symphony, a work which I saw recently described as a 'cheerful but ultimately escapist piece of fun'. It was apt to follow the Boulanger with Prokofiev's delightful symphony because the works were composed in the same year. I enjoyed this performance very much. The Allegro first movement was very spirited while the Larghetto which followed was elegantly shaped. The quicksilver finale was played with elan, ensuring a sparkling close to this concert.
Throughout I was very impressed with the playing of the Royal Northern Sinfonia, an ensemble which I haven't heard play live for quite some time. Dinis Sousa's conducting was highly effective. I was glad to have the chance to see him at closer quarters than was possible in Madeira. His work was clear and incisive and, unsurprisingly, he obtained excellent results from the orchestra. He also introduced the various pieces to us in a nice, relaxed fashion. On this evidence, I would say that his partnership with the RNS promises much and it was auspiciously launched by this concert.
The streaming was the work of 8Live, with direction by Andrew Lockyer. The camera work was excellent throughout and the sound quality was good. I am sure my connectivity issues were not the fault of those responsible for the streaming. However, I could have done without the 'canned' applause after each piece.
The concert is available on demand until midnight on 18 April by clicking here. The RNS's next concert in the 'New Beginnings' series is on 30 April. Paul McCreesh will conduct a programme entitled 'Spring has Sprung', including music by Delius, Thea Musgrave and Schumann. Jennifer Pike will be the soloist in Vaughan Williams's The Lark Ascending (details here ).
John Quinn