United States Various: Randall Goosby (violin), Zhu Wang (piano), Gilder Lehrman Hall, The Morgan Library, New York. Viewed on 7.4.2021, and available for streaming on YCA's Facebook page or YouTube channel. (RP)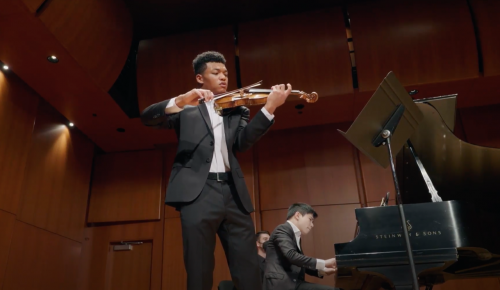 Ravel – Violin Sonata No.2 in G major M.77
Perkinson – 'Blue/s Forms for Solo Violin', 'Louisiana Blues Strut: A Cakewalk for Solo Violin'
Brahms – Violin Sonata No.3 in D minor Op.108
The most sublime moments of this marvelous recital by violinist Randall Goosby and pianist Zhu Wang came in the Adagio of Brahms's Violin Concerto No.3. It is Brahms at his most gracious, and Goosby and Wang performed its soothing melodies and suave harmonies to perfection.
Goosby won First Prize in the 2018 Young Concert Artists International Auditions; Wang, his partner for this recital, was one of the three winners of the 2020 competition. A protege of Itzhak Perlman, Goosby is currently pursuing an Artist Diploma at The Juilliard School, while Wang, who was also at Juilliard, is completing his studies at the Curtis Institute of Music. This concert was recorded live as part of YCA's Encore series at The Morgan Library.
Ravel famously said that the violin and piano are basically incompatible, inferring that the Violin Sonata No.2 accentuates the discord. Goosby and Wang dispel that theory. The opening Allegretto was light, luminous and cohesive, almost the equal of Brahms's Adagio in terms of sheer beauty. It was a beguiling start to the recital.
Ravel wouldn't visit the United States until 1928, but jazz was being played in Parisian cafes long before that. The second movement of the sonata is celebrated for its evocation of a blues singer. The violin isn't the only instrument to sing, however: Ravel gave the piano its fair share of the tunes. Goosby and Wang are never less than elegant performers, but there was an earthiness to their playing in the second movement that lent a naturalness to it.
Coleridge-Taylor Perkinson was an American composer equally versed in the classical tradition and in jazz and the popular vernacular. His style was eclectic, a mix of Baroque counterpoint and American Romanticism, as well as blues, spirituals and Black folk music. He played piano for Max Roach's quartet, made arrangements for Marvin Gaye and Harry Belafonte and composed movie and television soundtracks. Perkinson's mother, who was active in the arts, named her son after Samuel Coleridge-Taylor, the nineteen-century English composer and conductor, who in turn was named after the poet Samuel Taylor Coleridge.
Goosby performed two of Perkinson's 'Blue/s Forms for Solo Violin' (1979) and 'Louisiana Blues Strut: A Cakewalk for Solo Violin' (2002). Here Perkinson did for the blues what Aaron Copland did for American folk music: he stripped it down to its essence and encased it with classical sensibilities. Clear sonorities and structural leanness were key to both composers' appeal.
Perkinson infused both pieces with syncopation, cool rhythms and bluesy melodies, but he had Bach on his mind. These are stately works which Goosby approached with seriousness and intensity, making light work of their double and triple stops, glissandos and jazz riffs.
The concluding work was Brahms's Violin Sonata No.3 in four movements. It is generally described as being dramatic and on a grander scale than his two earlier sonatas, but it also reveals Brahms at his most direct. Goosby suggested there was a blues element to all of Brahms's music arising from the emotional depth and beautiful melodies, but it is the compositional integrity of Violin Sonata No.3 that links it so perfectly with the Ravel and Perkinson works preceding it.
This was no mere solo turn for Goosby, as he and Wang performed as one. The words that describe the violinist's playing and sound – masterful, ethereal, penetrating – are equally applicable to the pianist. Goosby said that they are frequent collaborators but much of this music was new to them. The joy of discovery was evident in their playing.
Rick Perdian
For more on Randall Goosby & Zhu Wang's YCA Encore Recital at The Morgan, click here.