Switzerland Rachmaninov: Tonhalle Orchestra Zurich / Lionel Bringuier (conductor). Tonhalle Maag, Zurich, 23.4.2021. (JR)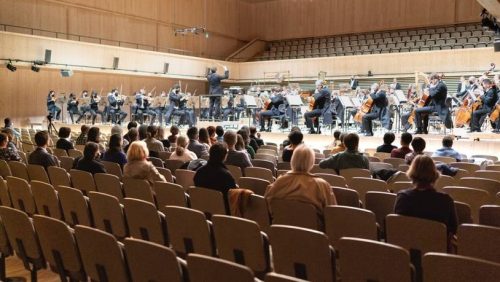 Rachmaninov – Symphony No.2, Op.27
What a shame not more people, due to Coronavirus restrictions, were permitted to hear this splendid performance of Rachmaninov's finest and most melodious symphony. Audience number restrictions were recently relaxed by the Swiss Government but still only allow a maximum of 50 persons indoors – socially distanced and masked, naturally. I was fortunate (and honoured) to be selected as one of the few critics to be included in that august circle. A mere 50 listeners will, of course, go nowhere to alleviate the financial difficulties of the orchestra, but what a fillip it must be for the members of the orchestra in full symphonic size to be on stage once again, with a live, albeit tiny, audience, and playing a major large scale symphony. Their faces and demeanour showed their immense joy at being back, looking forward no doubt to the next step to ease lockdown, in around six weeks' time. There will be some more concerts then with a restricted audience before the summer break, and hopefully Zurich will be back to nearly normal after the summer holidays.
Ten years separate Rachmaninov's First and Second Symphonies. His First was an unmitigated disaster and sent the composer into a deep depression, which only time (and a marriage) could heal. His Second Symphony was an instant success and is now one of his best-known works, perhaps just eclipsed by his piano concertos; if perhaps this symphony is not a masterpiece, it is certainly a great work. It is considered, by some, a mite too long – Rachmaninov's friends suggested some substantial cuts, which the composer condoned (but never conducted), though nowadays it is the uncut version which is usually played. The work is unashamedly Romantic with both a capital and a small 'r'. There was no first half in this concert; but the work can certainly stand on its own, without the distractions of a concerto in a first half.
This event may prove to be one of the last chances to hear a concert in the Tonhalle Maag, which was quickly constructed in a light industrial suburb of the city some years ago to replace – on a temporary basis – the venerable Tonhalle building by the lake. The renovation of the 'Tonhalle am See' is now complete and ready for use from the start of the next season. The Tonhalle Maag will then be virtually torn down to create a digital art gallery; such a pity that Zurich cannot see its way clear to finance two concert halls, especially as the acoustics of the temporary hall are quite impressive.
Lionel Bringuier is a stylish and sensitive conductor, with an extraordinary lightness of touch, whose strengths go far beyond his native French repertoire. Bringuier's tenure as Chief Conductor of the Tonhalle Orchestra Zurich was short-lived, but clearly there were no hard feelings then or now and his return was welcomed. The orchestra and audience still warm to him and it is to be hoped that this rendezvous will become an annual affair. Bringuier appears to have settled down for the moment in his native France, but possibly still on the lookout for his next breakthrough to a major orchestra. His musicianship will not go unrewarded for long.
As to the performance: yes, there were some minor blemishes, but I put that down to fatigue and possibly lack of ensemble practice over many months, the orchestra having played five concerts in two days to accommodate as many listeners in the hall as possible.
Bringuier controlled the ebb and flow of this symphony with aplomb. Rachmaninov can sound overly lush in the wrong hands, but there was little dreaminess in this interpretation and much propulsive energy and verve. The first movement had passion and vigour, the light-hearted and lively second bounced with joy. The Adagio, described as amongst the most beautiful music Rachmaninov wrote, was introduced and beautifully executed by the warm-toned clarinet of Mike Reid.
The demonic Finale's exuberant opening surged with intensity, Bringuier wearing his heart on his sleeve. The whirlwind coda was particularly impressive: how good it was to hear the thrilling climaxes and experience the visceral excitement and grandeur of a symphony orchestra in full cry, after many months of less animated chamber works.
This was no routine performance, one sensed that the orchestra had enjoyed their first full outing since lockdown restrictions eased to allow greater numbers on (an extended) stage and a (limited) audience. Those lucky enough to be present gave the orchestra and conductor a standing ovation, in recognition not only of the excellent performance but in thanks for their fortitude during very difficult times. Our hands went red and raw with our applause, our throats (with mouths masked) went dry with as many bravos as we could muster: it was good to be back.
John Rhodes
For more about the Tonhalle Orchestra Zurich click here.