United States Various, Christine Goerke (soprano) and Craig Terry (piano): Recorded at Art Factory Studios, Paterson, NJ, on 18.2.2021, for Cal Performances at Home. Streaming from 1.4.2021 to 30.6.2021. (HS)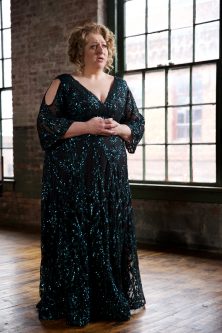 Handel – 'Furie terribili' from Rinaldo
Tosti – 'L'ultima canzone'
Respighi – 'Nebbie'
Cimara – 'Stornello'
Zandonai – 'Sotto il ciel'
Ricci – 'Il carrettiere nel Vomero'
Mascagni – 'Voi lo sapete, o mamma' from Cavalleria rusticana
R. Strauss – 'Zueignung', 'Nichts', 'Die Georgine' Op.10 Nos.1,2,5
Brahms – 'Nicht mehr zu dir zu gehen' Op.32 No.2, 'Botschaft' Op.47 No.1
Robert Owens – 'Die Nacht', 'Morgendämmerung', 'Der verliebte Reisende' from Drei Lieder Op.19
Carrie Jacobs-Bond – Half-Minute Songs
Bernstein – 'One Hundred Easy Ways to Lose a Man' from Wonderful Town
Walter Kent – 'The Last Mile Home'
Cole Porter – 'Why Can't You Behave?' from Kiss Me, Kate
Leave it to Christine Goerke to craft a program that follows the staples of a classical music video concert but takes it up a few notches. First streamed on 1 April, the concert remains available on demand through the end of June.
She delivers such personal touchstones as a set of Richard Strauss songs, injects her signature sense of humor into other material, and shows off a voice that glows embracingly from well below the staff and ascends to the high range with thrilling power.
She also raises the ante on what have become obligatory elements of current programming. Music by a composer of color? Sure, but rather than choose an obvious piece, she goes with a trio of songs, in German, by Robert Owens, a mid-twentieth-century composer from Texas.
Owens's music follows seamlessly from the Strauss and Brahms songs that precede it on the program. The three songs exhibit all the painterly scene-setting of Strauss or Schubert, and Owens's pianistic interjections embroider the words artfully. Rolling figures of 'Die Nacht' take their cue from poet Joseph von Euchendorff's references to waves and clouds. Tightly clustered chords quietly tolling at the end of 'Morgendämmerung' echo a final mention of bells. And the throbbing pulse of 'Der verliebte Reisende' ('The traveler in love') rises to a climax on the penultimate line, 'Mein Seel' wird mir su munter' ('my soul grows so bright'). For her part, Goerke invests this music with the same combination of conversational articulation of the poetry and expressive musical values.
For an opera singer known for heavy, passionate roles such as Turandot, Elektra and Brünnhilde, Goerke here reveals impeccable comedic timing in a deft romp through composer Carrie Jacobs-Bond's 1910 set of Half-Minute Songs. These musical settings of wry one-liners, such as 'Opportunity may knock often, but it's better to answer the first rap', perk up with Goerke's endless array of character turns. Best known for the popular song 'I Love You Truly', Jacobs-Bond was the first woman to sell more than a million copies of sheet music (with that song, written in 1901).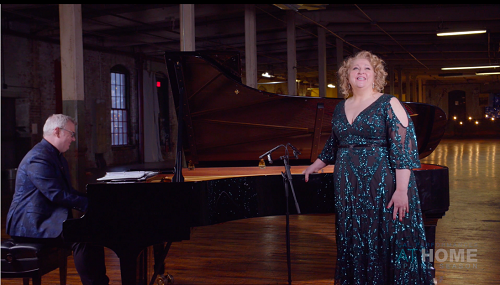 Assembled by Goerke and her piano collaborator, Craig Terry (whose playing here meets his usual lofty standards), the lineup of works explores aspects that opera fans may not realize the soprano possesses. 'Things that are indicative of me,' she explains early in the program, 'where I've come from. . .and where I've landed'.
She starts off with a piece from one of her first roles, a powerhouse rendering of Handel's 'Furie terribili' from Rinaldo, then moves on to a set of Italian songs that reflect the side of her family from Naples and Sicily. She begins with 'L'ultima canzone', usually sung by tenors but absolutely explosive with her voice. Cimara's 'Stornello', a favorite encore of Renata Tebaldi's, gets a lush reading. She finishes the five-song set with Ricci's 'Il carrettiere nel Vomero', another Tebaldi favorite. But where Tebaldi delivers them like bel canto jewels, Goerke invests the Cimara with plush textures, and the Ricci rings with southern Italian attitude.
After that, her muscular singing and emotional acumen in Santuzza's 'Voi lo sapete, o mamma' from Mascagni's Cavalleria rusticana will make opera lovers want to be there when she wrings all she can out of that role at outdoor performances in Detroit, scheduled for May.
The German songs are very much in Goerke's wheelhouse, especially Strauss' 'Zueignung', which opens the set. Brahms 'Botschaft' concludes it on a wistful note.
The final set of three songs reflects her early days playing clarinet(!) in Broadway orchestras, which sparked a love for the genre. Two aim squarely at her gift for comedy, Leonard Bernstein's 'One Hundred Easy Ways to Lose a Man' from Wonderful Town, and Cole Porter's 'Why Can't You Behave?' from Kiss Me Kate, both of which she delivers with a delicious combination of precision and sass.
Walter Kent, who wrote 'I'll Be Home for Christmas' and 'White Cliffs of Dover', also wrote the middle song in the set. 'The Last Mile Home', Goerke's nod to another pandemic-time programming staple, the song about being at home, is a lovely, simple piece, but her encore outdoes it. The longing for something better in 'Hope' by Jason Robert Brown, the composer of the Tony Award-winning Parade and 13, hits all the right points. Goerke's unadorned, clear-eyed approach brought a tear to mine.
Harvey Steiman
To watch the concert click here.