Germany Tchaikovsky, Nur wer die Sehnsucht kennt: Soprano – Olesya Golovneva (soprano), Kelsey Lauritano (mezzo-soprano), Andrea Carè (tenor) and Vladislav Sulimsky, Mikołaj Trąbka (baritones), Mariusz Kłubczuk and Nikolai Petersen (piano), Members of the Frankfurter Opern- und Museumsorchester, Oper Frankfurt. Streaming on Arte from 26.3. to 25.6.2021. (RP)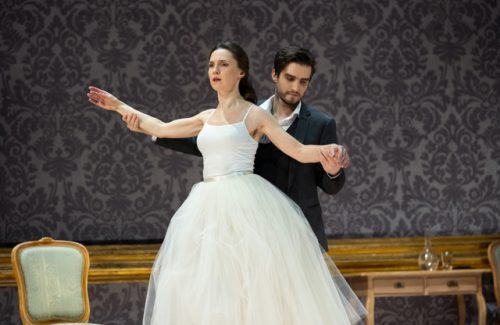 Tchaikovsky – Dumka in C minor Op.59, 'Reconciliation' Op.25 No.1, 'I never spoke to her' Op.25 No.5, 'To forget so soon', 'Evening' Op.46 No.1, 'Tell me, what in the shade of the branches' Op.57 No.1, 'The corals' Op.28 No.2, 'Softly the spirit flew up to heaven' Op.47 No.2, 'Amid the din of the ball' Op.38 No.3, 'Gypsy's Song' Op.60 No.7, 'On the golden cornfields' Op.57 No.2, 'I'll tell you nothing' Op.60 No.2, Adagio cantabile e con moto from String Sextet in D minor Op.70 'Souvenir de Florence', 'Night' for 4 voices and piano based on Mozart's Fantasia in C minor K.475, 'Night' Op.60 No.9, 'He loved me so much' Op.28 No.4, 'Why' Op.6 No.5, 'None but the lonely heart' Op.6 No.6, 'As over the burning ashes' Op.25 No.2, 'Was I not a little blade of grass' Op.47 No.7, 'Zemfira's Song', 'Not a word, O my friend' Op.6 No.2, 'Frenzied nights' Op.60 No.6, Finale from Sleeping Beauty (arr. M. Pietnev), 'The sun has set' Op.73 No.4, 'The fires in the rooms were already out' Op.63 No.5, 'Again, as before, alone' Op.73 No.6
Production:
Director – Christof Loy
Sets & Costumes – Herbert Murauer
Lighting – Olaf Winter
Choreography – Andreas HeiseX
Video – Ruth Stofer
Dramaturgy – Maximilian EnderleX
Cinematic Director – Michael Beyer
'Corona correct' describes just about anything happening in the performing arts sphere at the moment. Oper Frankfurt was slated to present in January its first-ever performances of Umberto Giordano's Fedora directed by Christof Loy, but that proved impossible. In its place, Loy created a musical drama entitled Nur wer die Sehnsucht kennt, primarily a choice sampling of Tchaikovsky's 100 or so songs (sung in their original language), with the singers who would have performed in Fedora.
Outside of Russia, Tchaikovsky's songs are seldom heard, apart from 'None but the lonely heart', a setting of a Russian translation of Goethe's 'Nur wer die Sehnsucht kennt'; its melody is so beguiling that Frank Sinatra recorded it. Tchaikovsky painted the depths of human emotions in broad brush strokes in his songs. The poets he favored included personal friends such as Grand Duke Konstantin Romanov and his schoolmate Alexei Apukhtin. Loy's Nur wer die Sehnsucht kennt may have the slimmest of plots, but it simmers with intrigue and passion.
Tchaikovsky's life could serve as the plot for a tragic opera. Having studied law, he was destined for a career in the Russian bureaucracy, until the founding of the new Conservatory of Music in St. Petersburg under Anton Rubinstein enabled him to study and later teach there. The patronage of Nadezhda von Meck, whose largess was conditioned on his assurance that they would never meet, permitted him to compose full time. She ended the arrangement abruptly without explanation.
Tchaikovsky's ill-conceived marriage to Antonina Miliukova was a disaster. He celebrated their official separation in Switzerland in the company of Yosif Kotek, a brilliant young violinist who was not only his student but purported to be his lover. Kotek died at young age, while the lives of Tchaikovsky and Miliukova were entangled for many years.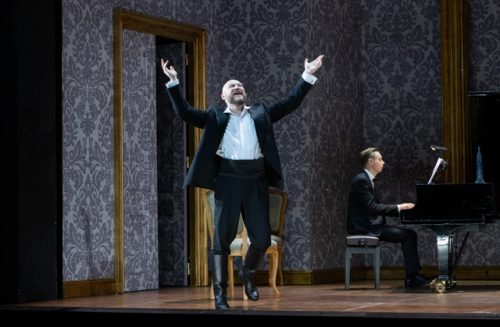 The composer's torturous personal life is mirrored in the emotions expressed by the five singers in Nur wer die Sehnsucht kennt. The principal character is an older man (baritone Vladislav Sulimsky), who relives the joys and pains of past loves before accepting that his fate is to be alone. The other two male characters (tenor Andrea Carè and baritone Mikołaj Trąbka) appear to be younger versions of him. A glamorous ballerina (soprano Olesya Golovneva) and a woman in a black pantsuit (mezzo-soprano Kelsey Lauritano) complete the quintet.
Loy utilized a set from Fedora for the production. The room, with its rich blue wallpaper, grand chandelier and gilt furniture, is a suitably sumptuous backdrop for either Giordani's princess or Loy's elegantly attired protagonists. Videos are projected within a gold picture frame, alternating between closeups of the singers and footage evoking the sentiments of the songs. At midpoint, the screen opens to reveal a landscape painting, music stands and a cello resting on a bed as the Adagio cantabile from the String Sextet in D minor 'Souvenir de Florence' (pre-recorded by members of the Frankfurter Opern- und Museumsorchester) plays.
The singers were uniformly excellent, as exciting dramatically as they were vocally. Real Russian flavor was provided by Golovneva and Sulimsky, although Trąbka's Polish roots made him almost their equal stylistically. Andrea Carè, one of Pavarotti's last students, was handsome and dashing as the impetuous youngest incarnation of the protagonist. Kelsey Lauritano, a member of the Oper Frankfurt ensemble (as is Trąbka), revealed a rich voice perfectly suited for Tchaikovsky's melodies. Pianist Mariusz Kłubczuk, who was on stage throughout the performance, played splendidly, as did Nikolai Petersen, a member of Oper Frankfurt's conducting staff.
The final song, 'Again, as before, alone', is sung by Sulimsky, who then gulps down a glass of water, an illusion to the innuendo that Tchaikovsky successfully courted death during a cholera outbreak in St. Petersburg, disregarding the most basic of precautions. It is an unanswered question whether the greatest of Russian composers was just reckless, or if his actions were driven by a scandal about to break over his affair with a young nobleman.
It's the stuff of opera, as well as a compelling ending to this imaginative evening of song which deserves to be seen from a seat in the theater. What's more, it was not only Covid correct but a reminder that epidemics and human behavior haven't changed much over the years.
Rick Perdian
For more information on Oper Frankfurt's Nur wer die Sehnsucht kennt, click here.