Easter Sunday: St John Passion
and Documentary on Freelance Opera Artists in Lockdown
On Easter Sunday, ETO will launch its 2021 digital season on ETO at Home, the company's new streaming platform.
The platform will be launched with the Spring 2020 production of Bach's St John Passion. The performance was recorded on the 5th of March 2020 at Hackney Empire before ETO's Spring 2020 tour was cancelled. The film weaves together footage of the live performance with 90 individual video contributions made by choir members in isolation from Cumbria to Cornwall who were due to participate in performances across the country.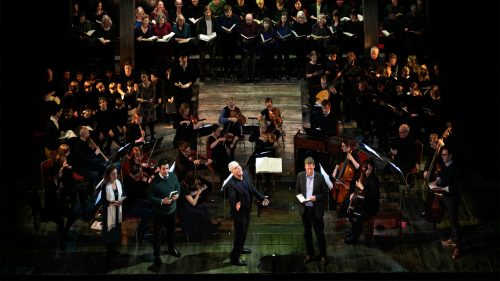 The Passion will be accompanied by a 10-minute documentary exploring the lives of the production's singers and musicians in the year since the performance. Both films will be free to access.
In the documentary, the singers and musicians  explore how it felt to have had their careers put on hold, the uncertainty they have faced as freelance opera artists, and what is missing from a world without live performance. Artists also discuss  how they have managed to survive financially over the past year as well as the impact Brexit threatens to have on their lives, and why many are choosing to move abroad.
Cast and Creatives: Director: James Conway; Conductor: Jonathan Peter Kenny; Singers: Susanna Hurrell, Jenny Stafford, Martha Jones, Tim Morgan, Thomas Elwin, Richard Dowling, Stephan Loges, Edward Hawkins, Bradley Travis
How to Watch:  The broadcast will be available for free on ETO at Home on the ETO website (click here). The broadcast and documentary will become available on 4 April (Easter Sunday) and remain on ETO at Home for account holders for free at 4PM.
ETO's Digital Season on ETO at Home
Bach: St John Passion (Spring 2020)
Guillaume de Machaut: How can I forget? (Comment oublieray)
Josquin des Prez: Mille Regretz (A Thousand Sorrows)
Dmitri Shostakovich: Michelangelo Suite (Suite on Verses by Michelangelo Buonarroti, Op. 145)
Elena Langer: Ariadne (setting the text by Glyn Maxwell)
Purcell/Carissimi/Gesualdo: Triple Bill – Dido & Aeneas, Jonas, I Will Not Speak
(from our Autumn 2018 season)
As well as broadcasts of Bach's St John Passion and our 2018 triple bill of Purcell, Carissimi and Gesualdo, the season features five new productions drawing on music from the 14th century to the present day. The whole season will be available to watch on demand after broadcast on our new video platform, ETO at Home –  sign up for a free account by clicking here.
Guillaume de Machaut: How can I forget? (Comment oublieray)
Guillaume de Machaut (1300-1377) was a prolific poet, composer and civil servant, curating in Rheims at the end of his life a careful, beautiful and thorough record of his work. In a century of war and repeated visitations of plague, Machaut confidently mastered the innovations of poets and composers who preceded him, and created a body of work of staggering complexity and grace unlike anything else – which sounds astonishingly modern! ETO's site-specific staging of secular motets and ballades, featuring four male singers and harp, is an introduction to a world of courtly love, dubious salvation, and yearning for peace – in the context of our own world.
Josquin des Prez: Mille Regretz (A Thousand Sorrows)
Josquin des Prez was the pre-eminent composer of the renaissance, living at the very centre of European culture. His vocal work for several voices (polyphony), and especially his religious music, is cherished the world over. To mark the 500th anniversary of his death, Liam Steel and Jonathan Peter Kenny stage a very unusual presentation of his work with five singers and five players. The production ranges from the celestial descending figures of Josquin's Inviolata to the outright raunchiness of Allegez-moi, an invitation to explore intimate regions of the flesh. Prepare to be surprised – and delighted, as this is not the stuff of college chapels.
Dmitri Shostakovich: Michelangelo Suite
(Suite on Verses by Michelangelo Buonarroti, Op. 145)
This song cycle for bass voice and piano, regarded by the composer as his final symphony, sets the sinewy poetry of Michelangelo, pre-eminent artist of the Italian renaissance, who found himself at odds with popes and patrons on earth and with God in heaven, and who wrestled with sexuality and spirituality in a very modern voice. In the voice of the sculptor/ poet we hear clearly the voice of the composer – offering here his most complete portrait of the artist. Edward Hawkins (bass) and Sergey Rybin (piano) are directed by James Conway, following their acclaimed staging of the Romances on British Poetry as part of ETO's Lyric Solitudes.
Elena Langer: Ariadne (setting the text by Glyn Maxwell)
English Touring Opera's series of stagings reflecting on the role and practice of the artist in society culminates in an eloquent drama by two living artists. Ariadne is alone, abandoned by Theseus, and for the moment filled with an awareness of absence. Yet absence is defined by love – terrible and beautiful at the same time. The experience of this short opera is overwhelming, and the power of Ariadne's lingers for a long time. In this new production, directed by choreographer Patricia Okenwa, Ariadne is played by Francesca Chiejina, with oboist Nicholas Daniel (who also gave the premiere performance of Ariadne in 2002).
A new film will become available every two weeks throughout April, May, June and July.
All shows will remain available on demand on ETO at Home.