United States Various: Shai Wosner (piano). Philadelphia Chamber Music Society, Benjamin Franklin Hall, American Philosophical Society, Philadelphia, 8.4.2021. Reviewed from the 11.4.21 stream. (BJ)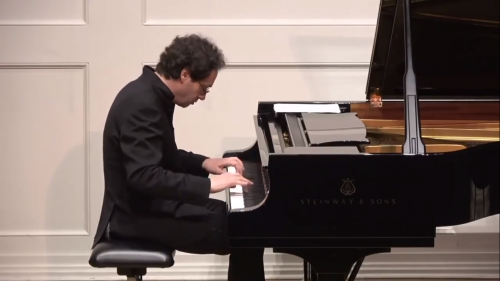 Schubert – Sonata in A major D.664
Scarlatti – Sonatas K.141, K.9, K.230
Rzewski – Three Nanosonatas
Beethoven – Sonata in E flat major Op.31 No.3
'Virtuosity' is a double-edged (s)word. It tends to be used most often to suggest a preponderance of technical brilliance over musical substance – a sense that serious-minded readers naturally consider pejorative. But I have always thought of it as denoting the kind of technical proficiency that enables a performer to perform without needing to think consciously about technique.
In the case of Shai Wosner, this Philadelphia Chamber Music Society recital coupled the deep musical understanding I have always found in the playing of this Israeli-born pianist, now in his mid-40s, with a perfectly dazzling keyboard mastery. These virtues were deployed in the service of a program that combined ample variety of style with a less obvious cohesion of musical content.
The first evidence of the latter quality came with the perhaps surprising affinity of expression that linked the finale of the Schubert sonata – negotiated with imperturbable panache – to the first of the three Scarlatti sonatas that Wosner had cunningly selected to follow it.
Similar imaginative intelligence was shown in the way he interleaved the Scarlatti group with three of the comparably laconic 56 Nanosonatas that Frederic Rzewski (born in 1938) composed between 2006 and 2010, pieces – 'works' would be altogether too pompous a generic title for these charming jeux d'esprit – that are happily free from the somewhat turgid bulk that disfigures Rzewski's best-known and politically sympathetic composition, The People United Will Never Be Defeated.
Returning to the Austro-German classics, Wosner completed the evening's circle with a performance of Beethoven's Op.31 No.3 Sonata that illuminated at once the stylistic characteristics it shares with Schubert's A-major Sonata, and the altogether more assertive way in which Beethoven handles his material. It was shortly before he embarked on Op.31 that the composer said to his friend Wenzel Krumpholz: 'I am not at all satisfied with my works hitherto, and I intend to make a fresh start from today'. It is in their intensely personal quality that the Op.31 sonatas begin to reveal the direction that 'fresh start' was to take.
Bernard Jacobson
For more information on the Philadelphia Chamber Music Society click here.