United Kingdom Various, Spring 2021 with Leeds Lieder: Tom McKinney (presenter). Livestreamed (by Apple and Biscuit Recordings) from Leeds Town Hall, 25.4.2021. (JPr)
Maumahara / Remembrance – Benson Wilson (baritone) and Ella O'Neill (piano)

Mahler – from Des Knaben Wunderhorn: 'Wo die schönen Trompeten blasen'; 'Revelge'
Butterworth – Six Songs from A Shropshire Lad: 'Loveliest of trees'; 'When I was One-and-Twenty'; 'Look not in my eyes'; 'Think no more, Lad'; 'The lads in their hundreds'; 'Is my team ploughing?'
Kurt Weill – from Four Walt Whitman Songs: 'Beat! Beat! Drums!'; 'O Captain! My Captain!'; 'Dirge for two veterans'
Robert Wiremu – 'Oriori O Nohomaiterangi'; 'Victory and Glory, Ake ake kia kaha e!'
Momentum artists Julia Mariko Smith (soprano) and Christopher Pulleyn (piano)
R. Strauss – from Mädchenblumen, Op.22: 'Mohnblumen'; 'Epheu'
Grieg – from Sechs Lieder, Op.48: 'Zur Rosenzeit'
Debussy – from Proses Lyriques, L84: ''De Soir; from Recueil Vasnier, L44: 'Musique'
Dame Sarah Connolly (mezzo-soprano) and Joseph Middleton (piano)
Mahler – from Des Knaben Wunderhorn: 'Rheinlegendchen'; Das irdische Leben; 'Wo die schönen Trompeten blasen'; 'Urlicht'
Chausson – Poème de l'amour et de la mer: 'La Fleur des eaux'; Interlude; 'La Mort de l'amour'
John Ireland – 'Earth's Call'
E. J. Moeran – 'Twilight'
Ivor Gurney – 'Thou didst delight my eyes'; 'By a Bierside'
Elgar – from Sea Pictures: 'Sea Slumber Song'; 'In Haven (Capri)'; 'Where Corals Lie'; 'Sabbath Morning at Sea'
Benson Wilson appeared for Leeds Lieder as a Momentum Artist (more about these below) in October 2020 and – at an early afternoon concert in Leeds Town Hall – now sang his first solo recital accompanied by pianist Ella O'Neill in their joint Ferrier Award Winners recital. Presenter Tom McKinney read from his notes how 'All the music Benson has chosen to perform with Ella ties in with this being the 25th of April, Anzac Day. This date is observed annually in Benson's home country, New Zealand, to commemorate those who served and died in all wars, conflicts and peacekeeping operations. So, Benson and Ella will be performing songs linked in some way by themes of war and remembrance.'
Wilson has the potential to be one of the voices of the decade with his dark-toned immensely powerful baritone and whilst he proved he was capable of sculpting legato phrases and singing more softly at times, however there was not enough of that. It was a pity Wilson's 'Wo die schönen Trompeten blasen' was followed by Dame Sarah Connolly singing it again later in the day. There is a haunting reminiscence to this song that Wilson totally missed with his impassioned singing. 'Revelge' is less a dance and more a march of death, and again Wilson was rather too overwrought. Most of the drama for these two songs was heard in O'Neill's piano and her characterful, loud playing emphasised Mahler's trumpets and the ominous tread of spectral skeletons.
Butterworth's Six Songs from A Shropshire Lad are elegies to happier times long vanished. Wilson veered from a revelatory mezza voce, such as for the opening to 'Loveliest of trees' and 'Look not in my eyes', to some unidiomatic stentorian pronouncements for 'Think no more, Lad'. Wilson was at his best for the dialogue in 'Is my team ploughing?' as a dead farmer (killed in a war I guess?) questions his living friend how things are at home and it is a deeply poignant song since we know how Butterworth died young in the Great War.
McKinney told us how Kurt Weill's Four Walt Whitman Songs 'Wistfully recalls better times back in Berlin's cabaret clubs along with any obvious thrill in discovering the daring sounds of New York.' These are also Weill's response to the 1941 attack on Pearl Harbour though Whitman's poetry is about the American Civil War. It was in 'O Captain! My Captain!' and especially 'Dirge for two veterans' that Wilson mirrored the sorrow in Weill's songs and veined their pathos and mournful regret. This showed how much better this recital could have been if Wilson was not so focussed on vocal colour instead of his words, though this should improve with experience.
Finally, there were two songs by Robert Wiremu, Benson's old lecturer at the University of Auckland. The first was lullaby-like as someone hopes for their two sons to know peace and the second was a Maori war song medley that Benson told us consisted of a Second World War prayer, a First World War Maori Battalion Song and a famous Haka from the Ngāti Kahungunu tribe that Wiremu comes from. During the latter Benson spoke the words 'Fighting for an unknown enemy can be understood, fighting for an unknown king is harder to understand. While they were away fighting Maori lands were being seized by the government for unpaid taxes contributing to generations of poverty. We pay the hurt, the pain, with love; we pay the wrongdoings by making things right.' There was no doubting Wilson's connection to these songs and the honesty and heartfelt emotion with which he introduced us to them and their sentiments.
McKinney explained how Momentum 'is a scheme that has come about over the last year devised by the Canadian soprano and conductor Barbara Hannigan. It captures the spirit of shared performances in which established names in the music world provide opportunities to exceptional artists in the early years of their professional careers. Both Julia [Mariko Smith] and Christopher [Pulleyn] have close ties to the North of England. They both studied in Manchester at the Royal Norther College of Music. Julia was born in the North-East and Christopher from Huddersfield is professionally engaged with organisations all throughout Yorkshire.'
'Mohnblumen' (Poppies) and 'Epheu' (Ivy) are Richard Strauss oddities with texts which liken girls to flowers. With Pulleyn's piano sounding essentially light and lively, the former was teasingly playful while the latter was more mysterious as vivacious soprano Mariko Smith lingered over the words 'But are born to entwine themselves lovingly around another life'. More flowers – this time sweet roses – for Grieg's 'Zur Rosenzeit' to which Mariko Smith brought heartfelt yearning. She ended with two Debussy songs given gossamer, impressionistic accompaniment from Pulleyn's flurry of notes. 'De Soir' was animated and – before its prayer-like close – quite a reminder of cheerful, pre-lockdown Sundays on the eve of another working week! 'Musique' had a delicate tenderness and some meditative closing words ('Another evening's happiness lost').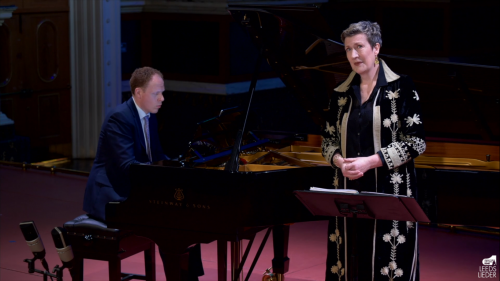 On the day it was announced the legendary mezzo-soprano Christa Ludwig had died, it was fitting that we heard some of the Mahler she was so preeminent in at the height of her illustrious career from a legendary mezzo of our own age, Dame Sarah Connolly (Patron of Leeds Lieder). 'Rheinlegendchen' was charming though a little understated. However, in 'Das irdische Leben' her detailed reaction to the text was tangible with her intense grief at the death of the starving child and there was an empathic last note from the piano which had heart-breaking finality to it. The musical intelligence of singer and her unshowy pianist James Middleton (Director of Leeds Lieder) were further showcased – and particularly rewarding – in the last two of these Wunderhorn songs. Connolly's touching 'Wo die schönen Trompeten blasen' couldn't have been any more different to Wilson's earlier rendition. Her singing was typically controlled and expressive and there was deep foreboding throughout, and it was notable for Middleton's final bars which created a suitably ghostly frisson. 'Urlicht' again was supremely moving, and it was possible to experience Connolly's pain over all the suffering in the (current?) world as well as her exaltation at the end over life eternal.
Connolly explained 'The Chausson is a piece that was written seventeen years before Elgar's Sea Pictures but to me it seems more of a modern piece. I feel it has got more of a European influence even though it is looking back to Wagner and even quoting bits of Tristan und Isolde and Parsifal. I feel that Elgar's lyricism and his containment in his treatment of those words is supremely British in the sense it couldn't be more different to hear Chausson's music: his response to nature and how the poet identifies with nature.
Chausson's Poème de l'amour et de la mer is in two main parts separated and frequently interrupted by interludes (often acting as a pianistic Greek chorus). The general mood is melancholic with 'La Fleur des eaux' referencing lilacs in an ardent paean to lost love while the final section 'La Mort de l'amour' after an ecstatic opening takes a more portentous minor-key funeral turn ending in immense sadness. Middleton's hands scuttled rapidly over the keyboard to give shimmering – and frequently virtuosic – support to Connolly who despite Chausson's longueurs sustained focus on the subtly shifting moods of these mostly reflective passages.
The rest of the formal programme concentrated on English songs beginning with poignant nostalgia for happier bygone days or loved ones lost. Indeed, these texts seemed to particularly resonate with Connolly and listening to her sing E. J. Moeran's 'Twilight' (with the line 'I think of the friends who are dead') and Ivor Gurney's 'By a Bierside' made me feel as if I was listening to the public expression of private heartache.
We ended with four of Elgar's Sea Pictures and although they are frequently performed I had not heard these before, although I do know 'Where Corals Lie' as an oft-heard singing practice piece. 'Slumber Song' was something of a lullaby; 'In Haven (Capri)' benefited from Connolly's clear diction and was rapturous; she brought a ravishing freshness to 'Where Corals Lie'; with the concluding 'Sabbath Morning at Sea' revealing the singer's ability to seamlessly transition from her upper reaches to her deep chest notes in a song (to a poem by Elizabeth Barrett Browning) that began as an elegy to a ship and its crew and ended in prayerful jubilation. Middleton provided clear, well-articulated accompaniment though I suspect much was missed that I would hear in Elgar's orchestral score.
There was time for one extra song, though it was not 'The Swimmer' missing from Sea Pictures but an opportunity for Connolly to sing a duet with Julia Mariko Smith and this was Fauré's flowing 'Pleurs d'or' ('Tears of Gold'). It was pleasantly sung but was short, sweet and relatively insubstantial.
Leeds Lieder was founded in 2004 and since then has focussed on art-song repertoire with Joseph Middleton becoming its Director in 2014. This was clearly a wonderfully triumphant end to their Spring 2021 series. My only minor criticism – and please forgive me Leeds Lieder! – is that I prefer song recitals (and opera in concert) to have singers performing as much as possible from memory and without scores in front of them as this prevents them from always communicating directly with their audiences.
Jim Pritchard
For more about Leeds Lieder click here.