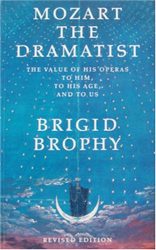 Readers of the London Review of Books have recently been reminded of the incomparable importance of Brigid Brophy (1929-1995), born of Irish parents in Ealing, West London, sometimes called Lady Levey, since her happy husband, Sir Michael Levey, who was Director of the National Gallery, gave up his posting to look after her in her final illness of multiple sclerosis, following her many lesbian affairs, with among others, Iris Murdock.
John Brophy (father) was a successful if under-achieving novelist. He was a humanist, but his wife was a dedicated member of the Church of England. Brigid found Irish Catholicism unpardonably hypocritical, which amused John and angered his wife.  From the moment she could hold a pen, Brigid wrote and wrote, memories, jingles, poems. At the age of seven she was producing writing which John held to be superior to his own.
Her amazing critiques operated on what might seem to be a simple formula: meticulous, forensic attention to every detail, without ever taking your eye off the broadest vision to which the detail belongs. Put more simply: never ever waver from your attention to the detail, except when the detail dictates that you should.
Like Virginia Woolf, she had a taste for the periodic sentence whereby the independent main clause comes at the end of the sentence, preceded by minor clauses and phrases pointing towards the final clause. See the opening sentence of this piece for a specimen.
For whatever reasons, the Brophy family were constantly changing address, which meant that Brigid was never settled in one school, though she did end up at St Paul's Girls School, for which, centuries before, Purcell had written Dido and Anneas and just before Brigid's year there, Holst had been music master. An open scholarship to Oxford followed St Paul's, but in less than a year, she was effectively sent down by her tutors in Classics, told them they had given her all that they could, but she would now leave them to pursue her own field. That field was writing. And more writing.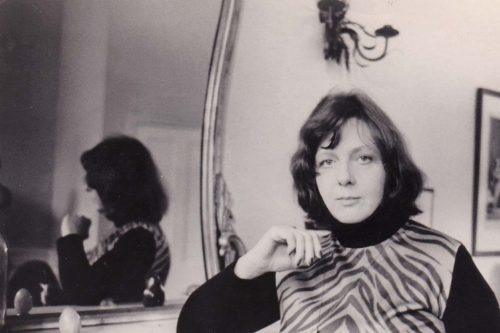 Mozart was one of her passions. Watch out Wolfgang Amadeus. No one has ever so remarkably exposed the roots of your magic as in Mozart the Dramatist: The Value of His Operas to Him, to His Age and to Us.
Herewith Brigid on the page Cherubino (Le nozze di Figaro) who is a boy who is played by a woman whose adventures take him/her through some unusual experiences. Margaret Price made her Covent Garden debut as Cherubino and always held that it was much more interesting to play the page than the more two-dimensional Countess – a role which brought Price international fame: The fluttering Cherubino 'ogni donna mi fa palpitar' with his angelical and winged name (Beaumarchais's Chérubin) is the last major manifestation in European art of Cupid, the boyish god of love, whose wings Apeleius had reported some sixteen centuries before, fluttering even while he slept. By similar flutterings Cherubino, according to Figaro, disturbs the sleep of beautiful women – 'delle belle turbando di riposo'.  And in fact Figaro need not have searched so hard in the fourth line of his aria for Cherubino's original name. He has made the essential point – winged love in the first line when he calls Cherubino a 'farfallone amoroso' – a huge, amorous butterfly. 
(Soubrette roles can easily steal a show; just think of Oscar in Un ballo in maschera or Adele in Die Fledermaus – always providing that the coloratura is light enough of voice and choreographically of foot, and the pianist or conductor doesn't introduce undue umph in the introductory notes of the opening phrases of the set pieces.)
Die Zauberflöte is Mozart's most exasperating opera as well as musically, his most sublime. Ingeniously, Brophy shows how strangely but successfully, the very exasperation prompts the sublimity and vice-versa. The librettist in whole or in part (there were many rewrites) was Emanuel Schikaneder, who was a Viennese popular impresario and comedian, who also played Papageno during the opening run. He also had the honour of writing his own part and doubtless, some say as to who would be playing Papagena. Not to mention having a name which would be a big box office draw. Schikaneder did not play the flute, but doubtless improvised some suitable dance steps toward the orchestra's flautist, as he mimed the playing of that instrument. Such artifice is an admirable tool of the humourist.
About this time, Mozart and Schikaneder were approached for prospective membership of Vienna's all powerful Masonic Lodge. It is possible that Schikaneder was already a Mason, but if so, he could be useful to Mozart, canvassing that his composer friend be not blackballed by any Mason. Mozart couldn't wait to tell his father of this prospect. It would have meant valuable connections and fairly well guarantees of work for a hard-up composer. Schikaneder had the bright idea to turn their comic opera into wholesome publicity for the Freemasons. But how to do this with a society, sworn to secrecy of its membership features, and also despised by the Empress Maria Theresa? (I remember Peter Sellars's Zauberflöte at Glyndebourne where Queen of the Night was dressed as Margaret Thatcher! 'The Iron Lady' was not amused.)
It's astonishing how librettist and composer managed to keep the mysteries of Sorastro's cult by suggesting them while not announcing them. About one third of the opera had been already written when the two decided to make it central to the religion of Isis and Osiris -representing Freemason values. So as the final product stands, we find more glaring contradictions than Alice found in Wonderland. This is the point where the audience is invited to join in Mozart and Schikaneder's chortling. And profound devotion. And without contradiction, if you can manage that, since it goes with the package.
Most readers will nod in agreement with the Brophy assertion that Dramatically and emotionally, Die Zauberflöte is not a problem-opera. It has none of Don Giovanni's false climaxes, uncertainties of mood or ambiguities of moral. Opening, like Don Giovanni, with a running scena in which the hero is trying to escape, it proceeds through satisfactorily designed stages, creating (out of a number of contemporary elements) its own genre round it as it goes to a triumphant finale, which is the climax of both the drama and the love-story and at the same time a solemn manifesto of moral and social principles. 
There you have the 'contradictions' competing for your attention in the audience. Live with them or go to see another opera is the message, to put it crudely. The three women who rescue Papagano from the serpent are in the service of Queen of the Night. The Queen is clearly a hero for such merciful consideration. Later, we learn that she is a villain, for which, librettist and composer have also to show Papageno as a halfwit. That both ups the comedy (for the librettist Schikaneder) whilst suggesting with the Queen's two brief arias that she is someone you wouldn't want to meet on a dark night! It would also give the composer an opportunity to punish the Queen with dazzling coloratura: she was Mozart's hated sister-in-law, Josepha Hofer!
That may be a twist or two too many for some audience members. But Mozart was good in serving take-it or leave-it challenges. And most audiences, like Alice, are matter-of-factly in the first category.
Interesting that the only character in Don Giovanni to not be given an aria is the protagonist. The serenade doesn't count, it's casual, and stops before it really starts (as serenades often do). Yet the Don's contributions to the ensembles leave no one in any doubt about the complexity of his character. Leporellos not infrequently graduate to what we remember as the leading role.
Equally invitingly complex is the musical character of the five singers in Così fan tutte. Once again, the soubrette role of Despina could steal the show were it not for Fiordiligi's Come Scoglio, intended to frighten all others off the stage. The two sisters of Così were sisters in real life – something of which both Da Ponte and Mozart took advantage. No doubt who was boss.  Margaret Price, following advice from Otto Klemperer, used to give great weight to Così fan tutte – the opening three words of the aria, whose same weight was a springboard for the hell-for-leather of the rest. Most impressive. Later, the entire quintet 'solemnly' sing the defining words in unison.
In assembling all the minutiae to arrive at a forensic method of what Mozart's soul must have been, Brigid Brophy rightly praises to the sky Emily Anderson's three volumes of the Letters of Mozart and his family. Ms Anderson was a civil servant and worked at these translations in her 'spare time' for which all speakers of English will be forever grateful. Brigid Brophy was fluent in German but soon discovered the Anderson translations could not be improved upon. Brophy's German was vital for the many aspects not covered by the Letters.
The other most valuable tome on Mozart and his music is W. A. Mozart by Hermann Abert (1871-1927) which not only collects the essential details of Mozart's life and gives dates and details of every piece he wrote, including opera casting and unsuccessful auditions for some roles (Breitkopf and Härtel 1923). Brophy makes no mention of this bible. It is a disgrace that the world had to wait until 2007 when Yale University published Stewart Spencer's English translation, edited by Cliff Eisen, which also provides invaluable indexes (not included in Abert) and information which had come to light post-Abert. No other book on Mozart will ever been needed. Unless, that is, you want to explore the territory which Brigid Brophy so successfully examines.
Jack Buckley
Mozart the Dramatist by Brigid Brophy (Faber and Faber. Second revised edition with a preface, 1988. Reprinted 2006)