New Zealand Debussy, Albeniz, Piazzola, Farr, Peterson, Cockcroft, Eychenne: Trio Elan (Donald Armstrong [violin], Simon Brew [saxophone], Sarah Watkins [piano]). Old Library, Whangarei, New Zealand, 28.3.2021. (PSe)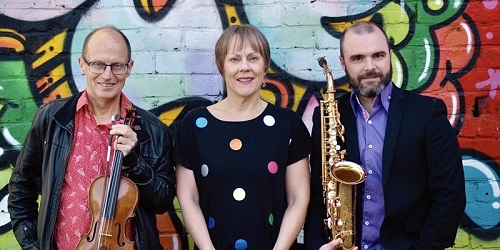 Russell Peterson (b. 1969) – Trio for alto saxophone, violin and piano
Albéniz – Evocación (piano solo)
Barry Cockcroft (b. 1972) – Beat Me (saxophone solo)
Debussy – Violin Sonata in G minor
Marc Eychenne (b. 1933) – Cantilène et Danse
Gareth Farr (b. 1968) – Meditation (saxophone and piano)
Piazzolla – Otono Porteno
Gareth Farr – Tango: Un Verano de Passion
This was the first of four 2021 recitals planned by Whangarei Music Society, three of which are given in association with the ever-dependable Chamber Music NZ. It just so happens that all three involve different 'non-standard' ensembles, two featuring the saxophone and one the guitar (who knows, next year maybe we might get a tuba?). This tends to back up my impression that, nowadays, non-standard chamber ensembles seem to have become the height of fashion. Not that I am complaining; after all, the 'normal' chamber ensembles exist as such only through force of habit. Here, as anywhere, variety is the spice of life, so 'Bring 'em on!' I say – just so long as they justify their existence by making good music!
Violinist Donald Armstrong earns his crust in a variety of leading orchestral rôles – NZSO, Tivoli SO (Denmark) and Nice PO (France) – as well as performing with NZ chamber groups and applying his full range of talents to fostering musicianship amongst the young. Saxophonist  Simon Brew has previously appeared here in Category Five (2013) and Trio Amistad (2015). His crust comes from freelancing, being regularly required by NZSO and other NZ ensembles. Pianist Sarah Watkins is a founder member of NZTrio, with whom she appeared here in 2009 and 2017, prior to departing for pastures new; presently, she is a teacher at Auckland University as well as, like Simon, an orchestral and chamber freelancer.
Trio Elan could be described as a piano trio with a saxophone instead of a cello. They laid out a convincing argument to justify their existence. To help us get some idea of the relative instrumental qualities, their programme featured two duets (violin/piano, saxophone/piano) and two solos (piano, saxophone) in addition to four trios. The programme itself was firmly Twentieth Century, which is reasonable when you remember that the saxophone didn't really 'take off' until the Roaring Twenties, or thereabouts – and anyway, even I might have baulked a bit at the blatant anachronism, say, of a movement from a Bach Cello Suite arranged for solo saxophone. To further help our idea-getting, Trio Elan's chosen music, even where it inclined towards the strident side of the spectrum, was never less than eminently audience-friendly.
In fact, almost the most challenging music came in the first item, Peterson's Trio for alto saxophone, violin and piano, whose first movement took its cue from Bartók. Trio Elan projected its stamping pulse and crunching dissonances with exhilaratingly ferocious attack, amid which you could observe that the saxophone's higher notes blended well with the violin, and its lower notes ditto the piano. In the second movement, the saxophone's mid-tones seemed to creep out of the piano, whilst at the climax the screaming sax pretty well drowned out the violin, if only momentarily (apparently, Peterson is rather fond of the saxophone's altissimo register. I wondered, can such notes be played pianissimo?).
I am almost ashamed to admit that my knowledge of Albéniz's Iberia is limited to the Arbós orchestrations in Ansermet's adorable old recording. Surely, Sarah Watkins's evocative performance of Evocación, clearly detailed yet perfumed and hauntingly atmospheric, will take the credit for my rapid rectification of an unpardonable oversight!
Next up was the most challenging work, one that placed the saxophone a million miles away from Albeniz's piano. Composed some 25 years ago, Cockcroft's extraordinary Beat Me, a jazz piece for solo saxophone, has become a popular virtuoso 'demo' of the weird and wonderful sounds that the instrument can produce. Brew carefully set up a row of four music stands, upon which he spread the fan-folded score; amusing for the audience, but otherwise very necessary! We heard (terminology courtesy of Cockcroft's website!) several varieties of 'slap-tonguing', 'multiphonics' (keying techniques or vocalisations producing several notes simultaneously), 'circular breathing' (as per digideroo and, I'd hazard, glass blowing), both individually and in combination. All this was neatly wrapped up into a piece of actual music – and often very intense music. Whilst writing this review, I sampled several recordings on Cockcroft's website. All were impressive, but to my mind none as impressive as Brew: for one thing, his slap-tonguing had an ear-catchingly distinctive 'electronic' character, for another his duets with himself were far more clearly delineated and, best of all, he was more engagingly musical.
Following Beat Me, the rarefied air of Debussy's Violin Sonata in G minor for once seemed like being 'brought back down to earth', even if only briefly! It again highlighted the difference between the youthful saxophone and the more venerable piano – although lateral thinkers may have pondered on the unparalleled repertoire of effects which the even more venerable violin has amassed over the years, but which Debussy doesn't use here! The playing of Armstrong and Watkins, highly prehensile and strongly accented, mapped the musical contours beautifully. The teasing fantasque et léger second movement seemed to duck and dive like an excitable, agile infant, whilst their accelerating coda fully realised Debussy's intended 'tumultuous joy'.
After the interval, the Algerian-born Marc Eychenne's Cantilène et Danse reaffirmed the harmonious common ground of the three instruments. Having said that, following the doleful violin, I was surprised to find the saxophone's first entry sounding, for a few seconds, like a French horn. Seeming to be almost 'blues' (lacking only the requisite 'blue' notes), the romantic-feeling Cantilène spun a duet for saxophone and violin with interludes for piano, and included some very quiet saxophone playing. The catchy seven-in-a bar Danse opened on a romping piano, soon joined by the others in irregular phrases. Some effective violin harmonics were succeeded by the saxophone singing 'sweet 'n' low' against a rapidly rippling piano – but overall this was highly spirited stuff, played with spirit.
Gareth Farr's Meditation, involving just the two instruments separated by a 'million miles', started, as it were, with the saxophone chained to the chordal piano, but gradually drawing the latter with it, into greater dexterous mobility over its ground bass, entering a discourse on terms of close confidentiality.
Trio Elan's performance of Piazzolla's Otono Porteno ('Buenos Aires Autumn', from his take on The Four Seasons, and given here in an arrangement by José Bragato) was rhythmically alive, traversing a series of varied episodes, all finely characterised by the players. The only thing that bothered me was that it didn't particularly sound like a tango – but I suppose that's because I need to go forth and listen to a lot more Piazzolla.
The finale was another trio, Farr's Tango: Un Verano de Passion (arr. Keith Moss). This was indubitably a tango, and moreover an exceptionally sleazy one! The reason is simple: the piece was originally written for a scene in a TV drama, The Strip, about a woman who opens a male strip joint (i.e. catering for a female clientele – nowadays these seem to be the only ones around, don't they?). This tango brought the three instruments into their closest intimacy: the violin and the saxophone are arguably the two instruments best equipped for this sort of thing, with the piano coming a fairly close third – and the way Trio Elan laid into it, you could well believe that. An intense introduction breaks into a classic tango pulse, smouldering and sensual. Eventually the saxophone 'cuts loose', nearly swallowing the violin (musically speaking, that is). It's a contest between reserve and licence. The latter wins. This salacious gem made a perfect climax to a wide-ranging and winning programme, performed just as it says on the tin by the Trio Elan – who justified their existence by winning their audience's enthusiastic admiration.
Paul Serotsky