United States Daniel Schnyder, Charlie Parker's Yardbird: Soloists, Members of the Pittsburgh Opera Orchestra / Antony Walker (conductor). Pittsburgh Opera Headquarters, Pittsburgh, 22.4.2021. (RP)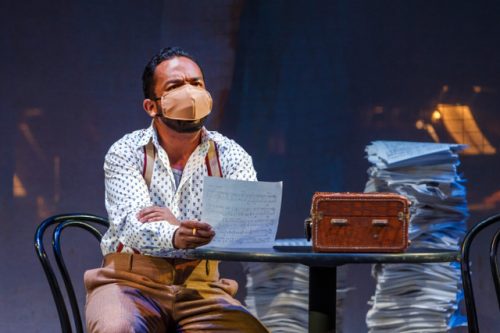 Production:
Director – Tomé Cousin
Sets – Iana Dobreva
Costumes – KJ Gilmer
Lighting – Todd Nonn
Chorus Master – Mark Trawka
Cast:
Charlie Parker – Martin Bakari
Addie Parker – Jasmine Muhammad
Dizzy Gillespie – Yazid Gray
Chan Parker – Véronique Filloux
Baroness Nica – Maire Therese Carmack
Doris Parker – Madeline Ehlinger
Rebecca Parker – Chrystal E. Williams
Moose the Mooche – Tru Verret-Fleming
Daniel Schnyder and Bridgette A. Wimberly's Charlie Parker's Yardbird hasn't changed since its premiere in 2015, but we have. Not that long ago, Parker's drug use would have been dismissed as high living that comes with the territory of being a jazz musician. It actually stemmed from being prescribed morphine for pain relief when he was injured in a car accident at the age of 16. America is slowly coming to grips with its opiate problem, but it's nothing new, and today we are much more informed about and sensitive to the issue.
Although the opera departs from fact, there is no disputing that Parker had a penchant for white women. Early in the opera, his mother makes him leave Kansas City, KS, to avoid getting lynched for this predilection. He died in the apartment of his patroness, Baroness Kathleen Annie Pannonica de Koenigswarter, in New York City. Baroness Nica, as she is styled in the opera, was a member of the Rothschild family and a patron of bebop music. Once that fact became known, she was asked to vacate the building: a Black man dying in such an exclusive place was beyond the pale.
Wimberly's libretto doesn't dwell on racial equality, but it was the elephant in the room when watching Pittsburgh Opera's compelling production of Charlie Parker's Yardbird. It was, after all, the week that the verdict came down in the trial over the death of George Floyd. However, the opera hasn't been staged across American and in Europe because it's a polemic on race. It is also a gripping story with a vibrant score about one of America's greatest musical talents.
Yardbird tells the fictionalized story of Parker composing an orchestral masterpiece in the three-day span between his death at the age of 34 and the discovery of his misidentified body in the morgue. He also revisits his past, as well as the demons that haunted him and drove him to drugs and drink. The women in his life – his mother, his three wives, Baroness Nica – have as much to say about him as he does of them. Trumpeter Dizzy Gillespie, his musical partner and co-inventor of bebop, also features in the story.
Schnyder is a saxophonist, as was Parker. His score is a mix of classical and jazz, but it's stylistically anchored in the big band sounds of Parker's youth rather than bebop, although some of Parker's own music is woven into the score. The operatic Parker is never asked to play the sax, but he does have to scat sing.
Martin Bakari captured the genius, lost soul and lover in Parker. His is a golden, lyric tenor that was shown to its best advantage in an epilogue that begins with the words 'I know why a caged bird sings', a line from Paul Laurence Dunbar's poem 'Sympathy'.
Jasmine Muhammad was a powerhouse as Addie, Parker's mother. Her voice was solid from top to bottom, as was the pride and dignity with which she carried herself. Equally impressive was Chrystal E. Williams as Rebecca, Parker's first wife, whom he married when he was fifteen and she three years older. At the end of the opera, Williams was heartbreaking when she sang bitterly that her husband abandoned her and their children for such a place as Birdland, the Manhattan jazz club where he was a headliner.
With vibrant sound and presence, Madeline Ehlinger brought to life Doris Parker, a former hat-check girl who used her husband's memory to fight drug addiction. Véronique Filloux's Chan Parker, his common-law-wife at the time of his death, was all flounces and feathers, a perfect fit with her sparkling lyric soprano. As Baroness Nica, Maire Therese Carmack's voice, a stand-up-and-take-notice, dark, commanding mezzo-soprano, made you do just that.
Yazid Gray has a beautiful, velvety voice. His Dizzy Gillespie was good natured and easy going, the perfect foil for Bakari's high-strung Parker. Tru Verret-Fleming moved silently throughout the action as Moose the Mooche, observing and commenting on the action without singing a word.
The opera was staged in Pittsburgh Opera's headquarters, as was its delightful production of Così fan tutte last fall. The set was minimal, and the direction tight and coherent. The vast interior space is not a theater, however, and balance was a problem. Schnyder's score has thick textures in which flute, clarinet, trumpets, piano and percussion predominate. Anthony Walker let the orchestra rip too much of the time, which was exciting but frustrating.
Challenging acoustics are the name of the game for the foreseeable future. Pittsburgh Opera is producing live opera with an audience, and you can't find that in many places at moment. That alone made Charlie Parker's Yardbird a must-see. Its fine cast was the icing on the cake.
Rick Perdian
For more about Pittsburgh Opera click here.