United Kingdom Mozart, La clemenza di Tito: Soloists, Chorus and Orchestra of the Royal Opera House / Mark Wigglesworth (conductor). Livestreamed (directed by Peter Jones) from the Royal Opera House, Covent Garden, London, 21.5.2021. (JPr)
Production:
Director – Richard Jones
Set and Costume designer – Ultz
Lighting designer – Adam Silverman
Movement director – Sarah Fahie
Cast:
Titus – Edgaras Montvidas
Sesto – Emily D'Angelo
Vitellia – Nicole Chevalier
Annio – Angela Brower
Servilia – Christina Gansch
Publio – Joshua Bloom
Senators – Jeremy White, George Freeburn
Berenice – Fumi Kaneko
It was 14 months ago when an audience last sat in the Royal Opera House and it was also a return, of sorts, for Mozart's La clemenza di Tito to the repertory for the first time since 2002 in a new production from Richard Jones. Tito was composed in the last year of Mozart's life and at the same time as Die Zauberflöte and is apparently the least performed of his mature operas, despite being popular in the years following his death. Tito is in the style of opera seria which was already out of fashion in the late-eighteenth century. Mozart completed it in 18 days for the new Holy Roman Emperor Leopold II's coronation ceremony as King of Bohemia and – to be honest – Tito's second act does give evidence of that as it descends into just a series of set pieces for all the principal characters.
The Roman Emperor Tito Vespasian is betrayed by those he cared for most and believed loved him: the libretto is by Pietro Metastasio and it had already been set to music by dozens of composers. It was adapted for Mozart by Caterino Mazzolà and was used to promote the idea of rulers – who might well be cruel and unforgiving – as noble, god-like and keen to dispense their beneficence. Mozart does not give him the best music which goes to all the women, including those in the en travesti roles.
An assassination plot needs a motive and for Tito that is the scheming of the bitterly jealous Vitellia – daughter of a former emperor – to become Empress. As her plans seem to be thwarted, she persuades the young Sesto to assassinate Tito: he is a (too-)willing pawn in Vitellia's schemes because he is deeply in love with her. The first act ends with Sesto and his conspirators burning down Rome's Capitol and Tito is feared dead, though he isn't of course because Sesto kills the wrong person. The rest of the opera involves a conflicted Tito resisting condemning Sesto to death. (Spoiler alert!) at the last moment Vitellia confesses all and is forgiven by Tito whose clemency is praised by all as the opera ends.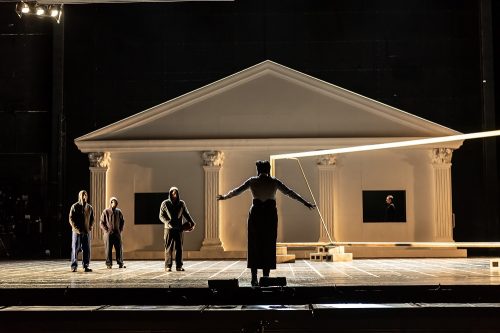 Well, what does a former – now rather tamed – enfant terrible director Richard Jones make of all this? Firstly, it is perhaps not fair to criticise it in too much detail because what we saw did seem a work in progress at least as far as the sparce scenery was concerned: Ultz's sets and costumes seemed late-twentieth century. The double-roomed state apartment looked if they were originally flat-packed and to be honest Jones – with various other collaborators on sets – has used something like this several times before, such as for the bohemians' garret in his La bohème (which is revived at Covent Garden next month). Starkly furnished the rooms had a conference table on one side and on the other simply a green chaise longue. There was the plain front of a colonnaded building – something of a Roman villa – in the background from time to time and there was a lot of 'smoke' from it at the end of Act I and we were shown its two burnt out rooms for the rest of the opera. Elsewhere Vitellia was found in what looked like a school corridor and Servilia – Sesto's sister who is in love with his friend Annio but is pursued at one point by Tito – seems to be working in a kitchen surrounded by cans, tins, jars and boxes.
We see Sesto playing football with those who later will be his knife, axe or petrol can wielding hoodied collaborators. At the end Sesto will be saved from being hung on the crossbar of the goal we see on stage. A screen with three simple doors comes down for the first time and will come back from time to time and there is some graffiti (in Italian) on it 'Fine words don't feed cats', 'Choose wives and cattle from your native village' and eventually 'Too much goodness, ends up in the garbage'. The hint of racism here refers to Bernice, Tito's first choice as Empress, and we see him offer her a floral garland during the lengthy overture, yet she will eventually, quite literally, be sent packing. We have read in the subtitles how Bernice is referred to as 'that foreigner'. (The non-singing Bernice is performed by The Royal Ballet's newest principal dancer Fumi Kaneko).
It is perhaps not right to infer too much from Jones's staging because I am sure putting it on had its issues. I am sure rehearsal time was limited and the cast may not have been all first choices. The power-suited Vitellia was the most complete characterisation whose jealousy and bid for power takes her initially in the wrong direction before her redemption makes a heroine of the otherwise one-dimensional villainess. And I suspect Jones is wanting us to think of abuse of power in all its myriad forms and I will not dwell too long on the slightly predatory impression I get from Vitellia and Tito toward the somewhat gangly, short-trousered Sesto. The last significant character in this opera is Publio (nominally the commander of the Praetorian Guard) but here Tito's bespectacled fixer who aided and abetted by two henchmen (all wearing Tweed) is keen to have Sesto punished.
We see Tito vacillating over potential brides, but clearly, he has a good nature because he would prefer dealing with the poverty he sees around him than have another temple consecrated in his honour. Though Jones also shows he is somewhat weak-willed as the troubled Tito hides beneath a rug to silence Annio pleading on behalf of Sesto in Act II. Tito will later struggle to overcome the urge to take his revenge out on Sesto after singing in their confrontation how he should 'Just for one moment remember how we used to love'. In the end he exclaims 'I know all, I forgive all and forget all'. The opera ends with the people praising Tito and asking the 'eternal gods' to protect him, while he rushes around the stage with hands aloft; though daggers are drawn as the lights go down.
This was not perhaps the strongest cast this opera has ever seen and heard at Covent Garden: I have only watched the opera twice before and not for about forty years. Sir John Pritchard (no relation!) conducted it in 1976 with a cast including Dame Janet Baker, Yvonne Minton and Robert Lloyd and in 1982 it was Sir Jeffrey Tate conducting, amongst others, Diana Montague, Elizabeth Connell and Sir John Tomlinson. I will make no other comment except I wished this current performance had more British (or British-trained or resident singers). Lithuanian tenor Edgaras Montvidas is at least a former Royal Opera House Jette Parker Young Artist and his Tito was realistically riddled with self-doubt and proved as quick to anger as to forgive. Of course, I was listening through loudspeakers and not in the theatre however I thought Montvidas was lacking in charisma or genuine personality and there was a blandness to his occasionally tight singing with any coloratura frequently glossed over. It was in the second act that I heard more expressive phrasing from him especially in the aria 'Se all'impero' after the duet with Sesto.
Mozart demands an incredible range from the singer of the seductive, conniving Vitellia and American soprano Nicole Chevalier was mightily impressive throughout. The more her plans unravelled the more neurotic she became and her rondo 'Non più di fiori' ('No more will Hymen descend to weave garlands of flowers') with the famously evocative basset horn obbligato was a tour de force displaying consummate vocal agility and leading her character through a believable operatic meltdown. Vitellia strips the garland Tito gave her into the chain that now binds her before she rushes about and onto the proscenium arch at the side of the stage.
Canadian-Italian mezzo-soprano Emily D'Angelo looked the part as a young, easily led Sesto who is confused as to where his loyalties lie. D'Angelo sang well enough without convincing me she was entirely comfortable and her wide-eyed facial expression was rather unvarying (or perhaps that's what Jones asked from her). Nevertheless, D'Angelo was heard at her most affecting in Sesto's slow second act rondo ('Deh, per questo istante solo') as he revealed his guilt in the plot against Tito.
Completing the six principal singers were Austrian soprano Christina Gansch as a spirited Servilia who turns down Tito and although her character doesn't get much to sing her Act II aria 'S'altro che lacrime' was beautifully rendered. In her black business suit American mezzo Angela Brower did well with the little Mozart gives the opera's second trouser role as Servilia's romantic interest and they made a credible pair of lovers during their Act I duet ('Ah, perdona al primo affetto'). Stalwart Australian-American bass Joshua Bloom brought a genuine sense of menace to Publio's machinations.
Conductor Mark Wigglesworth is a musical figure who has been seen on a few occasions during the recent pandemic woes and the performance of the Royal Opera House Orchestra's Mozart sounded idiomatically colourful, smooth and fluent and ever alert to the opera's shifting emotions, though there was not much he could do about the second act longueurs. There was eloquent harpsichord continuo from Mark Packwood and there were virtuosic woodwind obbligatos. The chorus (kept off-stage) stood in for Rome's entire population and provided solid support when called upon and notably in their contribution to rousing – and life-affirming – final sextet.
Jim Pritchard
For more about what is one at the Royal Opera House click here.