CARNEGIE HALL SELECTS BEGINS ON 14 MAY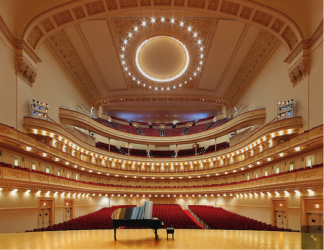 From 14 May, Carnegie Hall will offer weekly full-length and free concert streams via carnegiehall.org that feature legendary classical musicians in performances from some of the finest concert halls around the world. The new series, Carnegie Hall Selects, celebrates great artists, composers and musical works that have played a central role in Carnegie Hall's history. A new Carnegie Hall Selects program will be offered each Friday throughout the summer.
In conjunction with the 130th anniversary of Carnegie Hall's opening, for the first four weeks of the series the streamed concerts will include music by Tchaikovsky as well as works by Mozart, Beethoven and Wagner that were featured during Carnegie Hall's Opening Week Festival in May 1891. The original five-day opening festival featured the New York Symphony Orchestra and Oratorio Society of New York, conducted by Walter Damrosch and Tchaikovsky, who received a personal invitation to appear in New York from Andrew Carnegie himself.
Featured Carnegie Hall Selects streams on Fridays in May/early June include:
14.5.2021: from 1967, conductor Herbert von Karajan leading the Berliner Philharmoniker in Tchaikovsky's Piano Concerto No.1 with pianist Alexis Weissenberg at the Berlin Philharmonie.
21.5.2021: Herbert von Karajan conducting the Berliner Philharmoniker in 1972 at the Berlin Philharmonie in Beethoven's Symphony No.5.
28.5.2021: from 1976, Sir Georg Solti leading the Chicago Symphony Orchestra in the Prelude and Liebestod from Wagner's Tristan und Isolde in Chicago's Orchestra Hall; and from 1979, conductor Eugene Ormandy and The Philadelphia Orchestra performing Tchaikovsky's Violin Concerto with soloist Itzhak Perlman at the Academy of Music in Philadelphia.
4.6.2021: from the Salzburg Festival in 2006, Nikolaus Harnoncourt conducting the Vienna Philharmonic Orchestra in a production of Mozart's The Marriage of Figaro with Bo Skovhus (Count), Dorothea Röschmann (Countess), Anna Netrebko (Susanna), Ildebrando D'Arcangelo (Figaro), Christine Schäfer (Cherubino), Franz-Josef Selig (Bartolo) and Eva Liebau (Barbarina), directed by Claus Guth.
Each new Carnegie Hall Selects program will be made available on a Friday beginning at 12pm (EST), and will be accessible for free on-demand viewing for one week on carnegiehall.org.
Rick Perdian