Switzerland Dvořák, Suk: Josef Špaček (violin), Tonhalle Orchestra Zurich / Jakub Hrůša (conductor). Tonhalle Maag, Zurich, 30.4.2021. (JR)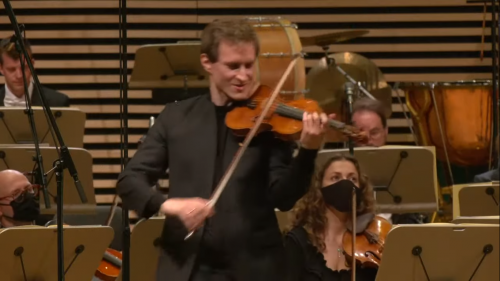 Dvořák – Violin Concerto, Op.53
Suk – Pohádka (A Fairy Tale) Suite for large orchestra, Op.16
The last time the Tonhalle Orchestra Zurich played the Dvořák violin concerto was, I believe, with Julia Fischer in a Prom at the Royal Albert Hall under David Zinman. The audience must have been close to 5,000, with many more listening on the radio and watching on television. Due to continuing Covid restrictions, only a lucky 50 were permitted to witness this performance. Amazingly, the orchestra and soloist played it four times over two evenings.
Dvořák's Violin Concerto has been described as a somewhat under-rated work. Brahms had introduced Dvořák to Joseph Joachim, for whom it was written, and who collaborated with the composer on the violin sections; but Joachim took a dislike to the work and never played it in public. Nowadays, luckily, the concerto gets frequent enough outings and its slight lack of popularity is hard to fathom.
I was very keen to hear the young (35-year-old) soloist, Josef Špaček, who is the principal concertmaster of the Czech Philharmonic, the orchestra that now has Jakub Hrůša, only a few years older than Špaček, as its principal conductor. Špaček is widely praised for the articulation and energetic athleticism of his playing and his sweet tone and vigour. He has made a speciality of the Dvořák violin concerto; his recording of it (under Jiří Bělohlávek) was 'Recording of the week' in The Sunday Times and 'Recording of the month and year' in MusicWeb International. I was not disappointed.
Špaček has the good fortune to have a lovely instrument: a 1732 Guarneri del Gesù. It is wonderfully clear at the top, and warm and mellow below. That aided my enjoyment of the serious, dramatic first movement, the instrument adding richness of colour and harmony. The cadenza is so short as to be missed (perhaps that put off Joachim) and leads straight into the lyrical Adagio ma non troppo, where Špaček did not linger sentimentally. The sparkling Finale is the most instantly appealing movement, and the Czech themes and syncopated rhythms are in the style of a furiant, a vigorous Czech dance. A Czech conductor, a Czech violinist with flawless intonation, all technical hurdles easily surmounted – the music was very much in their blood. The performance was recorded, ensuring the orchestra were on their toes. Hrůša appears a very good-natured conductor, but can be impassioned and full-blooded when required. He highlighted all the rhythmic undercurrents of the work and danced through the final movement, bringing it to its vibrant conclusion.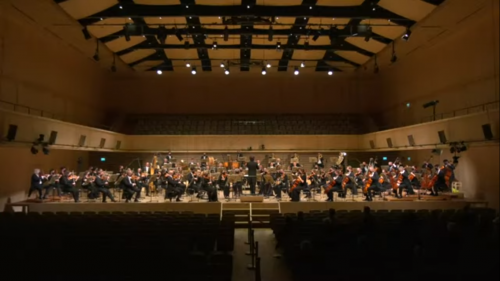 Suk was Dvořák's son-in-law and steeped in Czech folk music and folklore. This concert was to have featured his large-scale, hour-long, often morose symphony Asrael (the Archangel of Death) but I assume the pandemic put paid to that. Instead we were served shorter fare, an orchestral suite, Pohádka.
Pohádka translates into 'Fairy Tale'. Not to be confused with the chamber work by Janáček of the same name or Suk's Summer Tale (Op.29), Suk's work, which was composed just before the turn of the last century, was written to accompany a mythological drama. Suk turned the fragments he had composed as overtures to each scene of the play and intermezzos into a four-movement orchestral suite. It is one of Suk's most successful works, recorded by many a great Czech conductor, Václav Talich, Jiří Bělohlávek and Libor Pešek.
Pohádka is a love story and its four movements are entitled 'About the Constant Love of Raduz and Mahulena and Their Trials', 'Playing at Swans and Peacocks', 'Funeral Music' and 'Runa's Curse and How It was Broken by True Love'. Suk's music can be described as lush romantic; it is highly depictive, conjuring up vivid images, but lacks discernible structure, at least without repeated hearing, and also lacks the melodic genius of his father-in-law. Suk could certainly orchestrate, and there are frequently some lovely phrases and plenty of colour. However, his work compares a mite unfavourably with his contemporaries – Rimsky-Korsakov's Scheherazade, Smetana's Ma Vlast and the tone poems of Richard Strauss. Suk's name often pops up in lists of under-rated composers; he was championed by Sir Charles Mackerras and now by Kirill Petrenko and Jakub Hrůša.
The violin solo in the first movement was beautifully delivered by concertmaster Julia Becker, and the orchestra played the whole movement with considerable passion. The second movement, a charming folk dance, brought an oompah band to mind. There was a complete change of mood for the third movement, funeral music, building to a huge climax. The final movement, full of dramatic energy, depicted Runa's curse with blazing trombones and tuba. After much banging and crashing, broad sweeping gestures, the ardent solo violin seemed to want to bow us out gently, but cymbals broke in to announce a rousing climax. Has Suk's time finally come? I, for one, am not convinced.
John Rhodes
For more about Tonhalle Orchestra Zurich click here.