United States Various: Junction Trio (Stefan Jackiw [violin], Conrad Tao [piano], Jay Campbell [cello]). Benjamin Franklin Hall, American Philosophical Society & Philadelphia Chamber Music Society, Philadelphia, 20.5.2021, and reviewed from a 22.5.2021 stream. (BJ)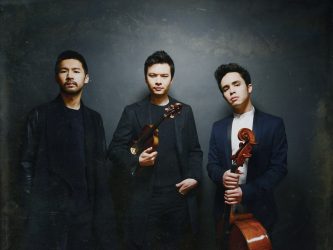 Zorn – Ghosts Op.70 (Philadelphia premiere)
Ives – Piano Trio
Ravel – Piano Trio in A minor
'I am large, I contain multitudes', Charles Ives might have been inclined to say, if Walt Whitman hadn't already said it some years before Ives was born. Whitman prefaced those words with a similarly bold declaration, 'Do I contradict myself? Very well, then I contradict myself'. Both formulations would certainly have come naturally from Ives in his capacity as one of the great mavericks of the Western music world.
Musical ideas tumbled out of Ives's mind in seemingly inexhaustible profusion, and he clearly felt that their mutual democratic jostlings offered the best way to get them into what might be called a healthily Bidenesque state of readiness to simply 'get things done'. At first blush, one might think that there could hardly be a more radically different program neighbor for Ives's Piano Trio than Ravel's essay in the same genre. Where Ives's delight was to throw his materials in the air and watch to see how they land, there is almost always in Ravel's music a clearly definable rhythmic and textural pulse that acts to restrain any such free flight, imposing a logical and sustainable regularity on even the most seemingly disparate elements.
But it is this very radical contrast of method and approach that underlines the individual characters of these two fine works as well as their more obvious dissimilarities. Each ranks very high in its composer's oeuvre. I have long felt that Ives's mastery was most readily to be felt in his songs, piano works and chamber music, and the Piano Trio, which I confess I was encountering for the first time at this concert, emphatically supported that view, more than rivaling his big orchestral works in combining freshness of inspiration with freedom from deliberate eccentricity. And while some of Ravel's big orchestral works are as impressive as his chamber and instrumental music (despite its modest title, for example, his Rapsodie espagnole surely stands as a masterpiece of the first water), the Piano Trio blends expressive richness and rhythmic inventiveness with structural strength as convincingly as anything he wrote.
It was the unerring way that the Junction Trio laid bare all these musical relationships and contrasts, as well as the skittering textural discontinuities of the Beethoven-inspired Ghosts by John Zorn (in whom I would never have imagined myself discovering an affinity with Webern), that made the program of the group's local debut as illuminating as the performances that their choice of works drew from these young players. Stefan Jackiw is a violinist of persuasive lyrical gifts and technical prowess whom I have had occasion to admire in a wide variety of repertoire since hearing him tackle Paganini with authority at the age of 15. Conrad Tao is a pianist and composer whose local debut with the Chamber Orchestra of Philadelphia a few years ago fairly bowled me over. And Jay Campbell showed himself to be a musician fully worthy of his association with those two spectacular talents – I hope that he will not feel slighted by the suggestion that his less obviously demonstrative musical personality may well function as the glue that holds this phenomenally gifted new ensemble together.
Bernard Jacobson