The 2021 Cumbria Festival of Opera is the first of its kind: a week of music, theatre, and education in one of the most beautiful areas in the world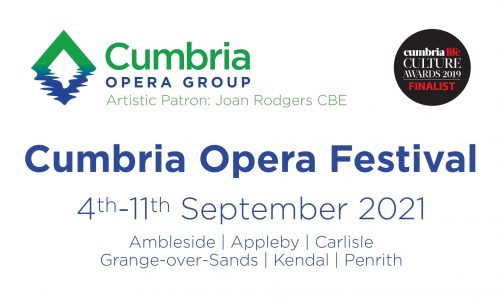 The Cumbria Opera Group has existed since 2016, with the aim of bringing high-quality opera, classical music, and music education to Cumbria. Our productions of Dido and Aeneas, Venus and Adonis, and Acis and Galatea have demonstrated people's passion for opera in this fantastic county, and we are thrilled to present Cumbria's first ever Festival of Opera.
The Festival will combine some of the brightest young Cumbrian talent alongside world-renowned operatic stars. Roderick Williams is, quite simply, one of the best singers in the world and we're delighted that he will be opening the Festival. Our Artistic Patron Joan Rodgers will also make a much-anticipated appearance: hailing from Cumbria, Joan has had a career as one of the most sought-after sopranos in the world. We urge you not to miss our two fully staged operatic productions. Mozart's Così fan tutte was his final comic opera − the culmination of the composer's masterful exploits in a genre he made his own. A double bill of Bernstein's Trouble in Tahiti and Barber's A Hand of Bridge represents the pinnacle of post-war American theatre: jazz meets opera as the sounds of Gershwin, Mahler, and Ellington are rolled into one.
Outreach is at the heart of everything we do, and we are delighted that an extensive series of schools' workshops will culminate in our Open Festival Workshop on September 4th. This, combined with two Evenings of Opera events − expect highlights ranging from the 'Queen of the Night' aria to Nessun Dorma − and a special recital from the unparalleled Caroline Taylor and George Needham, should provide a Festival well worth attending
This is an event in Cumbria, for Cumbria, in celebration of an art form that everybody should enjoy.