Austria Gounod, Faust: Soloists, Chorus and Orchestra of Vienna State Opera / Bertrand de Billy (conductor). Livestreamed (directed by Jacob Pitzer) from Vienna State Opera, 29.4.2021. (JPr)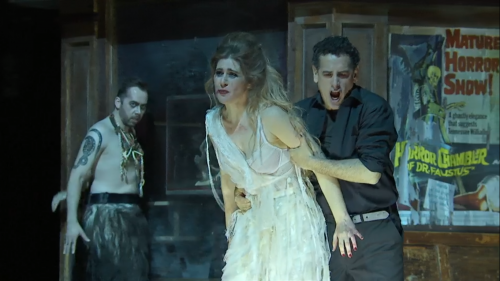 Production:
Production – Frank Castorf
Stage design – Aleksandar Denić
Costume design – Adriana Braga Peretzki
Lighting design – Lothar Baumgarte
Director's assistant – Wolfgang Gruber
Video director – Martin Andersson
Camera/Image creation – Tobias Dusche, Daniel Keller
Dramaturge – Ann-Christine Mecke
Chorus director – Thomas Lang
Cast:
Doctor Faust – Juan Diego Flórez
Marguerite – Nicole Car
Méphistophélès – Adam Palka
Valentin – Étienne Dupuis
Wagner – Martin Hässler
Siébel – Kate Lindsey
Marthe – Monika Bohinec
Like London buses you wait for one Faust to come along and quickly now it is two! After Tobias Kratzer's intriguing new Paris version (click here) – where you will find my background information to Gounod's opera – there is German theatre director Frank Castorf's staging which is new to Vienna. Under the reign of their new director Bogdan Roščić any thoughts that Vienna State Opera is a safe and conservative house has been virtually banished forever. After Calixto Bieito's Carmen (click here), Simon Stone's La traviata (click here) and Kirill Serebrennikov's Parsifal (click here) – all directors with a certain reputation – we now have Faust from Castorf whose controversial 2013 Ring cycle at Bayreuth has been reviewed a number of times for this site. Castorf's Faust is new to Vienna, but it was first put on by Staatsoper Stuttgart in 2016 and if you have seen his Ring then you will recognise this Faust's updating, three-dimensional sets and cinematic realism.
There are myriad images projected above the set including those from two mobile cameramen (Tobias Dusche and Daniel Keller) who follow the characters around and so we see different views of many scenes and otherwise hidden events. At one-point Siébel actually acknowledges their close-up attention and shoos them away and it is to their credit that all the singers can perform so naturally under all this scrutiny. Although this production predated the pandemic it fully embraces a new theatrical 'normal' where we will continue to see things more on a screen (of some sort) than we did in the past.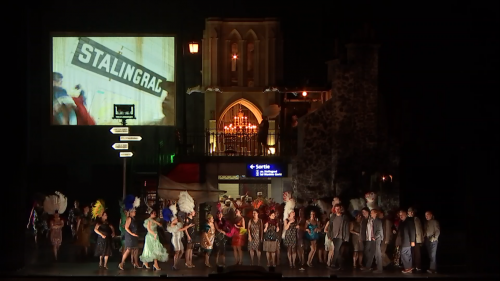 The design team is also the same (stage designs Aleksandar Denić and costume designs Adriana Braga) and we are in 1960s Paris towards the end of the Algerian War of Independence. On a typically rotating set Denić shows us a street café (Café Or Noir) with a nearby phone box; the exit from Stalingrad Metro station around which are rough sleepers; a suggestion of Notre Dame with a small chapel; a shabby, derelict boucherie above which Marguerite lives in what – I suspect – is (Dame) Marthe's brothel. Prominent is a poster for a horror film double bill of The Horror Chamber of Dr Faustus and The Manster and with a nod to those who liked Castorf's croc-infested Siegfried there was another one for the thirst-quenching properties of Coca Cola which had an open-mouthed crocodile!
Coca Cola is a frequent symbol of consumerism in this Faust, and gets a large, illuminated sign, as well as a vending machine and flags for it are waved during the waltz at the end of Act II. All through history Paris has been somewhere for revolution and radical politics to foment and some spoken words from the poetry and prose of Arthur Rimbaud (a contemporary of Gounod) who seemed to have a social conscience and whose writings commented on the dangers of commercialism and cultural degradation. The Act III love duet ('Laisse-moi, laisse-moi contempler ton visage') is accompanied by old TV adverts including those for Omo washing powder and Gibbs toothpaste.
The top-hatted Méphistophélès appears to own an esoteric shop with a connection to the café. He has more than a hint of Baron Samedi about him and he is clearly a practitioner of Haitian Voodoo with all the essential snakes, dolls and headgear. He 'sells' Marguerite to Faust by showing him the cover photo of Brigitte Bardot on Paris Match. With his trilby, shaggy grey hair and beard – and apparently suffering from Parkinson's – I am not sure who the old Faust is, though for me he looked like a rabbi. Méphistophélès appears to suck his blood and Faust gets younger by ripping of his latex mask like they did in vintage episodes of Mission: Impossible.
During the Act II drinking song ('Vin ou Bière') we see some of the French Foreign Legion amongst a Rio carnival and Valentin and his comrades are off (back?) to fight alongside them in Algeria. Quite who Siébel is I am not sure, but she reminded me of Kundry from Wagner's Parsifal. She wanders in with bloodied feet which – while Valentin wraps himself in the French flag – Wagner bathes and bizarrely drinks the water! Valentin is Marguerite's brother and she is hardly a virginal, innocent, young girl in need of being closeted.  Méphistophélès makes predictions for Wagner, Siébel and finally Valentin whose gun fails when he confronts him and a crucifix from sticks of wood also provides little protection. At the end of Act II we understand more about Siébel – a woman not a boy – who we now see in a glittery black, fringed flapper-style dress and we realise how much she loves Marguerite.
For the third act, Marguerite now looks like Mata Hari and is smoking opium in her lodgings, whilst Méphistophélès is part Sabbatic goat with hairy legs, a tail and hooves. Marthe who is possibly a madam is also indulging in some opium and I thought was costumed as Cleopatra (who Méphistophélès will allude to later in the opera). When Marguerite sings the ballad of the King of Thule it is as if she is hallucinating. She will find a mirror, necklace and bracelet in a fashion store shopping bag along with a jewelled headpiece, sparkly red dress and a box of chocolates. (When Méphistophélès sings how Marguerite 'is opening her window' I always think that must be a euphemism.) On film we will travel down the Champs-Élysées as a backdrop to Méphistophélès orchestrating Faust's seduction of Marguerite and the act ends with them getting to grips.
Act IV starts with Marguerite heavily pregnant and struggling with her shopping before Siébel finds her a trolley. She tries to get close to Marguerite but she pulls away. Valentin and his comrades return from their Algerian campaign with decapitated heads (they will eventually play kickabout with) and sing their 'Soldiers' Chorus' against grainy footage of President de Gaulle. We have also seen Wagner chased down and killed in a forest just as he was told he would be. Valentin is shown graffitiing a wall with L'Algérie est Française. Méphistophélès mockingly serenades Marguerite ('Vous qui faites l'endormie') and Faust reluctantly faces off with Valentin, though they both have automatic weapons it is with a blade that Méphistophélès despatches him. A formally dressed crowd (several in burqas) mourn him while Marguerite is distraught as she cradles her brother. Wearing a frilly flouncy white (bridal?) gown with ostrich feathers – and with smeared lipstick – Marguerite is no longer pregnant and we will later see what became of her child. Marguerite will go and pray for Valentin and fears she is losing her mind because of the voices she hears. A now bare-chested Méphistophélès pulls her away as the curtain briefly comes down.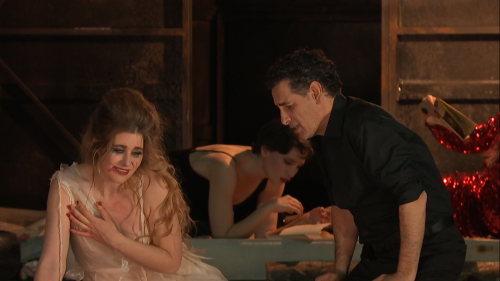 For the final act on Walpurgis Night we see a recognisable celebration of life and death (Día de los Muertos or Day of the Dead) fuelled it seems by Havana Club rum. It looks as if Castorf is running out of ideas. Marguerite is washing off Valentin's graffiti and Siébel and Marthe are reading (probably the works of Rimbaud). During Faust and Marguerite's love duet ('Oui, c'est toi que j'aime') we see their relationship as a romantic fantasy. How does Castorf end his Faust? Is Marguerite who loved and lost Faust and then killed their child saved by the chorus of angels singing 'Christ has risen again', of course not! In the end the stage clears and Marguerite who looked as if she had been killed by Méphistophélès is 'resurrected' herself. Now sitting alone in the café, she comes to a conclusion about her own life and pours poison into a glass of vodka as the opera ends.
Visually you will never see Castorf's better than here in this recording. Aurally, well that is in the ear of the beholder. Probably we do hear the singers at their best advantage, though it is through loudspeakers. It sounded as if it was an idiomatically spirited Faust from the orchestra (members of the Vienna Philharmonic) under the experienced Bertrand de Billy who concentrated on transparent textures and instrumental detail. I believe he thinks of the opera as lyric French first, and only second as Goethe's tragedy. The Vienna State Opera's chorus had a big role in the success of this Faust, either as soldiers, those having a good time, or celestial voices, and they sang with enthusiasm and commitment; however some of their high jinks could have benefitted from more rehearsal.
Juan Diego Flórez was singing his first Faust and he was believably a romantic figure, so much so that he often appeared too nice, and it is difficult to imagine someone like him as a love rat who would abandon Marguerite. Flórez was in splendid voice and time seemed to stand still with his ardent 'Je t'aime' after his first proper encounter with Marguerite. He sang with a beguiling fluency and ringing top notes and there was an exquisite rendition of 'Salut! demeure chaste et pure' though it was sung more as if he was performing in a concert and not a staged opera. (I wondered whether there was a problem with his costumes because he ended wearing black as he might during rehearsals.)
In her house debut Nicole Car's soprano was beautiful, silvery-toned and secure in all registers and she proved a compelling screen presence. She managed the delicate tracery of her 'Jewel Song' with a consummate ease though her highest notes did not always sound as if they were given full value. Another singer who it was impossible to take your eyes of when she was on stage – and particularly in close-up – was Kate Lindsey's lovelorn Siébel and she sang with her characteristic warm mezzo tones and familiar finesse. Étienne Dupuis had to cope with being rather one-dimensional as a patriotic, hot-headed Valentin, and vocally his best moments were as he vehemently cursed Marguerite as he died ('Ecoute-moi bien Marguerite). In another house debut Adam Palka – who had sung the role in Stuttgart – was an oddly charismatic Méphistophélès given how reptilian, vampiric and demonically intimidating he must be. His resonant bass notes were a thing of wonder given his long and lean physique. Gounod doesn't give Wagner and Marthe much to sing but Martin Hässler and Monika Bohinec showed solid, characterful support for Castorf's Konzept.
Jim Pritchard
For more about Vienna State Opera click here.