United Kingdom Richard Strauss, Wagner: London Symphony Orchestra / Sir Simon Rattle (conductor). Filmed (directed by Andy Quick) at LSO St Luke's, London, on 6.5.2021 and streamed on Marquee TV from 27.5.2021. (JPr)
R. Strauss – Le Bourgeois gentilhomme – Suite, Op.60
Wagner (arr. Stokowski) – Symphonic Synthesis of Tristan and Isolde
Sir Simon Rattle introduced Richard Strauss's Le Bourgeois gentilhomme by saying 'This is a very special piece, very unusual piece, when Strauss wrote the opera Ariadne auf Naxos he also attached to it a play with incidental music followed by an opera which is Ariadne auf Naxos and it is supposed to be the entertainment in a rich man's house. It of course proved too complicated, too enormous to do, you'd need a whole opera company, a whole theatre company and an audience with simply endless patience and so now the opera Ariadne auf Naxos – with another prologue – is very often performed and Strauss made a suite from the play. It's for a small orchestra and of course it's perfect for Covid times; a distanced orchestra of 35 which sounds at least like 70 players. Full of wit, full of fun, it's one of the big virtuoso pieces of the repertoire and of course suits the LSO full of soloists so perfectly.'
The characterful piece sums up Strauss so perfectly, since veering between modernism and neo-classicism he straddled the nineteenth and twentieth centuries two significant epochs in musical history, although dark non-musical events of those times turned him into a Nazi apologist. Le Bourgeois gentilhomme was a famous 1670 comedy by Molière and the scoring of Strauss's incidental music features a comparatively small orchestra typical of Molière's times based – with additional instrumentalists – on a solo string quartet, flutes, oboes, bassoons, trumpet, with clarinets and trombone (unknown in the late seventeenth century), as well as nowadays a piano rather than a harpsichord.
This music has been described as Strauss's homage to the genteel aesthetic of Italian born French composer Jean-Baptiste Lully (1632-87) and his Baroque contemporaries though undoubtedly some typical Strauss irreverence burst through from time to time. Conducting without a score (as again later for the Wagner) Rattle guided his wonderful musicians through a well-played account of the 'tongue-in-cheek' score and he was heard to comment afterwards how there were 'So many great solos' and indeed there were, and it would be unfair to single any one of the players out on this occasion.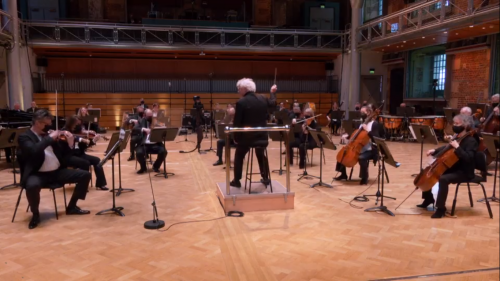 Individual moments introduce us to Jourdain, Molière's cloth merchant (Overture), then the tribulations of the dancing master (Minuet) and the somewhat galumphing tailors' dance made me think of Wagner's apprentices in Die Meistersinger (Entrance and Dance of the Tailors).  Next, Strauss adapts three of Lully's pieces for Molière's play; the Minuet of Lully was strangely less dance and rather song-like; the Courante was more lush and (another cloth merchant) Cleonte's entrance was generally stately despite some lively piccolo. The Intermezzo was more playful as two aristocrats conspire against Jourdain, and I thought I heard Mendelssohn 'sampled' before a fanfare ushered us into The Dinner and what a feast for the ears it was! With possibly some (more?) Wagner and allusions to Strauss's own compositions from the harp, trills from the flute (birds?) and elsewhere. Its final section is notable for a romantic cello solo before more dancing and a rousing trumpet-led culmination.
Rattle explained how 'In the [19]30s in America where there weren't so many opera companies and the works of Richard Wagner weren't so well known, the conductor Leopold Stokowski made what he called "A Symphonic Synthesis" of Tristan und Isolde. Not just the Prelude and Liebestod […] he put a good deal of the love music – and in fact what you would almost call the "hate music" – at the end of Act I [and] Love Music from Act II and Act III in the centre of this leading straight from the Prelude to the Liebestod; giving people a sort of Reader's Digest version of Tristan und Isolde and some of the most extraordinary and ecstatic music ever written.'
Stokowski's intention was for an extended symphonic poem, with all the elements in the music moving seamlessly from one to the other, not only thematically, but also harmonically. All Stokowski did to Wagner's original scoring was to assign some vocal lines to certain instruments – initially cellos (Tristan) and violins (Isolde) – whilst elsewhere leaving the original scoring alone, as Wagner himself did in his own concert versions. After a Prelude full of aching tension and desire, the Liebesnacht ('O sink hernieder, Nacht der Liebe') was the longest section and had all the passion and drama Wagner imbued in this music and this 'duet' led seamlessly into the transfigurative Liebestod (Love Death) where the music – despite it shifting kaleidoscope of colour and lacking nothing in swelling intensity – brings no genuine resolution to love's yearning and rapture. I know I was listening in online and not hearing the LSO live but – perhaps for reasons I do not want to go into now – I found this Wagner epic, beautiful and an overwhelming emotional experience.
Kudos of course to the virtuosic Maxwell Spiers's cor anglais, Katy Ayling's bass clarinet and leader Roman Simovic's violin, though I could mention so many others. Last but not least there was Rattle's incisive, yet spacious, conducting and when they next perform this music together in July for opera performances at Aix-en-Provence, it really should be an amazing experience.
Jim Pritchard
For more about the LSO click here.