Dr Samantha Ege in conversation with Antoine Lévy-Leboyer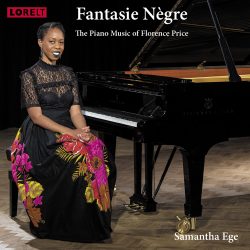 Florence Price (1887-1953) was an Afro-American Composer who wrote a very significant amount of music: symphonies, concertos, chamber music, Lieder and some quite simply outstanding piano music. As was the case for numerous composers who, after their death, were somewhat forgotten, Price has found a formidable interpreter in pianist Samantha Ege who has championed her works in concert, recordings and at conferences.
Dr Samantha Ege has spoken to Seen and Heard International about Price.
AL-L: Could you please say a few words about yourself?
SE: My name is Dr Samantha Ege. I am the Lord Crewe Junior Research Fellow in Music at Lincoln College, University of Oxford. I am a British musicologist and pianist who shares Nigerian and Jamaican heritage. As a musicologist, I spend a lot of time researching the histories of early twentieth-century black women and their contributions to concert life in the United States as performers, composers, patrons, and more. As a classical pianist, I use performance to bring this research to life. My repertoire consists of works by many of the women who surface in my research, such as Florence B. Price, Margaret Bonds, Nora Douglas Holt, and Betty Jackson King.
AL-L: How did you learn of Florence Price?
SE: I first learned about Florence Price in 2009. I was an undergraduate exchange student at McGill University in Quebec. My Professor introduced the class to Price as part of a course on early twentieth-century music. Price was born in Little Rock, Arkansas. She pursued her passion for classical music at Boston's New England Conservatory in 1903 and graduated three years later with two degrees: one in piano teaching and one in organ performance. She moved to Chicago in 1927 and made history in 1933 as the first black woman to have a symphony performed by a major national orchestra when the Chicago Symphony Orchestra premiered her Symphony No.1 in E Minor.
It was such a revelation to learn that there were black women in classical music over 100 years ago. This information was completely new to me; it changed the way I understood classical music and opened my eyes to its lesser-known narratives.
AL-L: How would you describe Florence Price's musical style?
The first piece I heard by Florence Price was Fantasie Nègre No.1 in E Minor. I was enthralled by Price's Romantic pianistic language and her use of the Negro Spiritual ('Sinner Please Don't Let This Harvest Pass') as its melodic theme. I had never heard black American folk traditions and classical conventions blended in this way before. Price wrote this work in 1929 and added the inscription, 'To my talented little friend, Margaret A. Bonds'. My album,  Fantasie Nègre: The Piano Music of Florence Price, is named after Price's fantasia genre. Fantasie Nègre translates to 'Negro Fantasy'. 'Negro' pertains to the African heritage of Price's mixed cultural background, while 'Fantasy', as both a general and musical term, conveys the effusive outpouring from Price's imagination onto the page.
But its shades of meaning do not end there. Fantasie is German. Nègre is French. Price's national voice is American and, at its heart, they are the stories of the enslaved.
I decided to open my album with the E-minor Fantasie so that listeners could experience the wonder, excitement, and intrigue that I felt when I first heard this work.
AL-L: Are there other women composers the world needs to re-discover?
One of the most fascinating parts of my research has been to uncover Price's wider network of black female composers. You can learn more by watching the virtual lecture-recital I gave for International Women's Day called 'The Black Chicago Renaissance Women: Lives & Legacies in Music' (click here).
I look forward to performing this repertoire in the UK and US next year. It would be wonderful to bring this music to the rest of Europe too.
Antoine Lévy-Leboyer
Her album Fantaisie Nègre is available here.
Samantha Ege's YouTube channel is at Samantha Ege – YouTube (click here) and for her website click here.