United Kingdom R. Schumann, C. Schumann, Franck: Hyeyoon Park (violin), Benjamin Grosvenor (piano), Catherine Bott (presenter). From the Lighthouse, Poole, and livestreamed on bsolive.com (click here) on 5.5.2021. (CC)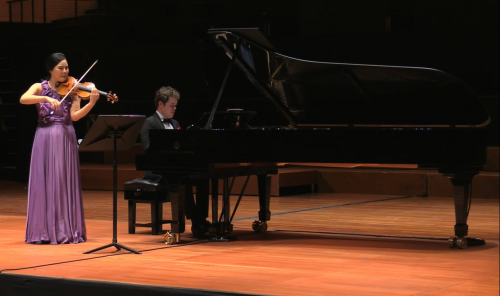 R. Schumann – Blumenstück, Op.19. Kreisleriana, Op.19
C. Schumann – Three Romances, Op.22
Franck – Violin Sonata in A (1886)
Benjamin Grosvenor is the Bournemouth Symphony Orchestra's Artist-in-Residence this year; this recital formed part of that connection, showcasing solo piano initially before moving to the violin/piano segment. The combination of Mr and Mrs Schumann with César Franck was a powerful one; and any opportunity to widen one's knowledge of Clara Schumann's music is to be fully embraced.
Hearing Grosvenor voice the lines of the opening section of the Schumann was a lesson in itself. We have become accustomed to Grosvenor's Liszt and Chopin through major Decca releases; one can only hope that a Schumann album will follow. The nine episodes of Blumenstück form a glorious whole; and Grosvenor persuaded us that Op.19 is worthy of far more exposure than it generally receives. The Innigkeit of Blumenstück was the perfect foil for Kreisleriana and Grosvenor intended it as a sort of prelude to it. The perilous opening of Kreisleriana emerged not only intact but shot through with the energy of risk from Grosvenor's hands. The relay captured the depth of the pianist's bass register excellently, as well as his textural clarity. No missing the 'aufgeregt' indicator (agitated) in Grosvenor's' performance, either; creditably, the virtuosity so firmly on display was markedly secondary to the emotional rush of Schumann's writing. Balancing this is an equally laudable trait of Grosvenor's, to allow the reflective moments full space without losing the structural thread.
Together, these two performances presented some of the finest Schumann playing I have encountered in a long time. Schumann's writing is notoriously elusive, and Grosvenor seems to have its full measure at a time when his technical powers are at their height. His contribution to Clara Schumann's Three Romances was similarly masterly, although now more restrained, matching Hyeyoon Park's eloquent violin. Composed for Joachim, the three pieces breathe pure Romanticism; and in a touching gesture, Clara quotes from her husband Robert's First Violin Sonata in the opening Andante molto. The Allegretto central panel is in the nature of an intermezzo cast in G minor. Clearly a regular chamber partner of Grosvenor (she featured also in a memorable Queen Elizabeth Hall concert in February 2020 [click here]), the rapport between the two is magical. The third and last (and longest) piece features some beautiful exchanges, not least when Grosvenor took the melody (perfectly projected) against Park's pizzicato commentary.
Fabulous to hear César Franck's Violin Sonata here, with both Park and Grosvenor giving the first movement the space it needs to breathe. No doubting its almost symphonic structure as melodies breathed gloriously from both.
One of the advantages of having a pianist of Grosvenor's calibre is that that fearsomely tricky opening to the second movement makes full impact, with no compromise; and how deep and throaty was Park's riposte. Transitions were managed as if the two players were one; the feeling of live music-making (and risk-taking) was certainly there at the movement's close. Hearing Park and Grosvenor take real interpretative risks in the Recitativo-Fantasia third movement was one of the joys of the performance; Franck almost allows textures to dissolve at various points. The finale was taken at just the right pace, again allowing the melodies to shine; on the stream there was just a slight edge to Park's playing.
Hyeyoon Park is a fine young violinist; her London debut was with the Philharmonia Orchestra in the Korngold Violin Concerto (reviewed by Alan Sanders click here), a work she has also recorded for BR-Klassik (itself a live performance from September 2009).
Prior to the recital itself: Andrew Burn's intelligent and perceptive illustrated pre-concert talk was certainly illuminating (displayed as Vimeo 'extra'), and in addition, Grosvenor and Park appeared in conversation with Catherine Bott, speaking about both what it means to be in a musical partnership, but also to give their own reactions to the music.
Colin Clarke