United Kingdom Mark Simpson, Tchaikovsky: Nicola Benedetti (violin), London Symphony Orchestra / Gianandrea Noseda (conductor). Recorded at LSO St Luke's 11.4.2021 and streamed (directed by Andy Quick) on Marquee TV from 29.4.2021. (JPr)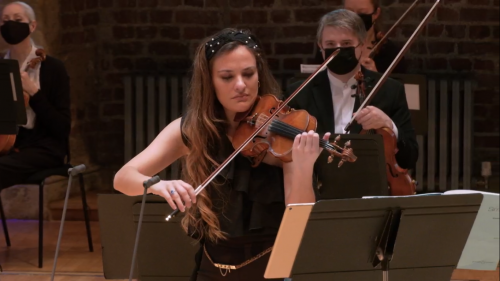 Mark Simpson – Violin Concerto (LSO commission, world premiere)
Tchaikovsky – Symphony No.6 in B minor, Op.74, 'Pathétique'
Perhaps the person who knows his new work best should be the composer and Mark Simpson introduced his Violin Concerto by saying 'I started writing it about 18 months ago or so and the beginning of the piece, the start of it, had a very different kind of outlook; it was more positive and hopeful. After the Covid pandemic hit and the world changed I had to find a way to respond to the piece in a different way. So, the piece begins in a kind of Lamentoso B flat minor kind of world […] there are five movements in the piece and the second movement is a very energetic kind of dance which may – or may not be – because I had a lot of pent-up energy during the lockdown and wasn't able to go out dancing with any of my friends; it kind of just poured into the piece. The third [movement] is a love song really, where it's kind of heartfelt and pained in various moments. Then there is a very virtuosic cadenza, if the piece wasn't hard enough! […] Then the fourth movement is a kind of fast tarantella which morphs into a Finale which begins with a very heartfelt melody which I've been living with for the last year or so and heard for the first time today […] so it all coming to life.'
The violin concerto – which was receiving its world premiere during this London Symphony Orchestra concert – was written for Nicola Benedetti who said to Simpson how he was 'extremely young to be writing a piece like this. It just blew my mind coming to terms with how epic the concerto is […] so up my street, the more the better […] Everything has been poured into it, the mastery of the orchestration, the mastery of the violin part. I was going to say nothing's unplayable; a couple of things are unplayable for me but nothing you've written with be unplayable by some violinist!'.
Simpson's new concerto was commissioned by the LSO (with the support of the Ernst von Siemens Music Foundation and The Marchus Trust), WDR Sinfonieorchester, Cincinnati Symphony Orchestra and Royal Scottish National Orchestra. After the first round of performances – given by Benedetti presumably? – it will be interesting to follow what longevity this new concerto has because the demands on the soloist are so extraordinary that there are many easier ways to earn a fee!
This concerto will be in the ear of the beholder, though I wish I could win the lottery and commission a young composer to create a new work that doesn't include an array of percussion, which this naturally does. There is a visceral thrill – particularly in the close-ups of this online stream – in seeing a violin and a violinist pushed to their limits and almost beyond, because Simpson requires some notes approaching the ones only dogs can hear. The violin is frequently relentless – and somewhat repetitive – for the soloist and veers between great agitation and more contemplative, elegiac passages; though there are more lyrical moments for the orchestra which seems to sample music you might have heard elsewhere.
There was a hint of a gypsy rhapsody for the start of the Lamentoso and soon Benedetti's fingers are scampering up and down her violin. There is undoubtedly a lot of 'pent-up energy' in the music and this extends to a rampant Dance with some Samba-like sounds; the following love song (Andante amoroso) returns throughout to some mournful melodies, though you will be otherwise amazed how fast the music sometimes is; next is the challenging Cadenza with its trills and plucked notes; and the concluding Presto con fuoco – Finale has a fast castanet-driven opening, turns more elegiac before the tempo ramps up with Benedetti's racing violin underscored by more percussion (timpani and congas) rushing to bring it all to an end.
The wonderful Gianandrea Noseda was looking more than ever like a praying mantis at the podium and was concentrating hard on the score in front of him. His LSO musicians worked hard, yet it is mainly Benedetti's obvious belief in the concerto – as well as her outstanding technical bravura – which may justify hearing Simpson's Violin Concerto live in the concert hall, if only once.
Noseda introduced Tchaikovsky's Sixth Symphony which written in the last year of his life – and obviously his final one – by pointing out how the tam-tam two minutes from the end is 'either the beginning of something or the ending of something; there is before, there is after' and how it makes sense to perform this work 'in this time, in this period, because in a way it shows a hope, there is the painful element, the sorrow, the sadness but also there is somewhere to go and to hope for the better times to comes.' Something we all are all waiting for!
It was Tchaikovsky's brother Modest, with his approval, who gave the Sixth Symphony the appellation 'Pathétique' (meaning pathos rather than pathetic) and it seems to have become regarded as a reflection and summation of the composer's turbulent life since Tchaikovsky died just nine days after the symphony's premiere in October 1893.
Under Noseda's feverish baton it was a compelling account of the symphony which he kept on a tight rein without any loss of drama and passion. Daniel Jemison's bassoon melody ushered in the plaintive opening of the Adagio – Allegro non troppo, though the music does soon become livelier and of course there is the well-known lyrical, romantic theme. The climax is an orchestral outburst as a cry of pain and before some haunting music ebbs away there is a hint of Wagner's 'Siegfried's Funeral Music'.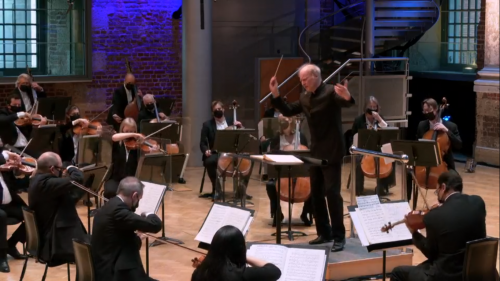 The Allegro con grazia second movement's novel five-in-a-bar dance has been described as a 'limping waltz' but saw Noseda dancing balletically on the podium. This was either Tchaikovsky's memories of happy times in the past or the yearning for a perfect world, though a sense of doubt creeps into the music as it fades away once again. The Scherzo is upbeat music in more ways than one and is a vivid extended march which builds and builds to a rousing, exhilarating and optimistic climax and certainly strongly influenced twentieth-century film music. This excellent movement was notable for the sight of a wide-eyed Noseda smiling broadly at the centre of the superb orchestra he was urging on.
The Finale is a slow movement and another Lamentoso that begins with a sorrowful, lamenting bassoon as an elegy and from Angela Barnes's horn there was something of a 'Last Post'. There is a feeling of muted triumphalism before the intervention of the tam-tam, then with resignation from the trombones and Carmine Lauri's maudlin violin the music will eventually end with low, tolling heartbeats in the double basses as Tchaikovsky says a musical farewell, even if he didn't know it when he composed it.
Jim Pritchard
For more about the LSO click here.