United Kingdom The Royal Ballet's Spring Draft Works: Dancers of The Royal Ballet, Sergey Levitin (violin), Tim Hugh (cello), Robert Clark, Michael Pansters and Kate Shipway (piano). Performed at the Royal Opera House, Covent Garden, and streamed from 14.5.2021. (JPr)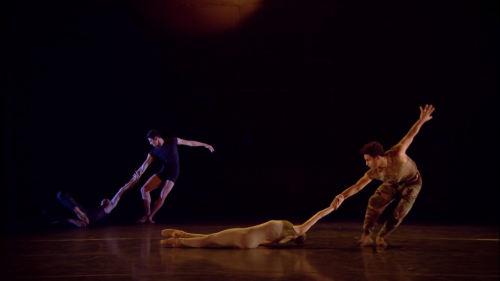 Choreography (full details below the review) – Matthew Ball, Ashley Dean, Benjamin Ella, Joshua Junker, Kristen McNally, Marcelino Sambé, Amelia Townsend, Stanisław Węgrzyn and Valentino Zucchetti
Lighting designer – Natasha Chivers
We learnt from Emma Southworth (The Royal Ballet's Creative Producer) how Draft Works takes place every year and how 'it is a chance for the dancers to create new work on their fellow dancers, on their peers. For some it is going to be the first time they have created work and for others who do Draft Works nearly every year it's a chance to try out new ideas. We deliberately keep Draft Works as lowkey as we can to let the dancers – the choreographers – really concentrate on their choreographic practice and so in the work you are about to see there is very little costume, some of the dancers are going to be in their practice gear and there is almost no set or props'. Apparently, more rehearsal time during the shutdown of the opera house has allowed some of the new choreographies to use live music unlike previous years. These are all basically critic-proof works in (various stages of) progress.
Joshua Junker explained how after his involvement during the last three years, his 'The Morning Routine' was 'a bit more experimental' than before and how working with a DJ 'I had this idea to transform my sounds that I would make improvising to my own dance and movement and kind of transformed that in music'. Junker went on to say his other two pieces were 'a bit more traditional'. It was good to hear the choreographers try and give some background to what we would see; and this would prove more successful in some cases than others. For 'The Morning Routine' I got from Junker and his five fellow dancers the sense of the before and after of a performance for a dancer and we see Junker getting up in the morning, going to the rehearsal studio and later (miming!) taking a shower.
Throughout Junker's opener we saw evidence of the atmosphere Natasha Chivers's lighting (who was rightly called 'brilliant' by The Royal Ballet's Director Kevin O'Hare) added to what we saw during Draft Works. When I saw the movement here alternately angular, jerky or sinuous to a pulsating soundtrack it was interesting enough but (apologies!) it occasionally paled the more it was repeated in some of the rest of Draft Works. Junker's short '324a' (to be honest none of the new works were very long) was a familiarly reflective adagio solo for a bare-chested Giacomo Rovero to some slow, melancholic Bach from pianist Michael Pansters. Juncker's 'Two Seasons' to some recomposed Vivaldi was (again) short, and a so-so, languid relationship duet for Ashley Dean (who had her 'Nyakaza' in the programme) and Junker.
Valentino Zucchetti explained how in his tenth Draft Works his two separate pieces 'contextually come from the same place' continuing how 'During this lockdown I have had so much time to reflect, so I just wanted to use the opportunity just to explore the emotions mixed with the music choices.' Firstly, with the pas de deux 'Outwardly Finds' Zucchetti said 'It's that process of after having spent so much time on your own, you're seeking, you're reaching out for sociality, for companionship […] two lost souls eventually find each other.' Lukas Bjørneboe Brændsrød and Mariko Sasaki explored a couple's relationship from being somewhat cold and remote to teasingly playful against a background of some eloquent Mozart expressively played by Robert Clark. The pianist returned for Zucchetti's 'Inner' and it was with some romantic Rachmaninoff to accompany the pure, flowing movement of Yasmine Naghdi's yearning, searching solo. Zucchetti explained how the music just 'popped into my YouTube' one day and with music that 'moves me or excites me, I want the audience to experience that.'
Ashley Dean's 'Nyakaza' was one of the lesser pieces and didn't really go anywhere though the mashup of music was interesting. Dean said how this was 'just a bit of fun, it's an opportunity for my dancers to get down and groove [the meaning of 'Nyakaza'] to a beat'. It allowed the young dancer to celebrate growing up in South Africa and 'being surrounded by a wide variety of dance movement from the different dance cultures.' The two dancers (Mica Bradbury and Hannah Grennell) often mirrored each other in some more supple duetting.
Stanisław Węgrzyn said how his 'Memento' reflected how 'we have been very close to death recently, there is a lot of loss. I just wanted to remind people that they can do things that they love in life and to do them more often.' Describing it as an abstract work – though everything we saw had been so far – Węgrzyn explained the first part of 'Memento' was about 'all living beings on earth' with the second having a more 'spiritual quality'. The highlight of 'Momento' was seeing how the semi-retired Edward Watson (one of the three dancers) is still as lithe and flexible as those around him half his age; there was some haunting music and some arm movements from Fokine La Spectre de la rose.
Amelia Townsend's brief 'Morphean' explored 'dreams being an escape from reality and how we can create the often abstract and bizarre world in our minds at night.' We hear a disembodied voice ask, 'Do we control the dream, or does the dream control us?' as a quartet of dancers respond to more rhythmic and throbbing music which samples (I believe) the Eurythmics's 'Sweet Dreams'.
Matthew Ball talked how 'During the pandemic I found it quite strange not having music as part of our day-to-day landscape, particularly live music […] so I took it upon myself to learn a bit more than I did about music […] I wanted to express and embody these kind of very simple ideas of maths and fractions and harmony, geometry but they also kind of run into these moments where it becomes loving or caring or confrontational and a bit silly sometimes as well.' A mournful movement from Dvořák's Fourth Piano Trio was virtuosically performed and I was beginning to appreciate how everything we were seeing in this Draft Works expressed exactly the same gloomy mood when at least for a short while Ball's 'Waveform' got livelier and via some awkward acrobatics, as well as a hint of 'Newton's Cradle', there was an upbeat ending.
One of the highlights of this Draft Works followed thanks to Marcelino Sambé giving us the CliffsNotes to Shakespeare's Othello and perhaps the first new work that will have a life beyond this one-off performance. The charismatic Sambé revealed he has always wanted 'to work on a piece that's inspired by the complexity of Iago's character, there's so many layers to him and how he affects Othello, [in the text] the amount of repetition Iago has, the amount of suspicion he implants on Othello's mind really just informed me to the movements.' Sambé said how 'I could suddenly just see it and hear it' and believe me so could I! His choice of rhythmic and accented Nico Muhly music was a little unvarying but now we had costumes and (recognisable) characters in the longest and most 'oven-ready'(!) work we saw. Calvin Richardson was the Janus-faced Iago, the puppetmaster pulling Othello's strings, Sambé's conflicted Moor gets a suitably angst-ridden solo, and the lissom Madison Bailey elicited sympathy for Desdemona.
Benjamin Ella said Víkingur Ólafsson's music for his '…And At The Hour Of Death' was 'quite cool because it's a play on Bach and obviously with some electronic music' and that what he created is 'a kind of journey of life […] it's just me exploring things […] hopefully it will connect with some people in some way.' A bare-chested Harry Churches emotes for one and a half minutes without music at the start before there is more fraught ensemble movement and sad solos.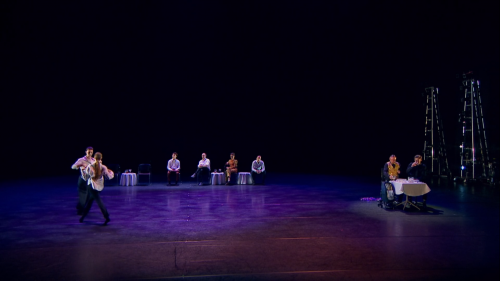 Some final praise from me for Kristen McNally's untitled piece that was a ray of sunshine in the generally all-pervading doom and gloom. Laughingly she said, 'My initial thought was "I wonder what Wes Anderson would do with the Pulp Fiction dance scene" and I kind of just went from there. So then I started to look at female French 60s pop songs and tried to build a little scene from there and in your head, you've suddenly got Philip Mosley [character artist of The Royal Ballet] calling bingo numbers.' Of course, we see Pulp Fiction's iconic improvised 'Twist' but this was an hallucinatory fantasy which was more the dance world of Austin Powers than Quentin Tarantino! At the end, the sandwich eating Mosley calls 'House' and all six at the bingo leave. This needs to be seen to be believed but it was so inventive and amusing it thoroughly deserves a life after Draft Works to which it brought a memorable end.
Jim Pritchard
For more about what is on at the Royal Opera House click here.
#OurHouseToYourHouse
Joshua Junker's 'The Morning Routine' – Music: Original composition by Bas Ibellini. Dancers: Téo Dubreuil, Isabella Gasparini, Joshua Junker, Isabel Lubach, Kristen McNally, Francisco Serrano.
Valentino Zucchetti's 'Outwardly Finds' – Music: Mozart's Fantasia in D minor. Piano: Robert Clark. Dancers: Lukas Bjørneboe Brændsrød, Mariko Sasaki.
Ashley Dean's 'Nyakaza' – Music: 'Saint-Saëns – Groove Mix'– Mooryc. Dancers: Mica Bradbury, Hannah Grennell.
Joshua Junker's '324a' – Music: Concerto in D Minor, BWV 974 (arr. by Bach from Oboe Concerto in D minor by Alessandro Marcello [1685–1750]): 2. Bach's Adagio. Piano: Michael Pansters. Dancer: Giacomo Rovero.
Stanisław Węgrzyn's 'Memento' – Music: Jóhann Jóhannsson's 'Personal Effects – Annie's Death (Live in Kraków /2008)' and 'They Imagine The City Growing Out Into The Ocean'. Dancers: Marco Masciari, Sumina Sasaki, Edward Watson.
Amelia Townsend's 'Morphean' – Music: Original composition by Cameron Buckmaster. Dancers: Leticia Dias, Charlotte Tonkinson, Amelia Townsend, Marianna Tsembenhoi.
Joshua Junker's 'Two Seasons' – Music: 'Vivaldi, The Four Seasons Spring 2' (recomposed by Max Richter). Dancers: Ashley Dean, Joshua Junker.
Matthew Ball's 'Waveform' – Music: Antonín Dvořák's Poco Adagio (second movement) from Piano Trio No.4. Kate Shipway (piano), Tim Hugh (cello), Sergey Levitin (violin). Dancers: Luca Acri, Matthew Ball, Mayara Magri.
Marcelino Sambé's 'Othello's Limbo' – Music: Nico Muhly's 'Doublespeak', 'Drones & Piano: Part II', 'Drones & Violin: Part III'. Dancers: Denilson Almeida, Madison Bailey, Calvin Richardson, Marcelino Sambé.
Valentino Zucchetti's 'Inner' – Music: Sergei Rachmaninoff's Moments Musicaux No.4. Piano: Robert Clark. Dancer: Yasmine Naghdi.
Benjamin Ella's '…And At The Hour Of Death' – Music: Víkingur Ólafsson's Prelude, BWV 855a. Dancers:  Liam Boswell, Harry Churches, Leo Dixon, David Donnelly, Brayden Gallucci, Joonhyuk Jun.
Kristen McNally – Music: Francoise Hardy's 'Le Temps L'amour', Brigitte Bardot's 'Moi Je Joue', Gillian Hills's 'Zou Bisou Bisou', Walter Wanderley's 'Meditation'. Dancers: Christina Arestis, Téo Dubreuil, Bennet Gartside, James Large, Philip Mosley, Nadia Mullova-Barley, Taisuke Nakao, Thomas Whitehead.