Switzerland Schubert: Tonhalle Orchestra Zurich / Paavo Järvi (conductor). Tonhalle Maag, Zurich 28.5.2021. (JR)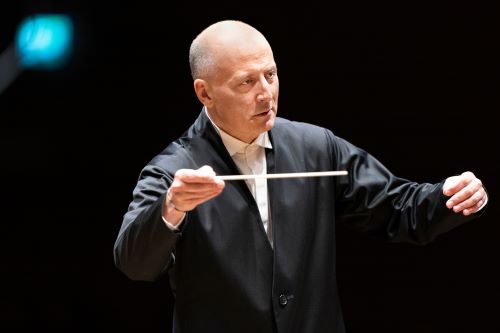 Schubert – Symphony No.9 'The Great' in C major D.944
Few orchestral works, which are no more than an hour long (Bruckner and Mahler symphonies, for instance) can – satisfyingly – fill a concert on their own and have no need of first half concertos or other 'fillers'. Schubert's 'The Great' Ninth Symphony must be one of them. Were it not for the pandemic, we would, no doubt, have been subjected to an early Mozart piano concerto and an interval. This short lunchtime concert was sadly still restricted to a mere 50 listeners – but soon this is to increase to a whopping 100!
Brits have to be careful when booking concerts abroad. In Russia years ago, I wondered why there were so many advertised performances of works by Arnold Bax, until I realised that in the Russian alphabet our letter x is their ch. There is also confusion possible over the numbering of Schubert's symphonies, in particular the Great C major Symphony. In the UK we know the Great C major as the Ninth and the 'Unfinished' as the Eighth. On the European mainland, however, the 'Unfinished' is known as Symphony No.7 and the Great C major as the Eighth (Neue Schubert-Ausgabe).
The history of the work is well-known, but I shall tell it briefly nonetheless. Some ten years after Schubert's death in 1828, Schumann was going through Schubert's papers and was excited to discover the score of what appeared to be a major symphony lying in obscurity, gathering dust in a trunk. Musicologists believe the work was composed in around 1826. Schumann became its immediate champion it and had soon arranged for its first ever performance, conducted by his friend Felix Mendelssohn, in Leipzig, in 1839.
Järvi's approach to Schubert's masterpiece was neither to linger at any stage, nor to rush headlong to the end of each movement (Norrington's interpretation of the work, with seatbelts fastened, comes to mind); Järvi clearly had an affinity with the work, enjoyed the detail, phrasing and multiple layers, accentuating certain key phrases, whilst keeping an emphasis on the work's overarching unity. Bruckner came to mind on several occasions, even though his symphonies came 50 years later. Järvi had the score on his stand but never looked at it; he has performed this symphony over the years with his many former orchestras, such as the NHK in Japan in 2017 and the Deutsche Kammerphilharmonie Bremen at the Elbphilharmonie in 2018.
Järvi concentrated on forward motion, skilfully managing the transition between the introduction into the first movement's main Allegro. Tempi throughout were all that one could wish for. Järvi paused thrillingly in the slow movement to take an emphatic pause at that gut-wrenching moment in which the progress of the slow movement is brought to a halt by a triple-forte outbreak of chords, followed by stunned silence (a premonition of Schubert's premature death perhaps?). This emerged as quite possibly the most crucial moment and the central element in the whole symphony. Järvi dug deep into the jagged, repeated chords in the last movement and reminded us how modern this symphony can sound. The orchestra was in fine form; Isaac Duarte's oboe contributions, in particular, were always a pleasure to hear.
There are two more orchestral concerts at the end of this season's schedule before the 'Provisorium' concert hall, the Tonhalle Maag is converted into an art gallery: Herbert Blomstedt with something of a curiosity, Stenhammar's Second Symphony and Semyon Bychkov (and the Labèque sisters) with – in the second half of the concert – Tchaikovsky's Second Symphony. Tickets, available in such limited quantity, sell out very fast.
Let us hope that Järvi will be able to repeat this fine performance of this life-affirming work before a packed audience in the newly renovated Tonhalle (am See, by the lake), which re-opens in September.
John Rhodes