United States Handel, Semele: Soloists, Chatham Baroque / Antony Walker, Pittsburgh Opera, Pittsburgh Opera Headquarters, Pittsburgh, 20.5.2022. (RP)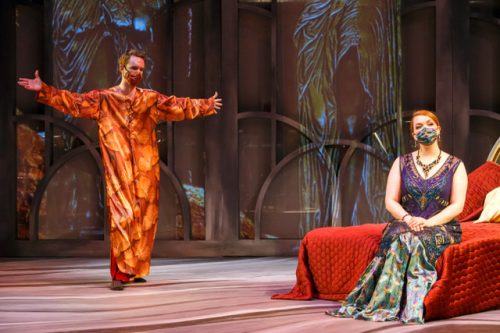 Production:
Stage director – Kristine McIntyre
Sets – Carey Xu
Costumes – Jason Bray
Lighting – Todd Nonn
Projection – Lawrence Shea
Wigs – Nicole Pagano
Cast:
Semele – Véronique Filloux
Jove – Aaron Crouch
Cadmus/Somnus – Jeremy Harr
Ino – Madeline Ehlinger
Juno – Maire Therese Carmack
Athamas – Yazid Gray
Iris – Meghan DeWald
Handel's Semele, the final production of Pittsburgh Opera's season, still found cast, orchestra and audience subject to social-distancing measures. For similar reasons, over an hour of its score was shorn: superb accompanied recitatives and big choral numbers were the casualties. Dramatic integrity suffered little, although Somnus's motivations were a bit of a cipher. What remained was 90 minutes of spectacular arias sung by a winning combination of fresh young voices.
Handel arrived in England in 1712 and rode the wave of the Italian opera craze for more than 20 years until popular taste changed. After suffering a physical collapse in 1737, Handel channeled his creative energies towards oratorio and, with the success of Messiah in 1742, he abandoned opera altogether. However, Semele, dating from 1744, was neither fish nor fowl with its English libretto based on a story taken from Roman mythology. It wasn't the religious-themed choral extravaganza that oratorio-loving audiences expected, and it was rejected by opera purists as well. Semele received only six performances in his lifetime.
Based on a 1705 libretto by William Congreve, the story comes from Ovid's Metamorphoses. Smitten by Semele, Jove takes the mortal princess to a secret hiding place on a mountain to be his mistress. He may be king of the gods, but Juno, his wife, is enraged and plots with Somnus, the personification of sleep, to dispose of her rival. Disguised as Ino, Semele's sister, Juno plays on Semele's vanity and persuades her to insist on seeing Jove in his divine form. Jove reluctantly agrees, and as he advances his thunderbolts consume Semele. From her ashes, their child – Bacchus, god of wine and ecstasy – is born.
The production transported the mythological gods and mortals from Mount Olympus to the high style and glamor of the Art Deco era. An ingenious framework of sleek, linear, geometric forms created the monolithic feel of an Art Deco façade. Furniture was minimal – beds for Semele and Somnus, and a few other odds and ends. As if in the clouds, Jove was seen peering down at the beautiful Semele. Self-indulgence and vanity were fueled by champagne and cocktails, although Juno's rage and thirst for revenge needed no such stimulants.
Projections were the stroke of genius that transported the audiences through the clouds to beautiful pastoral landscapes, Arcadian gardens and palaces. The designs ranged from expansive vistas and ornate rooms to a lush terrace festooned with wisteria. It was one of the rare occasions when expectations were equaled, and perhaps surpassed, in a staging of a Baroque opera.
The men, whether mere mortals or gods, were dashing in black tie or less formal clothes suited for croquet and other such strenuous pastimes. Semele's attire alternated between an elegant beaded dress and a dark-pink peignoir with a matching feather boa. The goddesses were dressed in ensembles that paid homage to their divinity. Juno was resplendent in the hues and feathers of the peacock, her sacred symbol, and Iris's floor-length gown had pleats with pastel hues befitting the goddess of the rainbow.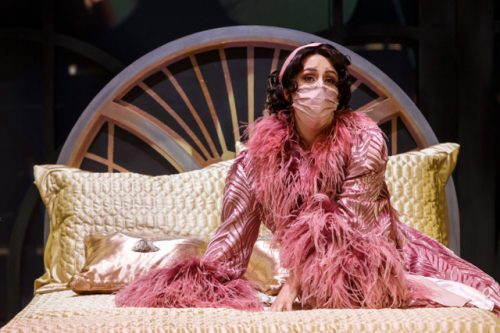 As Semele, Véronique Filloux's voice glittered brilliantly, dispatching Handel's roulades and runs with ease in 'Myself I shall adore'. She was equally enchanting in the softer, more gentle lyricism of 'O sleep, why dost thou leave me?' Madeline Ehlinger was in particularly fine voice as Ino, her mellow tones pairing perfectly with the theorbo and viola da gamba. Just as lovely was the blend that Filloux and Ehlinger achieved when they sang together, which was something quite special.
Maire Therese Carmack was imperious as Juno, dispatching 'Hence, Iris, hence away' with bravura. Meghan DeWald, making her debut with Pittsburgh Opera, was a sprightly Iris, a pure delight both vocally and visually.
Also making his debut with the company was tenor Aaron Crouch as Jove. To him fell the task of singing one of Handel's most famous arias, 'Where'er you walk', which he did with the requisite poise, stateliness and beauty of sound. Athamas was the fine baritone Yazid Gray, while Jeremy Harr made the most of his star turn in 'Leave me loathsome light' as he resisted being roused from his slumber with wit and humor.
Antony Walker led the Chatham Baroque in a buoyant performance notable for its transparency and brilliance. Balance was perfect. It's another plus for Pittsburgh Opera that it has a fine ensemble so skilled in period performance sensibilities on hand, which was but one reason that this Semele was so magical.
Rick Perdian
For more about Pittsburgh Opera click here.