Marianne is Faithfull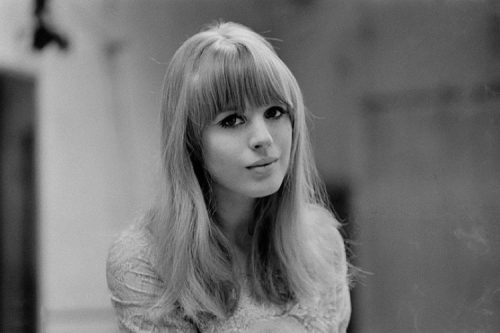 Marianne is Faithfull. That's true whether upper or lower case is used for the f. We have to ask, faithful to what or to whom? In Marianne's case it doesn't just mean tribe, though as I shall show, that is of overwhelming importance; it means faithful to herself, even as that self continues to reveal to her, unknown aspects of herself.
(Robert) Glynn Faithfull was a ladies' man if ever there was one. He was the eldest child of Theodore Faithfull, a psychiatrist and educationalist with an original turn of mind. Theodore was the founder of a so-called progressive school, Priory Gate (he disdained the progressive: it was both simpler and more complex than that). It educated children between seven and eighteen. Underlining the school was a simple enough philosophy: the only discipline which is of any use is the discipline which you impose on yourself. There were no set lessons, but pupils could request instruction from teachers of their own free will. When someone asked Theodore if that was the school where the kids do as they like, he shot back with No, it's the school where they like what they do.
HMIs (Her Majesty's Inspectors) complained that such teaching as did take place was singularly uninspired. There is also the apocryphal tale of an HMI ringing the school's doorbell, answered by a young man completely naked. My God! said the HMI, There is no God said the child and closed the door. If true, that might be one up for the school's creativity.
Theodore Faithfull passionately followed Freud's know thyself from which it's a small step to Susan Sontag's the single, most exciting piece of information I have is that there are ways of knowing that I don't yet know about. The never-ending process of self-discovery was central to the elder Faithfull's beliefs. My dad's cousin was Faithfull's secretary. An innocent young woman from rural Lancashire, she got that job, replying to an ad in the New Statesman. She told me that wearisome as the school could sometimes be, it was never less than 'stimulating', making sure that I heard the inverted commas.
You can see how proud Theodore would have been of his granddaughter. I was astonished to hear that Marianne knew nothing about Priory Gate. She had been living out this philosophy, unwittingly (which makes it all the more convincing) and partly answering the question as to where she finds this creative energy.
Glynn was a multilinguist and teaching Italian at Liverpool University when I first knew him. He was rewarded in WWII by being recruited to MI5 (the spy office) to 'gather information from abroad'. Among other beautiful women he gathered Eva von Sacher-Masoch, a baroness of the Austrian-Hungarian breed and ballet dancer with the Max Reinhardt company. Glynn married Eva. His English women friends were furious. They had nothing in common they said (untrue in fact): Eva just wanted to marry a British passport. True enough: Eva's mother was Jewish. More significantly, they produced a daughter (born 1946) even more beautiful than Eva. She was named Marianne. The parents then disagreed on how she should be brought up.
When Glynn made a friendly separation from Eva, he was living with his major interest at Braziers Park School of Integrative Social Research in the Chiltern Hills, equidistant between Reading and Oxford, at Ipsden, a half-hour drive from Reading, where Eva lived with Marianne, who made frequent visits to Braziers, sometimes staying overnight, with or without her mother.
When Eva enrolled Marianne as a border at St Joseph's RC Convent School, Reading, Glynn was fiercely opposed to the move. It will upset her understanding of sex he declared, for the rest of her life. Marianne, for her part, was comfortable at St Joseph's – more especially for Mrs Simpson's teaching of English Literature. The poems, especially, stayed with her. When it became clear that Marianne had an opportunity waiting for her in song, she began (with Eva's approval) to explore this path. The Mother Superior scowled and said something like, She'll be smoking cigarettes next. Marianne had already broken convent rules on that practice. She asked Mrs Simpson if she could have more poems to learn as she waited for composers and technical teams to sort themselves out in the studios. It would be decades before Marianne came to realise that she was making an important investment in poetry.
Braziers Park was the brainchild of Dr Norman Glaister and his wife, Dorothy (née Revel) one of the first Cambridge women students of Bertrand Russell. Dr Glaister was a Harley Street psychoanalyst but lived at Braziers. He preached the gospel of Wilfred Trotter (The Instincts of the Herd in Peace and War) and later, Teilhard de Chardin (The Phenomenon of Man) – a Jesuit and Darwinist, whose views had to wait until Popes Benedict and Francis, to be accepted by the Church of Rome.
When I was an impoverished music student at Trinity College, London, through the notice board, I acquired a very good upright piano from a widow of an Essex Theosophist; then the problem was to find a landlord who could accommodate me and my piano too. Mrs Bensusan said she could wait. My ever-useful dad's cousin (again!) said she would have a word with her friend, Glynn Faithfull at Braziers Park. A meeting was set up at Braziers with Dr Glaister, and by some fluke, I found myself communicating my interests enthusiastically to this Victorian gentleman. We struck a deal whereby I would organise concerts (Music in a Country House) – though I wondered why nobody had thought about it before me – and share music classes with anyone wanting to advance in that sphere. All in exchange for board and keep. I was given a bedroom next to Glynn's on the first floor and a huge former scullery to house me and a piano and Jimmy, the house cat. Phyllis Wilkins then joined the community, having taken early retirement as an HMI (saying I found I was inspecting a system that I didn't approve of). Phyllis's sessions on the Four Quartets of T S Eliot remain one of the great joys of my life.
Phyllis then insisted that Braziers needed a much better concert grand piano than the one they had. She said she had an anonymous friend ready to pay for it (I always suspected it was herself.) The shopping for that Bechstein grand, mostly unused, would need an article to itself. We met some glorious nut cases on the way.
At a Four Quartets session Phyllis recruited me into reading aloud the poetry. You can hear he's a musician she said. That is how I discovered I had another string to my bow. Unbeknown to me, Marianne was discovering precisely the same thing.
Marianne developed an appetite for what a Guardian journalist recently called the Lazarus trick: arising in life after you'd been clinically dead, then carrying on, wondering what on earth had happened. This 'happened' to her at least three times. I have some doubt about the science of genetics, but these look like episodes where the science cannot be questioned. Genetics has come a long way since I learned as a schoolboy the (Mendelian) limerick as a memory aid (rather non-PC now of course): There was a young woman called Starkie / who had an affair with a darkie. / The result of her sins, was quadruplets, not twins: / One black, one white and two khaki. 
Mick Jagger and Keith Richards with their agent, Arthur Oldham, wrote for Marianne what would be a breakthrough in her career – Broken English, it shot her to top of the pops. She was suddenly famous. (The Rolling Stones would later have a roaring success of their own with Broken English a decade later.) Sadly, all this led to Marianne's heroin addiction, not to mention being the most famous of Mick's girlfriends. Call this stupor number one.
This was swiftly followed by her (first) marriage to the artist, John Dunbar, followed by the arrival of their only son, Nicholas in 1965. Stupor number two? Marianne was eighteen.
When she collapsed with Covid-19 and a total inability to breath, John and Nicholas hastened to the hospital and prevented the medics from cutting off the oxygen for someone with a no-hope recovery. You quite simply don't know Marianne they told the medics: she is a forceful survivor. Stupor number three.
Marianne moved to Putney to be near John and Nicholas. I've been a terrible mother, she said, maybe fate will allow me to make up for this negligence with my son and grandchildren? I'm with George Bernard Shaw on this one: Parents are the worst people to have children.  He might but didn't add that grandparents do a much better job with the kids. 
Interestingly, Putney had been the home of Margaret (with the unforgettable surname of Kipps), a primary school teacher who came to a couple of my Braziers music courses. Margaret was quietly vivacious, with red hair. Glynn fell for her and married her. When Marianne came to Rome in the noughties, singing in a semi-staged version of Kurt Weill's Rise and Fall of the City of Mahagonny (Mahagonny Songspiel), she was surprised, with a tearful eye, that I didn't know that Margaret had been taken from this world with cancer. Glynn himself, soon after. I understand Margaret and Glynn had two sons and a daughter together.
Mrs Simpson's romantic poetry had been brewing for a long time in Marianne's mind. The resurrection from the death of Covid-19 turned out to be the moment to bring it to life. Lightly as well as weightily. That seeming contradiction was a permanent in her creativity.
She Walks in Beauty (the title of the BMG CD) has Marianne speaking eleven poems with musical accompaniment from Warren Ellis, Brian Eno and others: somewhat along the lines of Walton's witty music accompanying Edith Sitwell's bizarre poems in Façade.
But oh dear! Marianne was alarmed to discover that Covid-19 had seen off her smoky contralto voice. It was a vocal struggle to speak this poetry. Well, dear Marianne, it was a struggle for Dame Edith to speak her poems to William Walton's precise rhythms too. William said he used to sit with her and tap her on the hand when it was her turn to come in. Constant Lambert was conducting the ensemble.
Then Marianne realised that these poems were themselves about struggle. Warren Ellis, she tells us, encouraged her with this thought. Her fans went wild about it. A unique album of poetry and music, interpreting the works of Lord Byron, John Keats, Percy Bysshe Shelley and many more says the 28-page accompanying booklet, with some original paintings by Colin Self.
In short, She Walks in Beauty is a treasure house of a package. It's easy to see that it will become a collector's item in the way The Beatles' White Album did. It was recorded at Marianne's apartment in Putney in 2020.
There isn't space to review the eleven poems. But some personal favourites. Byron's She Walks in Beauty is the first on the CD. Who on earth dared suggest that Marianne's smoky voice had disappeared? More forced to be sure. Forcing is always a mistake. Except when it's done by Marianne Faithfull. Rehabilitation on the altar of her heart. O Theodore Faithfull, thou shouldst only hear her at this hour!
Loving not loathing – the final line of the third stanza of Thomas Hood's The Bridge of Sighs is delivered with a determination to not deliver on such sacred ground. Beautifully haunting. The haunting is also well captured in Colin Self's watercolour.
Shelley's Ozymandias brings a surprising this-is-the-evening's-news voice. Those trunkless legs of stone were never more solid. A sharp contrast with Nature's own creations: Colin Self prefers the haunting of Nature in his watercolour.
Have I been so beguiled as to be blind / To my most grievous loss asks Wordsworth in the rhetorical questions of Surprised by Joy. You can imagine how this resonates with Marianne's life. A resonation that is only too audible. I enjoyed Warren Ellis's violin and Nick Cave's piano here.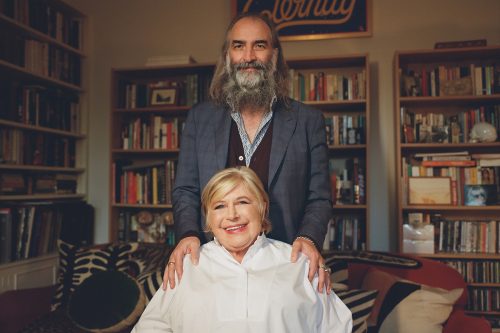 The Lady of Shalott (Tennyson) will be many people's favourite reading. It's also the longest at just over 11 minutes. Great contributions from Warren Ellis (synthesisers, loops), Nick Cave (piano), Augustin Viard (ondes Martenot). As the name of the good lady of the title creeps up on us in each of the 20 stanzas, the magic of the repetition, to my ear is calling for different sounds for each (different) context. Marianne doesn't deliver on this.
There is perhaps no one who is so gifted at being themselves as Marianne. Especially those aspects of herself which she only discovered in the making. All the same, it would be unacceptably incomplete without mention of her successes in acting. Of her being someone else. Those who were lucky enough to see 1967 Three Sisters with Glenda Jackson at the Royal Court Theatre, never stop talking about it. Or the following year at the Royal Court where she played a lesbian Florence Nightingale in Edward Bond's Early Morning.
In film, I found Irina Palm (2007 Director Sam Garbarski) deeply moving. Marianne is a dowdy, down-and-out grandmother, who gathers enough funds to pay for her grandson's severe illness by taking work in a seedy hole in Soho, giving men a satisfying hand job. She has to do this by lying to her snobbish neighbours who would never recover from shock if they knew. And by avoiding advances from the Soho setup manager. Never did Marianne look less like Marianne. Or be so convincing as the sorry plot unfolds.
I would like to end with a suggestion for a single. Sometime in the late 1950s (if my memory serves me right) Gordon Jacob (1895–1984) – an interesting composer and exceptional orchestrator, particularly for woodwind and brass, wrote a piece for the London Schools Symphony Orchestra (LSSO) called Fantasia on English Folk Tunes. I heard it in either Manchester or Preston. The night of the premiere someone noticed that one of the folk tunes was not English, but (horror of horrors!) American. The title had to be rapidly changed to Fantasia on Folk Tunes. Here are the words in all their jolly glory: Come landlord fill the flowing bowl until it runneth over/ For tonight we'll merry-merry be/ (repeat three times) / Tomorrow we'll be sober. Some Eno musique concrete could be smuggled in nicely to this with Nick Cave's piano.
Braziers Park courses are on their website (click here). There are still Glaisters and Faithfulls on the staff, including Bernie – Glynn's youngest brother. I am tempted to offer another music course. A weekend with Mozart's Don Giovanni anyone?
Jack Buckley