Germany Wagnerians in Concert: Christine Goerke, Elza van den Heever (sopranos), Andreas Schager (tenor), Michael Volle (baritone), Craig Terry (piano). Livestreamed (directed by Gary Halvorson) from Hessisches Staatstheater, Wiesbaden, Germany, 8.5.2021. (JPr)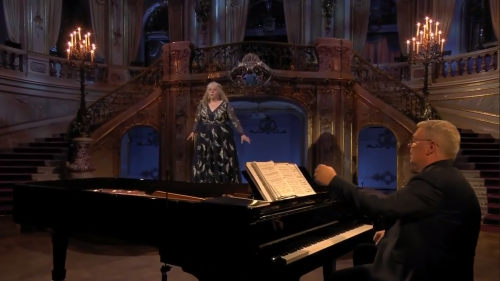 Wagner – 'Dich, teure Halle' (Tannhäuser)
R. Strauss – 'Allerseelen', Op.10, No.8; 'Cäcilie', Op.27, No.2
Wagner – 'Wie Todesahnung … O du, mein holder Abendstern' (Tannhäuser)
Wagner – 'Ein Schwert verhiess mir der Vater' (Die Walküre)
Wagner – Wesendonck Lieder: 'Der Engel'; 'Stehe still!'; 'Im Treibhaus'; 'Schmerzen'; 'Träume'
Wagner – 'Wirst du des Vaters Wahl nicht schelten?' (Der fliegende Holländer)
Wagner – 'Winterstürme wichen dem Wonnemond … Du bist der Lenz' (Die Walküre)
Wagner – 'Abendlich strahlt der Sonne Auge' (Das Rheingold)
Wagner – 'Nur eine Waffe taugt' (Parsifal)
Wagner – 'Euch Lüften … Entweihte Götter!' (Lohengrin)
R.Strauss – 'Nun will ich jubeln' (Die Frau ohne Schatten)
Wagnerians in Concert was staged by Louisa Miller and took place in the foyer of Wiesbaden's Hessisches Staatstheater which is a neo-Baroque fantasy in its own right and looks more impressive than the auditorium (from pictures I have seen). As wonderful as it was, there were perhaps just one too many lingering shots (from Met Stars Live in Concert series director Gary Halvorson) of this magnificent interior which tended to reduce the singers to just more of its ornamentation. Obviously, the foyer was not designed as a performing space and I suspect the sound engineers had their work cut out to keep everything in balance in such questionable acoustics and especially with singers more often atop or along its extravagant staircase and at some distance from the piano.
Having four singers involved avoided any breaks in the live singing and saved us from those trips down memory lane with clips of old Met performances or interviews. Truthfully the 'first half' of this programme had more misses than hits but it took off memorably with its succession of Wagnerian duets, and there should – in hindsight – have been more. Given the venue they were performing in it was fitting that South African soprano Elza van den Heever opened with 'Dich, teure Halle' from Tannhäuser. Regardless of how much warming up a singer has done this is an unforgiving concert opener and van den Heever was so impressive once this was behind her.
In the context of the rest of what we heard the two Richard Strauss songs from American soprano Christine Goerke were rather out of place. There was a reflective intensity to 'Allerseelen' (All Souls' Day) whilst 'Cäcilie' was impetuously passionate and soared to a full-throated climax. German baritone Michael Volle – wearing the first of his changes of vibrant waistcoats – introduced himself with a tender and very carefully sculpted 'Song to the Evening Star' (Tannhäuser). Nevertheless, his voice, too, would have greater focus in what he later contributed to this concert. Austrian tenor Andreas Schager would prove to be the lesser of the quartet of Wagnerians on this occasion and Siegmund's 'Ein Schwert verhiess mir der Vater' from Die Walküre was stentorian with him hanging on far too long to his cries 'Walse!'. What was not in doubt was that Craig Terry's individual and responsive piano accompaniment made everything we heard – here and elsewhere – the result of two musical personalities combining as one: Terry thoroughly deserved being called 'remarkable' by Goerke at the end of the concert!
I am not sure it worked to have the Wesendonck Lieder shared between the four singers and in 'Der Engel' the avuncular Volle prayerful conjured up the angel without sounding as if he was entirely comfortable and nor was Schager for 'Stehe Still!' as he strove for oblivion. Goerke agonised about the release only death can bring in a pained – in the best way – rendition of 'Schmerzen' which highlighted her rich chest voice. Undoubtedly the singer who connected best with Mathilde Wesendonck's poetry was van den Heever who sang the proto-Tristan third and fifth songs; a poignant and thoughtful 'Im Treibhaus' (with an exquisite postlude from Terry) and the incredibly beautiful, perfumed ecstasy of her 'Traume'.
In the first of the compelling duets Volle and van den Heever sang the Act II closing duet 'Wirst du des Vaters Wahl nicht schelten?' from Der fliegende Holländer. Volle was the conflicted Dutchman who didn't want the woman he was meeting for the first time to make a rash decision but van den Heever's angelic Senta vowed she would be faithful unto death. More Act I Die Walküre followed with Schager's slightly effortful 'Winterstürme wichen dem Wonnemond' lacking much of the radiance Goerke brought to her ravishing 'Du bist der Lenz' reply.
A veritable 'bleeding chunk' was next as 'Abendlich strahlt der Sonne Auge' was hacked out of the end of Das Rheingold and Volle's imperious Wotan – spotlit at the top of the stairs – summoned the gods to follow him into Valhalla and was supported by the excellent Terry at the piano once again. Parsifal's entry at the end of the opera's final act is the transfigurative moment when he heals Amfortas's wound with the Holy Spear, sadly Schager's 'Nur eine Waffe taugt' needed to be more resplendent. Then the wide-eyed van den Heever airily and meditatively sang Elsa's 'Euch lüften, die mein Klagen' balcony aria which comes before she hears Ortrud's put-on lamenting and foolishly takes pity on her. Goerke was vocally splendiferous as she spewed out the black-hearted venom of her 'Entweihte Götter!' which would have been scenery chewing had there been any scenery to chew!
No sooner had this ended than Goerke laughingly said 'In the most awkward transition ever I've been asked to speak to you! […] I am so happy be to on this side of the camera. I have been able to join you for every single one of these HDs [as presenter in New York] and after this incredibly soul-crushing year for all of us […] It is beyond a joy to be back with my musical family and to be able to say that the end is in sight and the end of the tunnel is near […] We cannot wait to be back on stage in front of you live at the Met Opera and that will happen so incredibly soon'. Something we all wish. Gesturing to the platform Goerke went on to add how 'I want to tell you this is only part of the magic, there are tens of people in this room here in Wiesbaden that you do not see' and they – and all their colleagues during all these Met Stars Live in Concert presentations – thoroughly deserved that special mention which ended with Goerke sending her love to Gary Halvorson who throughout has been based in New York.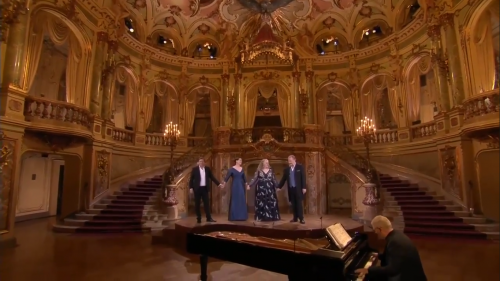 Time for the singers to join together with Volle – as Richard Strauss's Barak – launching them all into the final quartet of Die Frau ohne Schatten by singing 'Nun will ich jubeln' ('Now I will rejoice') as his character exclaims he will 'work as no one ever has before'. The singers did seem to let go as never before and those seeing and hearing them could rejoice in this rousing life-affirming ending as Volle, Goerke, Schager and van den Heever – not forgetting the virtuosic Terry – nearly took the roof off the Hessisches Staatstheater.
Jim Pritchard
For more about Met Stars Live in Concert click here.